A Century of Hot-Dog Production Comes to an End in Madison, Wisconsin
Oscar Mayer announced on Thursday that it would be shuttering its plant and headquarters there.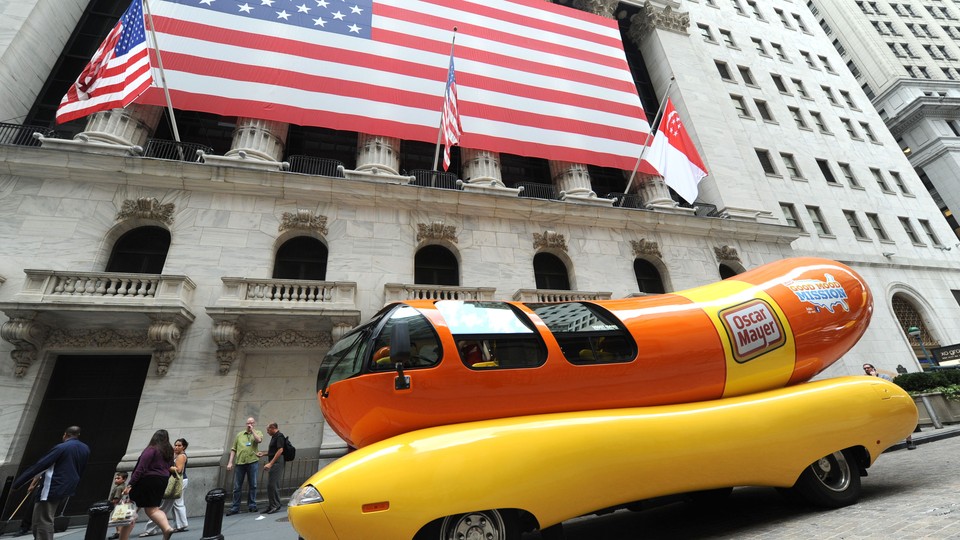 In 1883, Oscar Mayer opened a meat shop in Chicago where he made sausages and ham with his brother. They were quickly successful, a fact attributed to both the excellence of the Mayer brothers's sausages and the growing ranks of German-American immigrants eager to eat them. By 1919, the Mayers' meat business had gotten so big that the company bought a slaughtering plant in Madison, Wisconsin, in order to source raw materials. By 1955, sales were in the millions and the company moved its headquarters from Chicago to Madison.
Oscar Mayer (the company, not the man) was still being run by Mayers until it was sold to General Foods Corporation in 1981. Eight years later, the company was merged with Kraft at the order of its parent company, Philip Morris. On Thursday, Kraft Heinz Food announced that it would close down the Oscar Mayer headquarters and plant in Madison, after 96 years. The news, though somewhat expected, has been hitting Madison residents hard. Madison's mayor Paul Soglin estimated that the economic impact will be at the cost of "hundreds of millions of dollars."
The Oscar Mayer closure is part of a bigger Kraft Heinz downsizing plan to save $1.5 billion in the next two years. The company is shuttering plants in California, Maryland, New York, Wisconsin, and Ontario; all told, an estimated 2,600 jobs will be eliminated. Since Heinz acquired Kraft Foods in July (in an estimated $45-billion deal), the resulting gigantic company has been expected to consolidate its production factories and corporate staff. The best guess has been that this "new era" for Kraft Heinz will involve layoffs: In August, 2,500 workers in Kraft's North American operations—including 700 corporate staff—were let go. Including what was called for in Thursday's announcement, the company has reached its expected target, after shedding 10 percent of its 46,000 workers during restructuring.
The backdrop for all these changes is that Americans are becoming wary of processed foods. One report found that the market shares of packaged-food companies have been dropping by billions of dollars as consumers drift towards organic and "natural" offerings. For Oscar Mayer in particular, it doesn't help that recent studies have linked processed meats to premature death and cancer.
But Americans still love hot dogs, consuming close to a billion packages a year, and summer barbecues and sports venues continue to be responsible for massive sales numbers. Around the world, demand is even looking up. The hot dog is definitely sticking around, but whether Oscar Mayer will be able to capture some of that growth will depend on whether it'll stick to its classic branding, for international consumers who want classic, "American-style" food, or try to conform to America's new food preferences.
---
In Photos: An Oscar Mayer Ending