Sweet Relief: A Strong October Jobs Report
The U.S. economy added 271,000 jobs in October—beating expectations of 180,000 by a lot.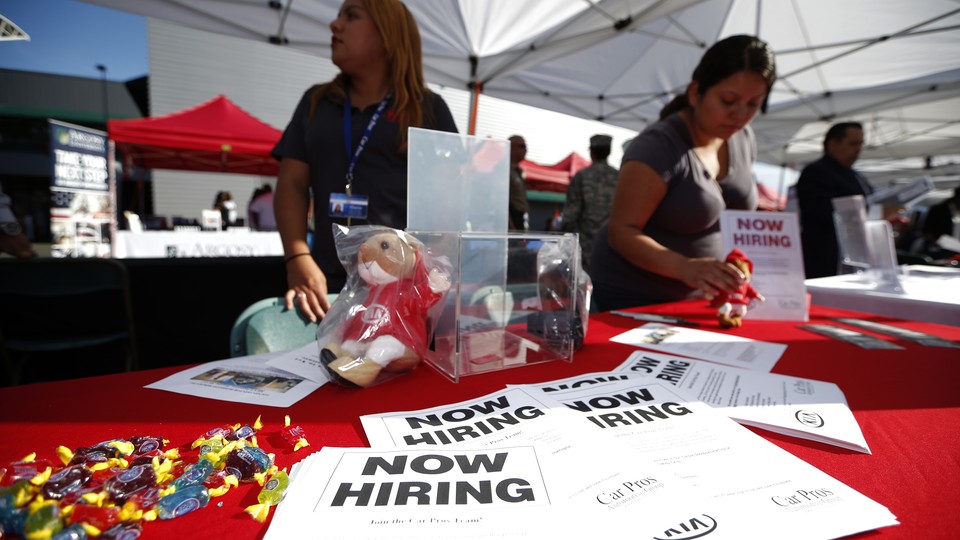 After three consecutive months of disappointing jobs reports, October finally delivered the strong numbers economists had been hoping for.
The report from the Labor Department shows that the unemployment rate fell to 5 percent, and the economy added 271,000 jobs in October—beating expectations of 180,000. That's the strongest showing in 2015 thus far.
---
---
Hiring surged in professional and business services, health care, retail trade, food services, and drinking places, and construction sectors. The September jobs-added numbers have been revised down to 137,000 from 142,000, while August's numbers have been revised up—from 136,000 to 153,000. In the past three months, job gains have averaged 187,000 per month.
By all measures, the October jobs report quiets the fears that the U.S. economy is slowing. And October's strong performance has reignited speculation that the Federal Reserve will raise interest rates at its December meeting.
---
---
The Federal Reserve has been looking for a strong jobs report before making what would be the first interest-rate hike in nearly a decade. Federal Reserve chairwoman Janet Yellen has mentioned that achieving full employment post-Great Recession has been difficult, though the Fed considers an unemployment rate of 5.0 to 5.2 percent to be full employment, a feat that was achieved over the summer. Despite this, many economists believe there's still room for growth since the labor-participation rate remains at 62.4 percent, the lowest level since 1977.
Last week, Yellen testified before the Financial Services Committee of the House of Representatives. She noted that the U.S. economy was performing well, and that if the good news kept coming, "December would be a live possibility."