The Financial Calculations: Why Tim Wolfe Had to Resign
If he stayed and football players continued to strike, the university stood to lose millions.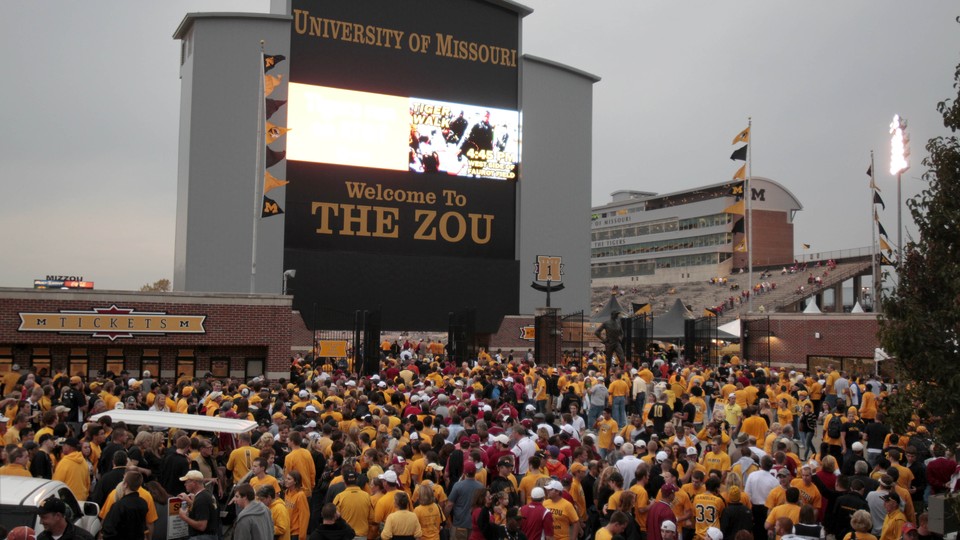 The University of Missouri's president Tim Wolfe has resigned after months of protest from students, faculty, and community members over the administration's handling of recent instances of racism targeted at black students.
"The frustration and anger that I see is clear, real, and I don't doubt it for a second," Wolfe said at a press conference announcing his resignation. "I take full responsibility for this frustration and for the inaction that has occurred … My resignation comes out of love, not hate."
The resignation follows pressure from both athletes and the general student body: Thirty-two members of the football team had announced they would not participate in any football-related activities—including practices and games—until the president's removal or resignation; one graduate student declared a hunger strike a week ago.
This is not the first time student athletes have protested abuses—NCAA image-use, compensation, labor issues, etc.—from their respective universities. But what makes this protest different is that it may be one of the first to have posed a true economic threat to the university, explaining, at least its part, today's turnaround.
There is big money in college football. In 2014, the University of Missouri football team generated $14,229,128. Coach Gary Pinkel recently received a salary increase from $3.1 million to about $4 million; Wolfe, by contrast, made $459,000 per year. His decision to step down prevented substantial financial losses to the university.
The Missouri Tigers have a football game against Brigham Young University scheduled for next Saturday. If the game, which is scheduled to be hosted by Missouri, is played, the contract states that Missouri should pay BYU a visitor's fee of $250,000. If not, the forfeiture is much more costly. The Kansas City Star published a copy of the contract between Mizzou and BYU in January, which stipulates the costs associated with one of the teams canceling the game (emphasis added):
The parties agree that if one party cancels, forfeits, unilaterally delays or postpones, or fails to appear at, any game (there and similar actions hereafter referred to as "cancel"), actual damages—including those relating to public relations, radio and television broadcasts, lost profits, and other consequential damages—would be difficult or impossible to calculate. The parties further agree that processes, including litigation, to determine damages would be both unnecessarily expensive and time-consuming. Therefore, the parties agree that if one party cancels (hereafter, the "defaulting party") any game or games, the defaulting party shall pay as liquidated damages to the other party One Million Dollars ($1,000,000) for each cancelled game, to be paid no later than thirty (30) days following the scheduled game.
In addition, last-minute ticket sales, concession-stand profits, television-distribution deals, and local businesses that benefit from the influx of game-watchers would have all seen losses.
According to The Columbia Missourian, just 7 percent of the overall student body is black, but nearly half of the football team is (60 of 124 players). This likely contributes to a distance between black athletes and "regular" students. What's more, this disparity can result in a sort of cognitive dissonance for black athletes, who possibly have experienced discrimination directly or have friends who have, and whose talents generate millions of dollars for an institution that ignores those problems.
"In the past, the ability of mostly white head coaches and administrators to get their mostly black athletes to see themselves as separate from the larger university community often kept wider issues that affect black Americans from disrupting the system," wrote William Rhoden, a reporter for The New York Times.
This is not the first time athletes have used their sports as a platform for social justice: For example, there was John Carlos and Tommie Smith's Black Power salute at the 1968 Olympics and in 2013 the Miami Heat wore hoodies in memory of Trayvon Martin. But student athletes have leveraged their power less often, perhaps because doing so comes at a great personal risk—scholarships, housing, and potential careers all ride on their athletic performance.
The resignation of Wolfe may signal a short-term victory for minority populations at universities, but it signals something else, too: the economic stranglehold that college football has on the decisions made by these institutions. The experiences of racism at the University of Missouri needed to be addressed, and it appears that it took those with the most financial influence to make that happen.