Mark Bittman's New Job
Is it possible for a food company to live up to the ideals he laid out as an activist and columnist?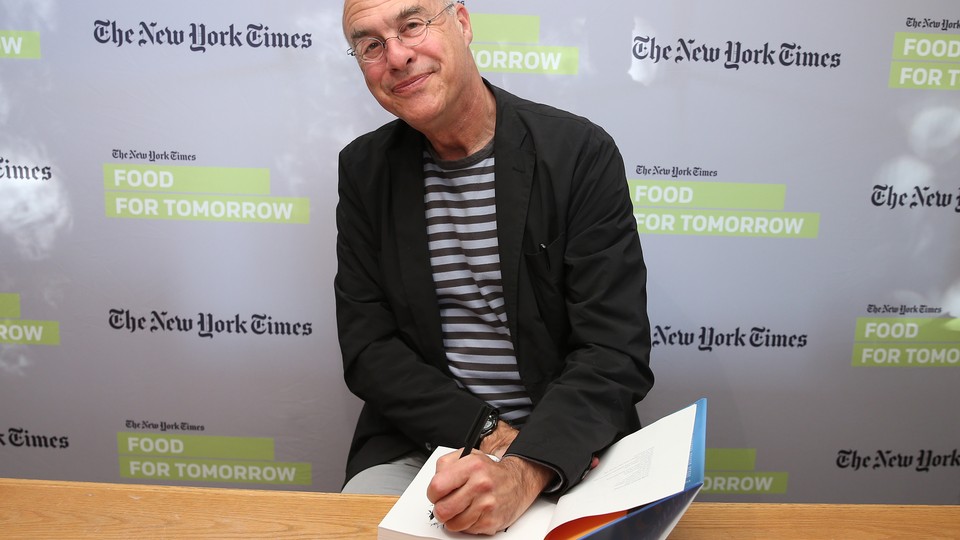 Mark Bittman's grin has appeared next to impassioned essays in the opinion section of The New York Times, and on book jackets promoting the virtues of cooking at home. As of this morning, that grin now appears on the website of The Purple Carrot, a one-year-old company that delivers pre-portioned vegan meal kits.
The Purple Carrot is one of several startups in the meal-kit delivery industry—an industry that's projected to bring in $3 billion to $5 billion in the next decade—and as such is well positioned to influence how many Americans eat. Bittman will advise the company on recipes, study how to make its packaging more sustainable, and blog for its website, but his most important task, business-wise, will be acting as the company's de facto spokesperson.
And he'll be a powerful one. Over the course of his 35 years in journalism, Bittman has built up a reputation as having all the right opinions about what needs to change about America's food system; his track record as a writer and thinker makes him appear impervious to selling out, and suggests that if a company is ethical enough for him, it must be good. The fact that America's most visible food persona has put his weight behind one environmentally friendly and nutrition-minded company could give more visibility to other new companies seeking to unseat legacy food producers and their sometimes damaging practices.
Bittman's new job is a further blurring of what was already a blurred identity: During his career, he grew to become just as much of an activist as a columnist. One of the causes he championed while at the Times—a $15-an-hour minimum wage—is now company policy at The Purple Carrot: Bittman reportedly insisted on it during his job negotiations.
An introductory post he wrote on The Purple Carrot's website captures Bittman in both of his roles, an activist and a businessman. A line such as "Industrially produced animal products are especially harmful to the environment, damaging to human health, torturous for animals, and bad for our souls," would not have been out of place in one of his Times columns. But "Our kits yield the best and most satisfying plant-based meals in town," is classic spokesperson, even if he means it genuinely.
In his new job Bittman will function as something like the company's in-house critic—which is, in an era when many companies want to avoid any appearance of hypocrisy, a very powerful strategy. His hiring has none of the impure connotations of when a seasoned question deflector is hired to manage a PR nightmare. Bittman has already said he wants to start conversations within the company about how it might make its packaging more environmentally friendly, which would go toward correcting the meal kit industry's biggest negative externality. "Everything that we talked about in the column is fair game for me to talk about within Purple Carrot and with our customers," Bittman told the website Eater.
In his introductory post for The Purple Carrot, Bittman referred to his new employer as "a meal kit company whose primary goal was not to make money but to save the planet and help us restore our collective health." At the moment, it doesn't look like that money-comes-second assertion confuses his own understanding with that of the company's founders and investors.