How 'Treat Yourself' Became a Capitalist Command
Corporations love telling Americans they "deserve" fancy electronics and indulgent food.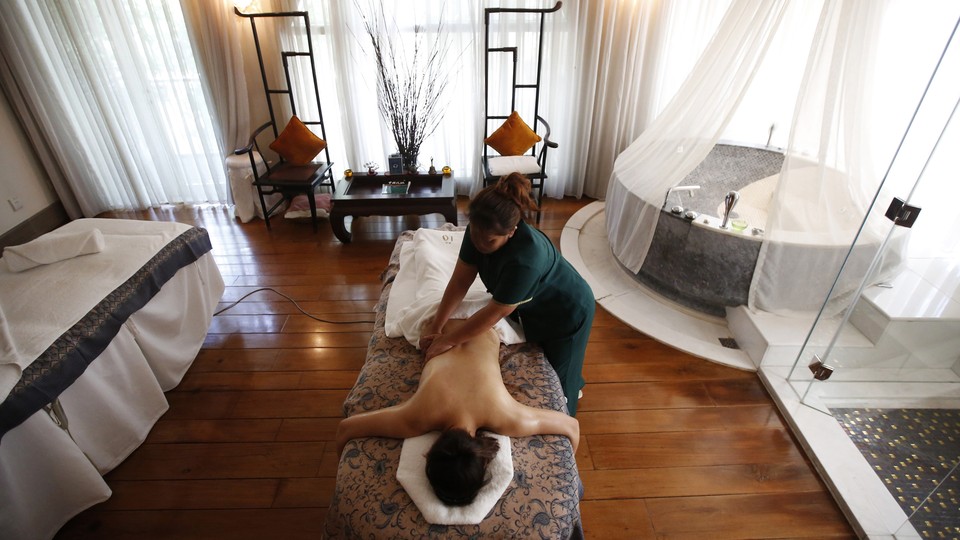 In a 1982 lecture that went on to be published as an essay called "Technologies of the Self," the French philosopher Michel Foucault argues that looking after oneself, rather than being a form of navel-gazing or narcissism, is a kind of "vigilance" that dates back to antiquity. For Socrates, Plato, and their ilk, Foucault writes, "taking care of yourself eventually became absorbed into knowing yourself."* As the thinking went, only with the proper amount of time set aside for the "active leisure" of reading, studying, and ruminating  could a person come to grips with the profound nature of the universe and his own mortality.
After bubbling up through academic communities in the '80s, the term "self-care" accumulated health-related connotations as it gained mainstream renown. In the '90s, it referred to the way that patients could take supplementary responsibility for themselves in conjunction with their doctors, nurses, and pharmacists. This was not particularly surprising: Foucault once advised that "one must become the doctor of oneself," and his theories inspired individual-focused health care even before WebMD.
What might surprise both '80s professors and '90s medical professionals, though, is the degree to which self-care has also become a capitalist enterprise. American culture, with its typical anything-worth-doing-is-worth-overdoing attitude, has reduced self-care to buying stuff and, even more counter-intuitively, to trying to become a more productive employee. In other words, active self-care was originally considered necessary to be a philosopher, typically for elite white men who had the luxury to sit and think. Now, America has democratized it by making it seemingly available to all—at least, for a price.
The advertising industry has nudged self-care away from introspection and towards reflexive consumerism. According to copywriters, you "deserve" everything from "a break today" (at McDonald's) to "brighter eyes" (with new make-up) from "a decent sandwich" (from Milio's) to, simply, "the best" (in the form of Beats By Dre). The implication is clear: Consumers who fail to purchase such treats are depriving themselves, failing to meet their own needs. By the late 2000s, the trope "you deserve it!" had irritated, among others, Rush Limbaugh, various entrepreneurs, and frugal bloggers. As one of those bloggers points out, "We definitely do not deserve the bondage that comes with being under obligation to a credit-card company."
In this way, capitalism has taken what Foucault called "a general attitude and also a precise act every day" and broken it down into a series of indulgent yet somehow necessary purchases of cosmetics, electronics, and fast food. When combined with the constant reminders that well-being also requires a sensible diet and lots of exercise, America's overall approach to self-care begins to appear shallow, haphazard, and contradictory.
Just like the advertising industry, the American office has taken up the cause, because employees who don't keep themselves in good working order can represent lost revenue. According to William Davies, whose book The Atlantic excerpted this summer, many companies wrestle with the problem of employees who are regularly absent, unmotivated, or suffering from "persistent, low-level mental-health problems." And, he goes on, "the way in which these problems manifest themselves in the workplace, threatening productivity as they do so, has placed them among the greatest problems confronting capitalism today."
The kind of self-care being peddled to the 21st-century American white-collar worker is a cure for a quintessentially 21st-century American problem: that jobs demand ever-increasing amounts of time, energy, and creativity. Capitalism, faced with a problem it created, is itself trying to provide a solution. Little wonder, then, that the suggested fix isn't to convince workers to actually take their vacation days or to go back to a more humane schedule of 40 hours a week, both of which would help employees to prioritize their own well-being. Instead, to avoid burnout, people are encouraged to spend more and exercise harder.
This message can be seen splashed across the homepages of a number of media outlets. At the Huffington Post, one writer attempted to model for readers how to "add self-care to your schedule" by showing how "seven super successful women leaders" do it. The results were off-putting, Type-A solutions such as "6:00 AM outdoor boot camp" and, for breakfast, "Parsley protein shakes." Sleep deprivation and liquid breakfasts may not seem joyless to everyone, but they hardly qualify as pampering, let alone paying careful attention to one's needs. And on Jezebel's Millihelen blog, the writer Jane Marie confesses that she does not know how to conceive of self-care in a practical way, since "everything that comes to mind either takes too much time or too much money." (Appropriately enough, Gawker Media, which owns Jezebel, just announced that it is shuttering Millihelen and starting a new sub-site focused specifically on "health, beauty, and self-care.")
Self-care may never have been easy, but it was once simple and certainly not expensive. It required little more than the ability and wherewithal for introspection. Foucault's "active leisure," the time "to study, to read," is not impossible to carve out time for. Workers and employers alike only have to recognize that determining and meeting one's needs has value, regardless if it can produce any profit.
---
*This article originally stated that "Technologies of the Self" first appeared as an essay published in 1988. We regret the error.