How Economic Issues Turned Into Feminist Issues
The next generation of the movement is (finally) embracing the idea that race, gender, and class can't be divorced from one another.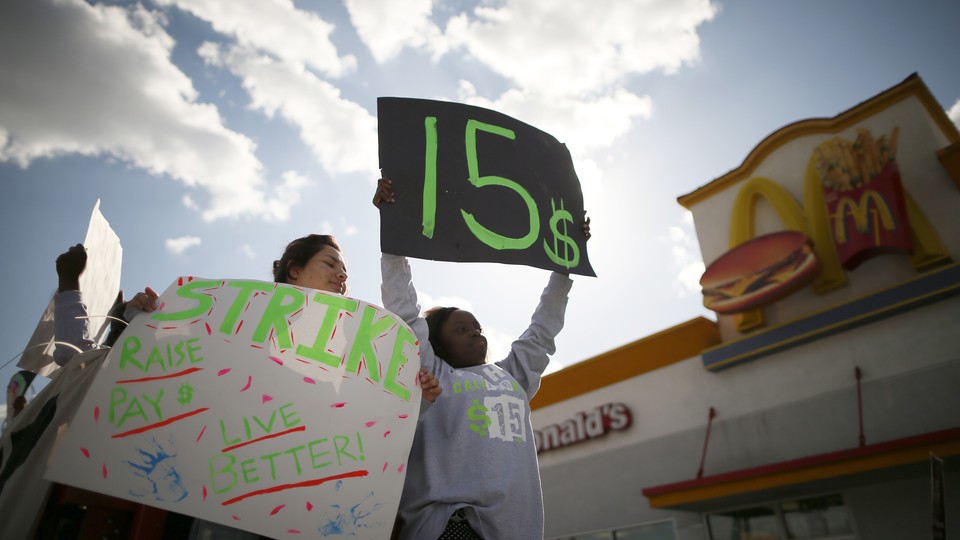 Measuring the feminist movement in waves has become tiresome and inexact. Perhaps it would be better described like software, with system updates containing patches for old problems.
The movement's latest update addresses some of the problems embedded in 1960s second-wave feminism, which one might call v2.0, but not addressed by v2.1 in the '90s. Feminism 2.0 focused on the struggles of better educated, higher-earning white women, with the assumption that all benefits accrued would then trickle down. Feminism 2.1 didn't so much correct that belief as add a stipulation that all women could shave, wear heels, and embrace sex—whether as work or play—and still be empowered.
Women of color and less affluent women have long criticized feminism as it has been practiced as insufficient, even alienating, but their complaints did not seem to register with the appropriate force until now. Today, many accept that no movement purporting to be about the condition of women as a whole can leave everyone other than the most privileged only to infer they are included too. Instead, this latest iteration of feminism has explicitly adopted the struggles of these women as a focal point.
The voices of this movement range from pop divas to podcast hosts. Beyoncé has not merely raised the profile of feminism—she has, for large swaths of the population, defined it. She embodies the new, vital emphasis on "intersectionality" by, among other things, promoting the experiences of less high-profile women of color, such as the blisteringly smart writer Chimamanda Ngozi Adichie. BuzzFeed's Another Round podcast, which has become such a cultural phenomenon that it went from zero to hosting Hillary Clinton in only six months, frequently spotlights the work of lesser known activists such as the Native American scholar Adrienne Keene and the artist Tatyana Fazlalizadeh. The show's hosts have made it clear, both on Twitter and on the air, that this intersectional feminism is the only kind that interests them.
That is, simultaneously, an increasingly mainstream position among feminists, and even liberals overall. It aligns neatly with other progressive economic movements such as the Fight For $15, which agitates for an increased minimum wage for an underprivileged labor force that is disproportionately minority and female and which has chalked up successes in big cities such as Los Angeles, San Francisco, and Seattle. As Andrea Miller, the president of NARAL Pro-Choice New York, recently wrote in an email blast to her supporters, "We're joining this fight because in order to be truly empowered, women need both the right to determine when and whether to bear children—and to earn enough to support themselves and any children they choose to have." Indeed, feminist activists are helping to lead the nationwide Fight For $15; they are dismayed by the fact that childcare workers, who are overwhelmingly female, low-income, and of color, "regularly earn less than adults who take care of animals," as one Fortune writer puts it.
Hillary Clinton is onboard. She told a gathering of childcare workers and parents in Chicago this year that, "most importantly, we have to increase wages." Cosmopolitan is supportive as well: A recent article there argues that access to reproductive rights, long characterized as a social issue, is in actuality an economic issue, and one of concern to feminists of all colors and income levels.
Tara Sweeney, the communications director of the National Institute for Reproductive Health, a part of NARAL Pro-Choice New York, agrees. She is heartened by a feminism that's "increasingly intersectional," though she points out many feminists throughout the 20th century pushed for progress on issues such as affordable childcare, compensation for housework, and paid family leave for all, even if they didn't often succeed. "Economic concerns are feminist issues," she told me. Nowadays, among activists across social-justice movements, "there's a renewed recognition that issues of income and race and gender are all intertwined," she said.
Some prominent feminists of color, such as Ijeoma Oluo, an editor at the new inclusive website The Establishment, are encouraged by the momentum they have seen even in the past five years. "I think that every generation demands that the future look different from the past, but the youth of today have more information about what the past actually was than they ever have, thanks to the Internet," Oluo told me. "This is incredibly empowering because it's enabling young people to see through the lies of various establishments, including establishments of feminism, and to demand more and better."
Oluo recently made headlines by refusing to review the more traditionally feminist movie Suffragette because it doesn't include a single non-white character. "People of color immediately understood my frustration and applauded my refusal to legitimize films that refuse to acknowledge people of color," she said. Considering that the film has earned only a paltry $1,000,000 since its release, viewers in general arguably agree: all-white, old-school, and possibly tone-deaf feminism isn't worth their attention. Though some fans of the film, or simply fans of Meryl Streep, registered strident complaints, Oluo characterized that reaction as "White Supremacist, Cis-Heteronormative Feminists raging at the dying of the light." The future, she knows, belongs to her.