With Over a Million Rooms, Marriott Will Soon Be the Biggest Hotel Company
Its $12-billion acquisition of Starwood is a reminder of how much money consumers are spending on experiences, not things.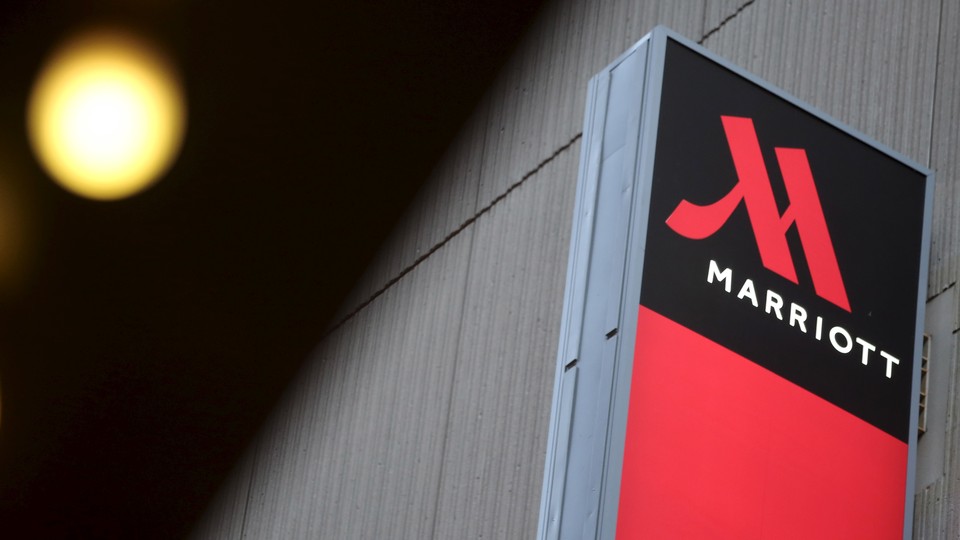 On Monday, Marriott announced that it will buy Starwood Hotels and Resorts for $12.2 billion. Since this summer, Starwood has been in talks with various large companies—including InterContinental Hotels Group and Hyatt—regarding a potential sale. After buying Starwood, Marriott will become the biggest hotel company in the world, surpassing Hilton with more than 1 million rooms in about 5,500 hotels.
"The driving force behind this transaction is growth," said Arne Sorenson, the president and CEO of Marriott International. On CNBC, Sorenson said that combining the two companies will save $200 million annually. Moreover, the two companies will have more variety in locations and price points—an aspect that might be important in luring business travelers away from Airbnb.
The U.S. lodging sector has been doing better each year since 2009, and industry reports see good times ahead. According to a report by PwC, 65.8 percent of hotel rooms in the U.S. are booked on an average night—an occupancy rate unseen since 1981. One thing powering the industry is online booking, which is helping hotels fill rooms up during off-peak periods with value deals.
It might seem strange to say that the hotel industry is looking up, given that retail sales this summer were flat, and projections for the holiday season are similarly uninspiring—even including online sales. But these two trends, in hotels and retail, don't contradict each other: American consumers are increasingly spending on experiences rather than material goods. According to data from MasterCard, spending on air travel and restaurants has been growing rapidly, even as retail has plateaued.