What's the Matter, Chipotle?
Stocks tumbled after the company had its third food-contamination outbreak in three months.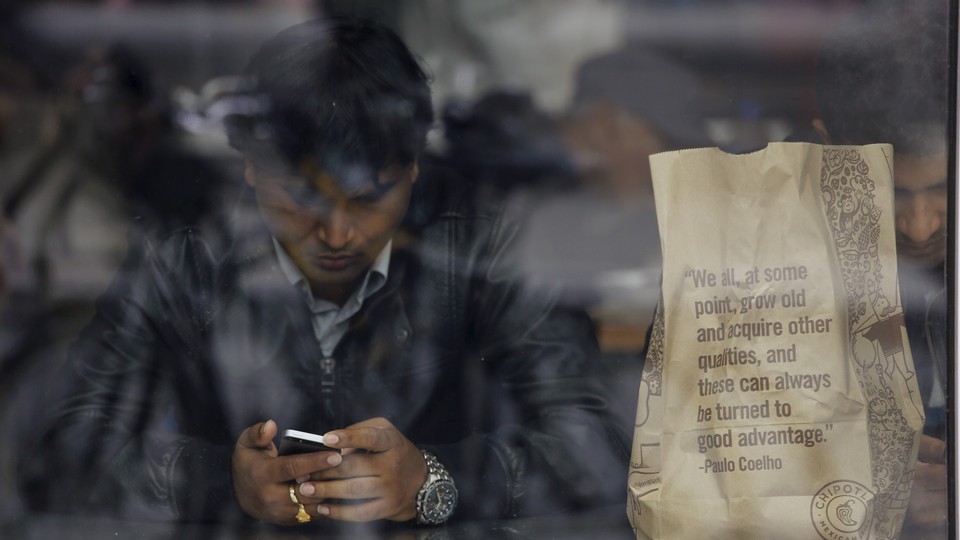 On Halloween, Chipotle received an unexpected visit from the Irony Police. The company had recently revamped its Boorito promotion, in which it previously offered $3 burritos to anyone who came into one of its 1,700 stores in a Halloween costume.
This year, however, in order to get a cheap burrito, a customer had to wear a costume that had "something unnecessary" added to it—a fairy with a beard was one suggestion—to honor Chipotle's dedication to serving food without additives.
Imagine then, if you were among the morally upright burrito enthusiasts who went to one of the 43 Chipotle stores in the Pacific Northwest on Halloween only to find that it was closed because of an E. coli outbreak.
WENT TO @ChipotleTweets IN MY BEAUTIFUL COSTUME ONLY TO FIND THEM CLOSED DUE TO E.COLI. WHAT WILL I DO WITHOUT MY BOORITO TODAY?!

— Kimber Goble (@KimberBritt) October 31, 2015
The Washington State Department of Health said the restaurants under investigation are linked to 19 cases of E. coli illnesses. Oregon's Health Authority reported three cases in the state.
This was the latest bout of bad news for the company, which after being anointed Millennial darling in recent years and enjoying rapid growth, has now suffered three food contamination outbreaks in as many months. In August, nearly 100 diners and several employees at a California Chipotle fell ill from norovirus. Shortly thereafter, several dozen people were infected with salmonella linked to tomatoes served at 22 Chipotle outposts in Minnesota.
Making matters worse, just last month, the company posted its worst sales growth numbers in over two years. That same week, McDonald's, the gilded emblem for fast-food companies hit hardest by the rise of Chipotle and its fast-casual ilk, posted its strongest numbers in two years.
Part of what makes this series of food contamination outbreaks so damning is that the company markets itself so aggressively as a quick-service purveyor of responsible food.
Instead of using real corn, typical fast food serves up Maltodextrin. Who's down for some Maltodextrin on the cob? 😶

— Chipotle (@ChipotleTweets) October 15, 2015
Chipotle's efforts to trumpet its fare as being free of genetically modified organisms (GMOs) have recently been blasted as either misleading or based in bad science. Meanwhile, despite its reputation, the company's fealty to real ingredients doesn't necessarily translate into it being healthier for consumers. As we noted in February, if you measure your diet by calories, eating two Big Macs is better than the average meal at a Chipotle.
Whether any of this will have a lasting impact on the company remains to be seen. "Short term they will take a hit but it will blow over quickly," one retail analyst told Reuters. "They have a lot of customer goodwill."
On Monday, the short-term hit was notable. With dozens of stores still closed in Oregon and Washington, Chipotle's stock dropped nearly 5 percent.