The Rise of Anti-Black Friday Branding
Retailers are experimenting with a bold new strategy for the commercial high holiday: boycotting themselves.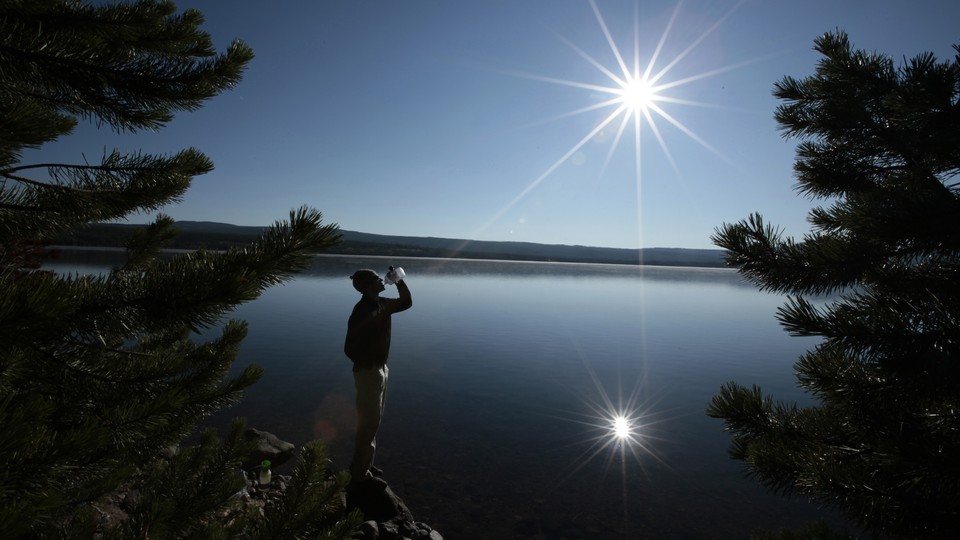 It starts with a scene of touch football in the yard. Next, a woman and a girl, cooking together in the kitchen. "Imagine a world," a soothing voice intones, "where the only thing you have to wrestle for on Thanksgiving is the last piece of pumpkin pie, and the only place we camped out was in front of a fire, and not the parking lot of a store." And, then, more scenes: a man, cuddling with kids on a couch. An older woman, rolling pie dough on the counter. A fire, crackling in the fireplace. Warmth. Wine. Togetherness. Laughter.
It's an ad, unsurprisingly, but it's an ad with a strange objective: to tell you not to buy stuff. Or, at least, to spend a day not buying stuff. "At T.J. Maxx, Marshall's, and HomeGoods, we're closed on Thanksgiving," the spot's velvet-voiced narrator informs us, "because family time comes first." And then: more music. More scenes of familiar/familial delights. More laughter. More pie. The whole thing concludes: "Let's put more value on what really matters. This season, bring back the holidays—with T.J. Maxx, Marshall's, and HomeGoods."
It's a great ad, and not just because, as with most great ads, it ends up making you kind of hungry for pie. The spot also accomplishes a canny rhetorical trick: It features brands invoking—on the surface, at least—a boycott against themselves. It is marketing in the guise of anti-marketing. But while T.J. Maxx, Marshall's, and HomeGoods may be particularly vocal in denouncing the hyper-commercialism of the Thanksgiving weekend, they are definitely not alone in it. This year Apple, Costco, Crate & Barrel, IKEA, Nordstrom, Sam's Club, Staples, and many other retailers—in response to the discount creep that has led to Black "Friday" sales commencing on Thursday—have announced that they, too, will be closed on Thanksgiving. (Also known, in this context, as "Black Friday Eve" and "Black Thursday" and, slightly more poetically, "Gray Friday.")
Many of the companies offer, in this, the same family-first logic that the Maxximalist brands gave in their ad: the secular sacredness of Thanksgiving, for customers and employees alike. As the discount shoe chain DSW put it in its own ad/explanation for its Thanksgiving Day closure, "Family time is extremely important to us, and we want our associates to enjoy the holiday with their loved ones."
Marketing via moralism! And this year the Black Friday backlash—the day's taking of its rightful place within the hype cycle—was brought to a logical extreme when the outdoor goods retailer REI announced that it would be closed not just on Thanksgiving, but also on the high holy day of American consumerism—Black Friday itself.
REI framed this decision, just as T.J. Maxx and DSW did, as a matter of principle—a brave stand against the miasmic encroachments of the commercialized holiday season. "We think that Black Friday has gotten out of hand," Jerry Stritzke, the president and CEO of REI, summed it up. He further explained that the idea for a commerce-free Black Friday stemmed from his employees' "anxiety" about the longer store hours REI had been keeping, as per Black Friday custom, on that day. And so: REI made Black Friday a paid holiday for its employees. It also encouraged them to spend the day outdoors, exploring and adventuring and otherwise anti-Black Friday-ing.
Which is wonderful, and humane, and also a reasonable response to Black Friday's creep and Black Friday's death and—a combination of those two—Black Friday's dissolution into the broader commercial phenomenon that is The Holiday Season. While an estimated 135.8 million people are expected to shop over this Thanksgiving weekend, both in stores and online, more are expected to do so on Cyber Monday than on any of those preceding four days. And a survey from the National Retail Federation estimates that 46 percent of holiday shopping will take place online this year—up from 44 percent last year (and the highest figure since the organization started tracking those numbers in 2006). The stuff of IRL Black Friday—the 4 a.m. lines, the "door buster" deals, the fights, the crowds, the generalized chaos that leads to articles with titles like "The Worst Black Friday Injuries and Deaths of All Time"—is diffusing, like so much else, into the cloud. Black Friday is no longer just a day; it is a season. And also a state of mind.
So while the retailers' opposition to Black Friday—let's put more value on what really matters—may be (may be) principled, it is also simply practical. Which is also to say: self-serving. The companies' "brave stands" on behalf of the sanctity of the stuffed turkey are also, in another sense, capitulations. A study conducted by the research firm MarketLive found that roughly 65 percent of consumers "hate or dislike" the trend of retailers opening stores on Thanksgiving Day. (Only 12 percent of Americans surveyed said they "like it or love it.") A recent article in Time helpfully pointed its readers to the retailers who "are the worst offenders pushing Thanksgiving Day store hours," adding, to make the point extra-clear, "If you hate Thanksgiving shopping, here's where to focus your anger." The Facebook group Boycott Black Thursday encourages people to "#keepfamilyfirst and boycott retailers that extend Black Friday sales into Thanksgiving Day."
In that sense, REI and T.J. Maxx and DSW and all the other retailers that will prioritize gut-busting over door-busting this week are simply tapping into public frustration—not with commercialism itself, because come on, but with the particular spectacle that Black Friday has become. Black Friday (almost entirely, of course, because of the dedicated efforts of retailers like REI and T.J. Maxx and DSW), has at this point taken on a Darwinian tone. It is competitive. It is zero-sum. It is hungry and wild-eyed and sweaty and pushy and desperate. It runs counter to deeply held cultural mythologies about what the holiday season is supposed to represent: "community," "generosity," "warmth," "love."
The brands that are embracing the Black Friday backlash are offering themselves up, in general, as orderly alternatives to this madness. Shopping should be civilized, they insist. It should know its place, they scold. The retailers here aren't saying "don't shop with us"; they're simply saying "shop with us literally any other day of the holiday season." And they aren't limiting that messaging to ads alone. REI cloaked its flagship store in a banner reiterating the news of its Black Friday closure. It is making ample use of the hashtag #OptOutside, encouraging people to ditch the malls in favor of nature (with the help, ostensibly, of the coats and packs and tents sold by REI). And its anti-Black Friday stance has won the brand media coverage that doubles, conveniently, as free advertising. Stritzke has taken full advantage of all that, telling ABC News about his employees' "tears" of gratitude at the announcement of REI's anti-Black Friday, and then noting that he expects few retailers to follow REI's principled lead—because, after all, "it's hard to leave money on the table."
Which: It is! But it's also an open question whether money will be lost or, actually, earned through all this Black Friday backlashing—and an open question, more broadly, how consumers will react to retailers' embrace of a commerce-free introduction to the holiday season. With "commerce-free," of course, being a relative term. The let's reclaim Thanksgiving spots from T.J. Maxx and its fellow Maxxinista brands (they come in a series, each more treacly than the last) aren't just tributes to the small satisfactions of the family dinner; they are also—via stylishly furnished homes, via stylishly set tables, via stylishly dressed actors—ads for the goods that are sold at … yeah. Look at all those people, getting maxx style at maxx savings! If only there were a way to be like them!
And all these ads encouraging their viewers to bring back the holidays and put more value on what really matters and the like fail to include an important logistical detail: that T.J. Maxx, Marshall's, and HomeGoods, like DSW and Apple and Nordstrom and Sam's Club and pretty much every other retail giant out there, will be open for business bright and early on Friday morning. Because while family time may come first, shopping time, apparently, comes in a close second. And because some things, after all, really are sacred.