Berlin: People Shouldn't Have to Spend More Than a Third of Their Income on Rent
The city's new public-housing rule aims to prevent low earners from being priced out.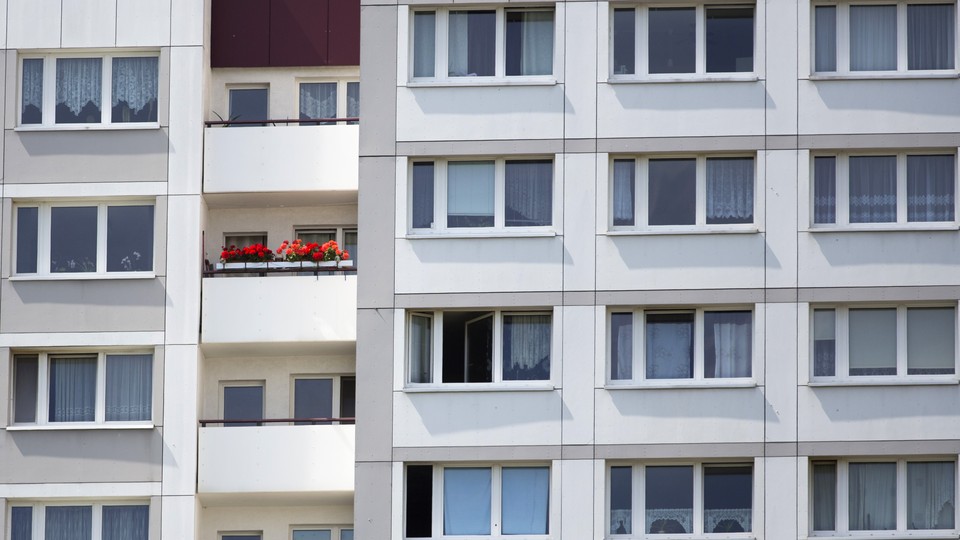 In 2016, many Berlin housing-project residents can expect a cut in their rent. The cost of public housing in the city is just too high, the Berlin Senate ruled last Wednesday, and starting January 1 tenants will pay rent amounts that are directly linked to how much they earn.
In a city with high numbers of public-housing residents, the effect of the new rule could be striking. Of Berlin's current 3.5 million residents, about 250,000 people live in housing projects, spread across some 125,000 apartments. The city also has 280,000 apartments owned by four state property companies that will likewise be subject to the new rules.
From now on, low-income tenants in these Berlin housing-projects will have a guarantee that rent rises will not price them out. Additionally, the ruling binds the Berlin Senate to build 30,000 new public-housing units within the next 10 years, while the proportion of affordable housing owned by the state property companies will also be pushed up.
The new law, thoroughly explained in the Berliner Zeitung newspaper last week, will work as follows: Low-income residents living in social- or state-owned housing will pay no more than a third of their gross income in rent. For tenants in a few buildings with especially high energy costs, that ceiling will be dropped to 25 percent of gross income.
The income ceiling to live in these units is naturally quite low. A single person should earn no more than €16,800 ($18,040) annually, and a couple €25,200 ($27,060)—the thresholds below which Berliners qualify to apply for public-housing allocation (though they don't necessarily get it). People living in larger apartments will also miss out—but the maximum apartment size for eligibility is a still generous 50 square meters (538 square feet) for a single person, 65 square meters (700 square feet) for two people, and so on up a rising scale. Finally, the maximum subsidy will be €2.50 per square meter. If the rent happens to be higher than this rate, the tenant will have to make up the difference or move.
It might seem odd that the city of Berlin needs a new measure to enforce affordable rents in buildings it owns. The curious fact is that while Berlin public housing typically offers the best, most secure tenancies, it is currently slightly more expensive on average than housing on the open market. In 2014, the average private rent in the city was €5.84 per square meter, but for public housing it was €5.91.
This strange situation occurred because of a former funding quirk. In the past, Berlin allowed companies constructing social housing to charge high-ish rents that the state then subsidized. This subsidy was cut by 13 percent annually, and the letting companies were allowed to make up the shortfall by raising the rent. So in time, housing designed for low-income tenants steadily edged up in price. Stemming this rise with a subsidy might sound like a huge tax burden. For the public housing controlled under the new bill, however, the city would ultimately be both payee and recipient of the money.
Not all renters eligible for the rent subsidy will live in public housing. While Berlin does have ample project-style, state-owned buildings, the state also partly controls the private market through four major state-owned letting and maintenance companies. Many of these companies hold apartments in standard Berlin tenements that have over the years come into state ownership.
Currently these companies own 280,000 apartments in the city. Under the new law, however, their number of properties must rise to 400,000, and 55 percent of this total must be rented to low-income tenants. The new laws will thus ensure that many working-class residents get to stay in the quickly gentrifying neighborhoods in the inner city.
Given the general affordability crisis across the West's major cities, Berlin's move to cut tenant rent burdens might seem incredible. It's largely possible because Germany remains a country where most people rent. This inevitably makes Germans more amenable to tenant-friendly legislation across the board— especially in Berlin, where the proportion of renters reaches up to 85 percent.
An ongoing wave of rent hikes and evictions has also sparked concern for low-income citizens. In turn, more influential, politically enfranchised middle-class residents fear for their own housing security. Judging by the cross-party coalition on this vote (only The Left and the Pirate Party voted against—for not going far enough), there's consensus around the idea. If you want general affordability, you have to start at the bottom of the ladder.
---