The Candy Crush Mystery
Most users aren't spending money on Candy Crush, yet Activision Blizzard just bought the company that makes it for $6 billion.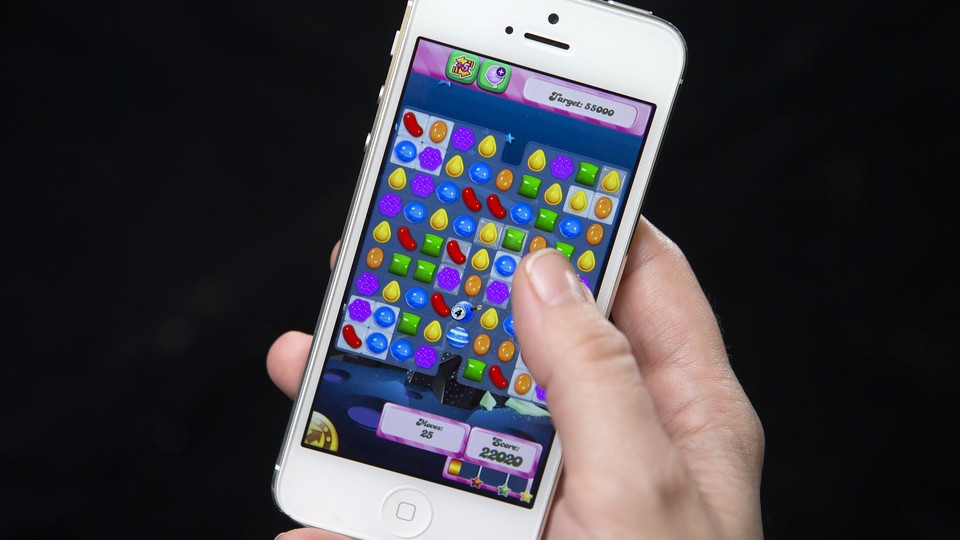 Every day since 2013, I've seen at least one person playing Candy Crush Saga during my daily commute on the New York subway. Yes, it's popular, but from my (anecdotal) observations, what I find most interesting is the spectrum of people playing it—from grandparents to young professionals to children of all ethnicities. I've come to think of Candy Crush as one of those things everyone can agree on.
While King, the company that created Candy Crush, hasn't released demographic data for who plays the game, one thing is for sure: The kind of games King makes are very different from those made by Activision Blizzard, the video-game maker that's acquiring King for $5.9 billion. It's reportedly the biggest-ever acquisition of a mobile-gaming company. Activision Blizzard is the company behind Call of Duty and World of Warcraft—both blockbuster console games with large, mostly male audiences.
With this deal, Activision Blizzard is certainly looking to improve its mobile-gaming resources, but it's also a bid to become a game maker with a more general audience. In a press release, Bobby Kotick, the CEO of Activision Blizzard, said that the acquisition meant that the newly combined companies together should reach more than 500 million active users each month.
According to King, its roster of games brings in over 340 million unique users per month worldwide—Candy Crush and Candy Crush Soda Saga together bring in 92 million users daily (who don't count a second time upon return visits toward the monthly total), making for a significant portion of the company's traffic. Those are strong and consistent numbers, but investors in King have long been disappointed that the company hasn't delivered another megahit on the level of Candy Crush.
A one-hit wonder isn't necessarily a terrible thing—it's where that hit is going that's been of concern to King's investors. In 2013, King told The Guardian that 70 percent of Candy Crush players haven't paid a dime: Most players downloaded the game and played for free without spending money on extra lives or in-game perks. Further analysis by The Guardian found that only 2.3 percent of King's players, across all of its games, were spending any money at all. Still, in its last quarterly earnings report, King reported $490 million in sales and $119 million in profit.
Together, King and Activision Blizzard will try to do the hardest things in mobile gaming in recent years: being more than one-hit wonders (something that's very common in the mobile-gaming industry), lowering the cost of making those games, and getting users to pay for in-game perks. The numbers clearly indicate that Candy Crush is still going strong, but whether it still has room to grow—whether it's gaining more players or getting existing players to pay—is a question investors will keep asking.