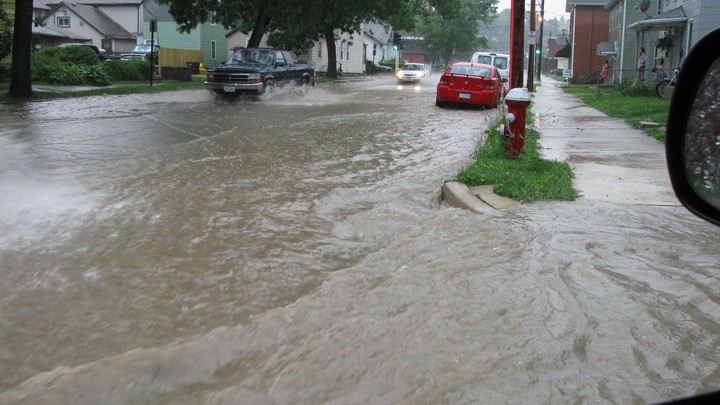 Chuck Harris considers himself lucky. In the eight years since he and his partner moved into the North End neighborhood in Dubuque, Iowa, a city of 58,000 on the Mississippi River, their three-bedroom house has flooded only twice.
Both times, it happened after sudden, torrential downpours. That's when the streets fill with rainwater, the ground becomes saturated, and the water "just starts coming in from any which way," he recalls. "It can come through windows, it can come through walls." A foot or more of water poured into the basement, ruining books, memorabilia, and carpets. Neighbors have had it worse—more frequent floods that damage water heaters, furnaces, and electrical systems.
In a state that is defined by its plains, Dubuque stands apart. The city's North End has hills, and therefore valleys, where rainwater collects. Dubuque has always dealt with flooding, but scientists say that man-made climate change is making the situation worse.
According to climate-risk analyst Christopher Anderson, the assistant director of the climate-science program at Iowa State University, warmer temperatures in the Gulf of Mexico, the Caribbean Sea, and the North Atlantic Ocean have added humidity to the air that then travels to the Midwest, where it increases the rainfall. Iowa has experienced more extreme rain events since 1990 than in the previous 100 years. Intense rainfalls every year or two have inundated Dubuque's low-lying neighborhoods; the federal government has declared Dubuque County a disaster area six times since 1999, with damages amounting to $70 million. A respite in big storms since 2011 isn't expected to last.
Other cities in Iowa and around the Midwest have also faced more flooding, and presidential disaster declarations, in recent decades. But the steeper topography of the western part of Dubuque increases the likelihood that flash floods will hit the flatter lowlands farther east, along the mighty Mississippi. A common misconception is that the recent floods are the result of overflow from the river. Not so; that flooding was largely remedied with a flood wall built in 1973.
Dubuque's challenge is different. As the city has developed, more of its terrain has become impermeable surfaces, such as asphalt, posing an acute problem on the flat land near the river. Storm water flows from the cliffs and bluffs in the west to the lowlands closer to the river. But the ground can't absorb it like a natural environment might, causing the floods. Many cities elsewhere in the Midwest have built reservoirs and floodgates to control the deluges. Dubuque's approach stands out, as more ecologically centered, allowing the landscape to absorb some of the impact.
The chronic and intensifying floods have led Dubuque to undertake the most ambitious—and expensive—municipal project in the city's history. In May 1999, Dubuque was soaked with as much as five inches of rain in five hours, flooding basements and alerting city officials to the dangers of too much precipitation. The municipal government spent $275,000 to create a plan to better divert and manage the surges in rainwater, which climate scientists expect to increase in frequency. The project took off in 2013, when Dubuque received a $98.5 million grant from the state, as part of a $200 million public-works endeavor. Some of the plan will take a decade to complete; the rest could stretch until 2038.
The project's biggest booster is Dubuque's mayor, Roy Buol. While city was already planning to handle the floods when he was first elected in 2005, Buol doubled down as part of a broader effort to convert Dubuque into an environmentally resilient city. During his campaign, as a Democrat in the nonpartisan election, "I was knocking on a lot of doors," he recounts. "I kept hearing responses from a lot of people around climate issues—you know, water quality, air quality, the land and how that's being affected, whether it's droughts or floods. Just a lot of things around climate change."
A personal factor increased his concern: He and his wife had recently become grandparents. As he learned more about the proportion of global resources consumed in the United States, Buol—he's now 65—began to wonder about the legacy his generation would leave behind. "I could see very quickly that we were on an unsustainable path," he says, "and our grandchildren and their grandchildren were really going to inherit a very different world than we did when we were growing up."
In Dubuque, only 59 percent of residents believe the Earth is warming, a percentage point lower than in Iowa as a whole, according to a report last year by the Yale Project on Climate Change Communication and the George Mason Center for Climate Change Communication. Nationally, the figure stands at 63 percent, and just 48 percent of Americans mostly blame humans.
Even so, in Dubuque, the City Council followed the mayor's lead and adopted a program in 2006 called Sustainable Dubuque, a public-private collaboration that has made the city a local leader in environmental action. For Dubuque's unique character extends beyond its topography. A century ago, this city on the river became Iowa's primary manufacturing center, drawing Irish and German workers who brought Catholicism, labor unions, and enthusiasm for the Democratic Party. The city continues to be dominated by blue-collar Democrats, whose party is apt to believe that humans have played a role in changing the climate.
City officials drew up a plan to cut greenhouse gases in half throughout the community and joined with IBM to launch a series of pilot programs using data to improve the efficiency of utilities and transportation. One project put "smart" water meters in 23,000 homes, which prompted the volunteer participants to reduce their water use by 6.6 percent.
The city is also working to curb flooding through the Bee Branch Watershed Flood Mitigation project, the $200 million undertaking first broached in 1999. It focuses on a 6.5-square-mile area on the north side of Dubuque, where more than half of the city's residents either live or work. The rainwater tends to drain to the same place, the Bee Branch Creek. The creek, however, has been covered by concrete for decades, and the underground sewer pipes become overwhelmed during hard rains. This floods the low-lying neighborhoods, which are home to low- and middle-income residents.
The crux of the city's plan is to divert additional water into the creek while holding more of it in the wider watershed, so it doesn't all drain to the same place. This will require substantial upgrades to Dubuque's infrastructure. To start, a mile-long stretch of the Bee Branch Creek is being "daylighted"—restored to its natural form as an open, flowing body of water. The first phase of that project was completed in 2011, expanding an existing drainage basin to hold excess storm water and opening a span of the creek near an industrial park that's slated to become a shopping center. Clearing space for the drainage basin and part of the waterway entailed removing 265,000 cubic yards of soil, along with six houses and onetime parking lots.
The second phase, which began in June, involves daylighting the second half-mile of still-buried creek and developing the shorelines. Walking paths, an amphitheater, a playground—and a community orchard—are to be finished by the end of 2017. The newly opened stretch of creek should better handle floodwaters and prevent the overflow from harming homes or businesses. Also, 240 alleyways in the Bee Branch watershed are being replaced with a permeable pavement that allows water to seep into the ground below.
The project is already making a difference. Two detention basins (another was dredged in 2003) can hold nearly 100 million gallons of water combined, and four dozen permeable alleyways have been installed. Each phase helps, city officials say, but denizens of Dubuque can expect flash flooding until the project is completed.
So far, city officials have raised $128.5 million of the $200 million they figure they'll need. They've relied on a mix of financial sources, including federal dollars, private donations, and a storm water utility fee that property owners pay. By far, the largest chunk came courtesy of the state's Flood Mitigation Board, which is allowing the city to recapture a portion of sales tax collected locally over 20 years. Dubuque has taken out loans for the project that will be repaid using the flood board's largess.
Iowa Gov. Terry Branstad, a Republican, has been evasive about whether he thinks humans bear any blame for warming the climate. But in Buol's mind, the state's $98.5 million "speaks volumes" about its willingness to help Iowans adapt to the prospect of ever-worsening storms. "I think it's been a strong partnership"—so says the mayor of Dubuque—"that other states could look at and use as a best practice."
We want to hear what you think about this article. Submit a letter to the editor or write to letters@theatlantic.com.
Ted Hesson is a writer based in
Washington, D.C
.
He has written for National Journal, Vice, and Fusion.