Why Are So Many Law Firms Trapped in 1995?
Most still keep hard copies of old case files and have their lawyers manually track their hours in six-minute increments. Changes are arriving—slowly.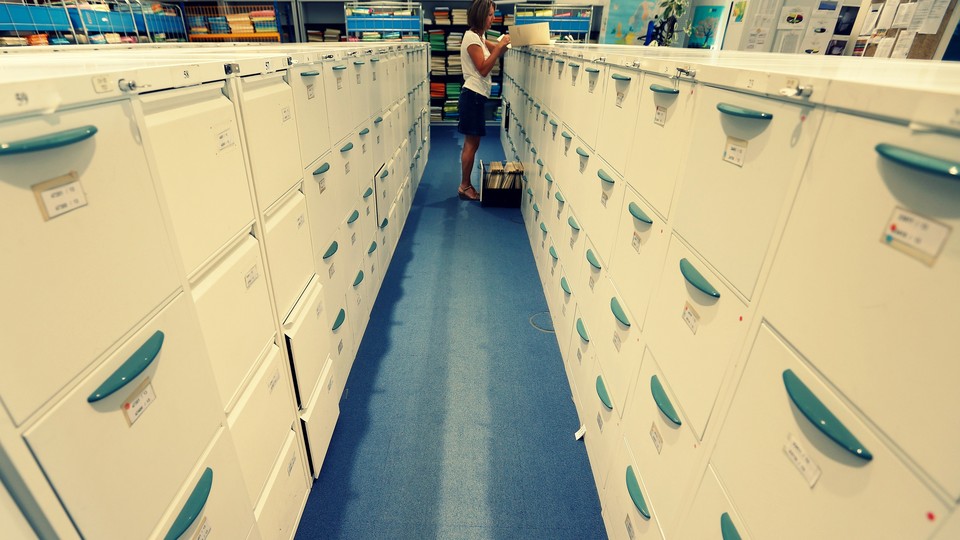 After I graduated from law school, my first assignment at a large New York law firm was to assist in the discovery phase of a securities case. For 12 hours a day, I sat in a conference room jammed with bankers' boxes full of documents, reviewing them one page at a time. I'd code them on SAT-like bubble-filled sheets that were then stapled to each document and placed on one of two dozen piles scattered across the table.
This archaic scene didn't take place during the Johnson presidency, or even Reagan's, but about 10 years ago. Since then, nearly all document review has been transferred online, but other changes have been slower to take hold: Lawyers, for instance, still manually keep track of their time in six-minute increments, and many firms hold onto voluminous hard copies of old case files.
Even though many firms remain behind the times, they soon may not be. New technologies and increased competition are forcing the legal industry to slowly remake itself.
"The billable hour is the culprit of everything," explains Ralph Baxter, the former chairman and CEO of Orrick, Herrington & Sutcliffe. Implementing innovations that render billable hours obsolete can be like tugging on a thread that threatens to unravel the basic concept of a law firm. For example, the start-up Lex Machina can speedily mine and analyze litigation data that would take an army of associates months to go through. Suddenly, several associates aren't billing. And if they aren't billing, the firm could do without them. And if they could do without those associates, then they could do without the office space they occupy. There goes the business model.
While traditional law firms have been slow to adapt, it is these more overt inefficiencies that a new crop of start-ups and law firms are aiming to exploit. Todd Smithline jettisoned billable hours entirely and operates his San Francisco-based, tech-focused firm, Smithline PC, under a subscription model. Clients pay monthly fees ranging from $8,000 to $25,000, which buys them as much service as they need. He says many were skeptical at first, but he has found that "clients value predictability." Jason Boehmig, the co-founder and CEO of Ironclad, a legal-software company, agrees that clients are eager for change in the legal industry. "Clients have the incentive to take advantage of technology because they are the ones really feeling the pain of the billable hour," he says.
The disconnect between what traditional legal services offer and what clients want has been a boon to legal entrepreneurs. After Chad Burton, a former "Big Law" attorney, built a firm for himself with, as he puts it, "low overhead, but sophisticated work," he met so many other attorneys looking to do the same that he founded Curo Legal, a consulting and staffing business that helps lawyers strike out on their own. He now teaches a course at Dayton Law School about how to build a firm from scratch.
And Nikhil Nirmel, a former Yelp employee, saw that people were seeking out lawyers based on geography, much like they would look for a laundromat or a dentist—even though they didn't have to. So he started Lawdingo, which takes location out of the equation and pairs clients with lawyers online.
Lawyers are a risk-averse bunch, but for those willing to step off the traditional path for new ventures, there are rewards. "You have to be scrappy to be an entrepreneur but there is now tremendous opportunity in the industry," says Nicole Bradick, who founded a firm called Custom Counsel when she saw a chance to match understaffed law firms with the idle talent pool of women who'd left law after having children.
Using new technologies to create a more efficient legal system "should (and does) make innovative lawyers very rich," says Joe Borstein, who left Big Law to become the global director of the legal-outsourcing firm Pangea 3. But there are non-monetary benefits, too. "These attorneys improve access to rights and justice for millions of people," says Borstein. And the chance to improve the lives of unhappy attorneys has been incentive enough. "Changing this profession for lawyers who are categorically miserable is my calling," says Christopher Marston, the founder of the law and financial-services firm Exemplar.
Whatever legal entrepreneurs' motivations may be, the industry at large is aware of the changes they're bringing about. The American Bar Association's magazine devotes an issue each year to honoring "legal rebels"—creative attorneys changing the practice of law. And there are now trade shows with hundreds of exhibitors showing off legally-inclined tech products.
But despite going more mainstream, this sort of innovation is in its infancy, and firms aren't sure how much new technology is too much, or too little. "At one end of the spectrum, where lawyers are doing everything, is wrong, but the other end of the spectrum, replacing them entirely with software, is also wrong," says Ironclad's Jason Boehmig. "The winners in this space will be the ones that are able appropriately involve lawyers in the process."
Baxter, the former law firm chairman, says that even if uptake is relatively slow says that even if uptake is relatively slow, the industry is still moving in the direction of openness to new technology. "Step by step, law firms, clients, and legal start-ups will make improvements and will gain market share," says Baxter. "The market will turn towards more innovative, creative solutions."
It's safe to say that none of these will involve a stapler or a sheet with bubbles.