A Significant Deal for Automakers and Unions
American factory workers are going to make good money again as labor inks deals with the Big Three. Will the benefits spread to non-union plants?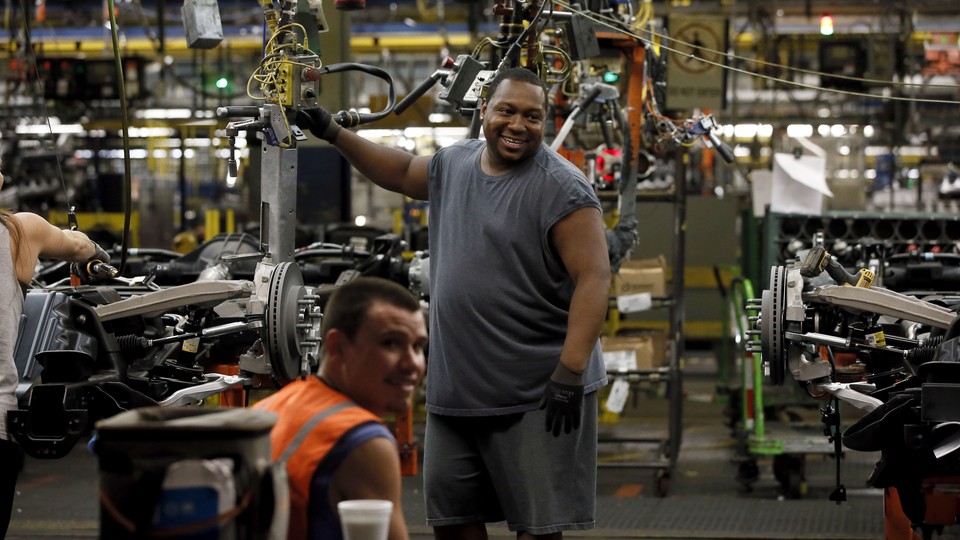 For nearly a decade, new workers hired at unionized auto plants across the country have started their jobs knowing a troubling fact: They made less than their colleagues, sometimes half as much. And no matter how hard they worked, they could never earn the wages of the people standing next to them on the assembly line.
This was the result of concessions the United Auto Workers (UAW) made in a series of negotiations with the Big Three automakers: General Motors, Ford, and Chrysler (now called FCA after being acquired by Fiat). Under the "two-tier" system, as it was called, new workers would never be able to make as much as longtime workers, even though they were often doing the exact same job.
Expanded in 2007, the two-tier system was, the automakers said at the time, the only way they were going to be able to continue to make cars in America.
But, in a deal reached Sunday night, the UAW and GM announced that they had hammered out an agreement that would get rid of the two-tier wage system. FCA made a similar deal with the UAW last week; Ford is still negotiating with the union.
That the UAW was able to get both FCA Chrysler and GM to agree to phase out this two-tier system in contract negotiations this month is an impressive testament to the continued relevance of the union. It also suggests that businesses can make money while still treating their employees well.
GM made $1.4 billion in the third quarter of this year, and Ford beat expectations to make $1.89 billion in the second quarter. FCA has struggled a little more, but is closing the gap, earning $1.4 billion in the second quarter.
This is good news for the thousands of UAW members who now have job stability in factories across the U.S., since the contracts include promises of investments in certain U.S. plants, as well as profit-sharing for employees.
But what about all the other autoworkers who aren't union members? That's a lot of people: There are about 145,000 unionized workers at the Big Three (92,000 who are covered by the GM and FCA deals, and another 52,000 at Ford). By contrast, there are 934,000 Americans employed in manufacturing motor vehicles and parts, according to the Bureau of Labor Statistics.
The New York Times' editorial board posits that these contracts will lead the way to higher pay throughout the industry, at both union and non-union shops. The contract "halts the long downward pull on wages in the auto industry," the newspaper writes, by defining $30 an hour as a middle-class wage. (Veteran workers will eventually make $30 an hour, while new workers will rise from about $19 an hour to $29 an hour over eight years.)
People Employed Manufacturing Motor Vehicles and Parts
Much could turn on geography: Some of America's non-unionized auto workers are in Rust Belt states, where a history of unionization has driven wages up, even at non-unionized plants. But many are in right-to-work states such as Tennessee and much of the South, where low union density and an ample labor supply have attracted foreign automakers and parts suppliers to set up factories in recent years. In these right-to-work states, jobs are typically low-paid and strenuous.
Many workers at auto-parts suppliers or non-unionized plants in the South are desperate for a union, according to Tim Stannard, the president of the UAW local at a GM plant in Spring Hill.
"We have people calling us every day, begging for the UAW to come in," he told me.
They include Robert Bruhn, 49, a Nissan employee who was hired through a staffing agency and recently moved to a program that allows him to be a full-time Nissan employee, albeit with lower wages. Bruhn says he's strictly a Republican, but he sees the benefits to a union; his stepdad was a member of the steelworkers union, and the family owned a house and went frequently on vacations to Florida. Bruhn rents, and says he'll be working for the rest of his life. He never goes on vacation. A union would give him a voice and allow him to negotiate better pay, he said.
"No, I shouldn't walk in the door and make $25 an hour, but I should at least have a way to reach the top," Bruhn, who served in Iraq, told me.
But Bruhn says most others at the plant are too afraid of retaliation to speak up. Indeed, the prospects of organizing more auto workers are grim. The UAW lost a prominent push to unionize a Volkswagen factory in Chattanooga, Tennessee, in February 2014, despite the company's neutral position on the union. The union faced vocal opposition from local Tennessee politicians, including Senator Bob Corker, who said publicly during the vote that Volkswagen had promised to build a new plant in the town if workers rejected the UAW. Outside groups erected billboards connecting the UAW to Detroit's bankruptcy and to President Obama, who is unpopular in the South.
Often, employers push back against workers trying to unionize. In one auto-parts factory, Stannard told me, there was such high support for a union that half of the plant's 100 employees showed up at a local restaurant to attend a meeting about organizing. But then one of the employees told management about the union, Stannard said, and the company's vice president flew down in Tennessee in a private jet, held a meeting with the workers, played a few anti-union videos, and told workers that the company would move the plant to Mexico if they unionized. At the next meeting, only one worker showed up, Stannard said.
"I'm shocked at how scared people are," Ed Ensley, who is also trying to organize Nissan employees at a plant in Smyrna, told me.
We spoke at an organizing office the UAW has established in Smyrna, in a half-empty mall near an abandoned Jack-in-the-Box. Some Nissan employees speculate that the large number of temporary jobs at Nissan has had a chilling effect on the local economy, because the wages are so low. Efforts to organize this and other plants in the South have not culminated in elections.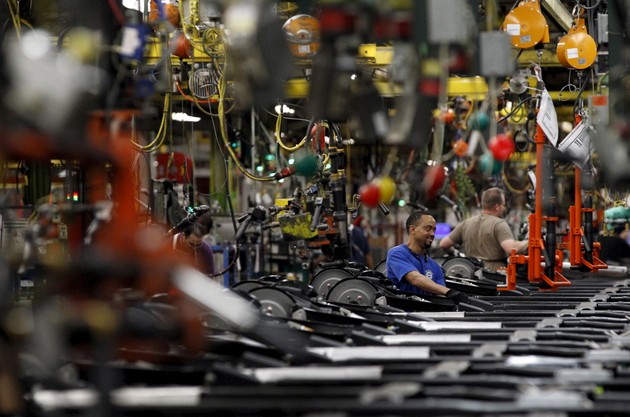 Still, there have been some successes. In September, a small auto plant in Alabama voted to join the UAW by a 2-to-1 margin after workers expressed discontent with the low pay and number of temporary workers there.
But the biggest threat in many negotiations—that the car companies will relocate to Mexico—still remains significant. Ford said in July it was moving two models out of Michigan to Mexico. Mexico offers lower wages and relatively cheap transportation costs, and the quality of the products made there has improved in recent decades, Wally Hopp, a professor at Michigan's Ross School of Business, told me.
Given the low tariffs and low labor and transportation costs in Mexico, "It's hard to make an argument for auto to locate in a place like Tennessee, let alone a place like Michigan," he said.
That companies can threaten to move to Mexico doesn't minimize the UAW's accomplishments in the U.S. In fact, it underscores them. "I think that the UAW is essentially saying: 'We may not have that many workers in the automobile industry,'" Gary Chaison, a professor of industrial relations at Clark University, said. "'But those that we do have will have good wages and benefits.'" The difficulty lies in bringing those perks to more people.