The Story of Wall Street's First Black Millionaire
Jeremiah Hamilton made white clients do his bidding. He bought insurance policies on ships he purposely destroyed. And in 1875, he died the richest black American.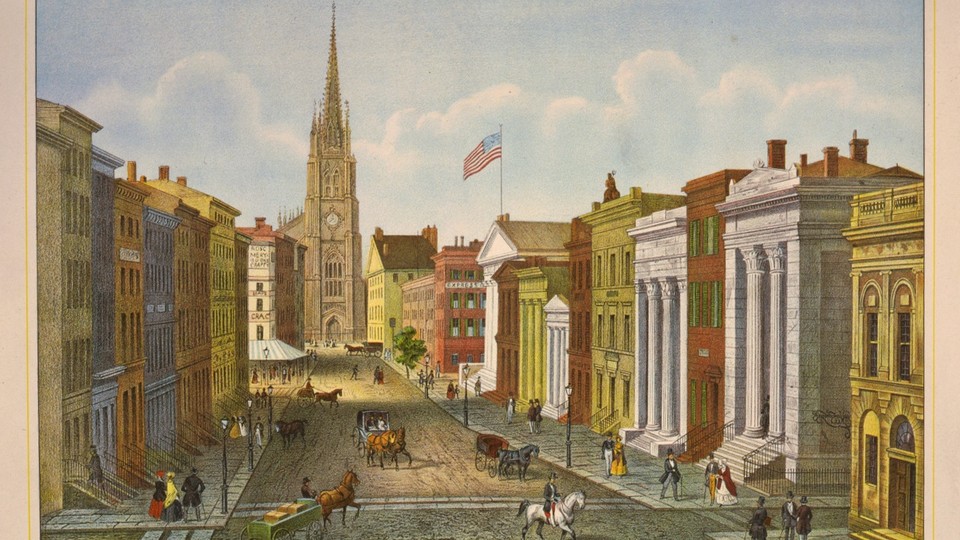 No one will ever erect a statue honoring Jeremiah G. Hamilton. As an African American broker in the mid-1800s, Hamilton was part of no one's usable past: Wall Street in that time was completely white, and New York's black leaders disdained him for his brashness. But his death, in 1875, attracted national attention, and scores of newspapers reported that Hamilton was the richest non-white man in the country and that his estate was worth about $2 million, or about $250 million today.
Hamilton worked in and around Wall Street for 40 years. Far from being some novice feeling his way around the economy's periphery, he was a skilled and innovative financial manipulator. Unlike later black success stories such as that of Madam C. J. Walker—the early 20th-century manufacturer of beauty products, often assumed to be the first African-American millionaire—who would make their fortunes selling goods to black consumers, Hamilton cut a swath through the thoroughly white New York business world in the middle decades of the 19th century.
He may have been successful, but he was not well-liked. "The notorious colored capitalist long identified with commercial enterprises in this city," one obituary spat, "is dead and buried." Rumors of counterfeiting and scams against insurance companies dogged him until he died. Not that the ethics or business practices of many of his antebellum contemporaries could bear too much scrutiny, but Wall Street was never going to be a level playing field for a trailblazing African American. His forays soon earned him the nickname of "The Prince of Darkness." Others, with even less affection, simply called him "Nigger Hamilton."
Yet for all that, brokers and merchants generally were more interested in the color of the man's money than his skin. Not that Hamilton gave a damn one way or the other. In general, he simply carried on amassing his fortune whenever an obstacle arose.
Born in 1807, either in the Caribbean or in Richmond, Virginia (his story of where he came from depended very much on whom he was talking to), Hamilton first made his mark on the historical record in 1828. In that year, the 20-year-old ran a cargo of counterfeit Haitian coin to Port-au-Prince for a consortium of New York merchants. When the Haitian authorities uncovered the criminal enterprise, Hamilton fled.
After news of the abortive expedition broke in New York, the newspapers condemned him. Most notably, the editor of Freedom's Journal, the first African-American newspaper, cursed Hamilton for what he viewed as his disgraceful role in undermining the existence of the world's first and only black republic. Under considerable pressure to name names, the African-American entrepreneur kept his silence and the identities of the New York merchants who had bankrolled the counterfeiting expedition were never revealed. Although still young, Hamilton apparently had learned the ways of Wall Street.
Five years later, he had shifted his focus permanently to New York, where he quickly acquired a reputation for over-insuring vessels and then arranging for them to be scuttled, which proved quite lucrative (for him, at least). Indeed, it was businessmen such as Hamilton who drove the nascent marine-insurance industry to organize itself. By 1835 all of the New York marine-insurance companies made no secret that they had collectively agreed never to insure any voyage involving Hamilton.
In the mid-1830s, the United States was in the throes of a real-estate boom, and Hamilton jumped headlong into the frenzy. He bought 47 lots of land in what is present-day Astoria. Even more impressively, he invested heavily in property in Poughkeepsie, buying several tracts of land in the town, an iconic local mansion, and a 400-foot-long wharf. In all, he gambled more than $10 million in today's money that the boom would continue. Following the herd turned out to be the worst business decision of Hamilton's life. He had bought at the top of the market, only weeks before what became known as the Panic of 1837. Hamilton dodged his creditors for several years, but, taking adroit advantage of new federal legislation, declared bankruptcy in 1842.
Although Hamilton had bought and sold some stocks in the 1830s, the second act of his New York business career, beginning after 1842, was defined by his Wall Street speculations. His bets did not always pay off, but they most definitely were distinguished by wile and creativity. For instance, in the mid-1840s, he dragged the Poughkeepsie Silk Company into court so that the struggling firm could be legally dissolved, leaving the cash realized from the sale to individual shareholders, including himself.
Perhaps more impressive to modern eyes, Hamilton, by the 1860s, if not earlier, ran what was termed a "pool," which resembled a hedge fund. It worked like this: Investors pooled their money, depositing it for Hamilton to invest on their behalf. The benefit of such an arrangement was that the pool's contents were used as an assurance that would let Hamilton borrow more money, so that a much larger sum was available to play the market. It was entirely up to Hamilton to decide which stocks were purchased, but the point of a pool, as with a hedge fund, was to take aggressive and therefore more hazardous positions in the market. In effect, Hamilton was risking other people's savings in order to speculate.
What may be even more startling today was that white New Yorkers, eager to join Hamilton's pool, were driven to giving him gifts to gain his favor. In the mid-1860s, Hamilton advised one to "send him a basket of champagne and a box of segars." Furthermore, Hamilton made it absolutely clear that when it came to such offerings, "he did not want any but the very best."
Consider the greater historical context of such a statement: In the middle of a war of almost unimaginable carnage over the existence of slavery, less than 12 months after the Draft Riots—New York's own cataclysm, in which the mutilated bodies of African Americans were hanged from lampposts—an unapologetic wealthy black man let it be known that he was willing to receive cigars and champagne (mind you, only "the very best") as acknowledgment of his benevolence. In order to gain privileged access to this African American's wisdom about the market prospects of listed corporations—modern entities beyond most Americans' understanding that were laying thousands of miles of railroad track and steaming huge iron vessels across oceans—some white New Yorkers were willing to grovel.
Hamilton could get away with such behavior—just—on Wall Street. The rest of the city, though, was another matter. On the second night of the Draft Riots in July 1863, a vengeful Irish and Irish-American mob burst into his house on East 29th Street. A lookout left on the street told a neighbor that "there is a nigger living here" and they were "going to bring him out, and hang him on the lamppost, and you stop and see the fun." Sensibly, Hamilton had slipped over the back fence and made himself scarce.
By any standard, Jeremiah Hamilton was wildly successful: He owned ships, he traded stocks, he bought and sold real estate, and he was Wall Street's first black millionaire. It was not just that Jeremiah Hamilton succeeded, but that he did so while cutting through Wall Street's overwhelming whiteness with such verve. There was nothing timid or deferential about him. When a legal official struck Hamilton with his cane, the broker swung back at him with a hunk of wood seized from a passing cart. When two white men had him arrested late at night so he could not be bailed out, Hamilton retaliated, arranging to have the police drag his accusers out of bed before dawn and held in a cell until they could raise a hefty sum for surety.
For all his notoriety, Hamilton was about more than just posturing—he was very good at what he did. In the mid-1850s, he went toe-to-toe with Cornelius Vanderbilt in a courtroom struggle for control of the Accessory Transit Company, an enterprise that ran a steamship line from New York to San Francisco through Nicaragua. Vanderbilt admired the persistence of his black opponent. According to one of Vanderbilt's obituarists, "There was only one man who ever fought the Commodore to the end, and that was Jeremiah Hamilton." He went on to record a remarkable acknowledgement from the tycoon: The Commodore, as he liked to be called, "did not fear [Hamilton] because he never feared anybody," but he most certainly "respected him."