An Apology From Volkswagen
The German automaker's top U.S. executive appeared before lawmakers Thursday about the recent emissions scandal.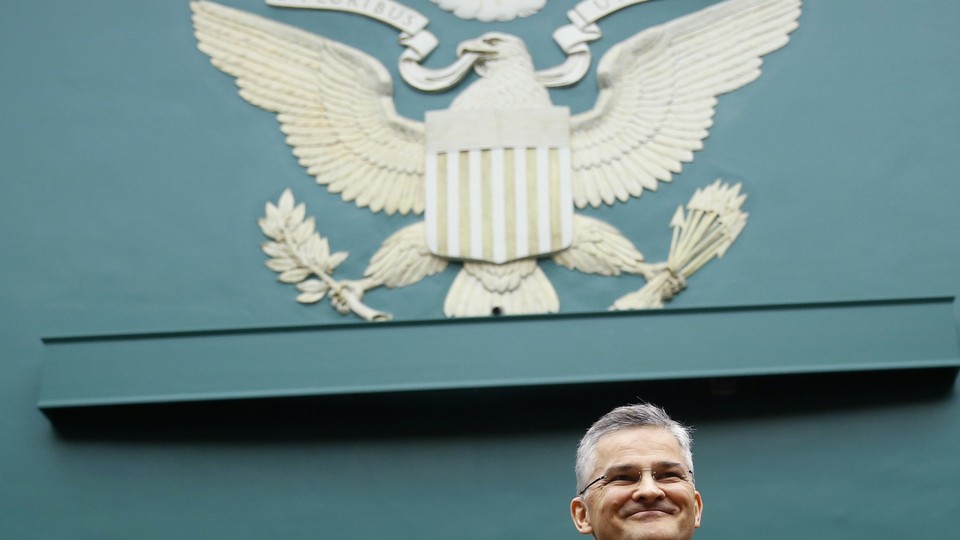 When news broke last month that Volkswagen had cheated on U.S. emissions tests, the company's top U.S. executive admitted "we have totally screwed up."
On Thursday, Michael Horn, the chief executive of Volkswagen Group of America, apologized to U.S. lawmakers for it.
"I would like to offer a sincere apology for Volkswagen's use of a software program that served to defeat the regular emissions testing regime," he told the House Commerce and Energy Committee.
Late last month, the Obama administration ordered Volkswagen to pull 500,000 of its "clean diesel" cars off the road. The administration said that starting in 2009, the German automaker had installed illegal software in its diesel vehicles in order to circumvent emissions standards set by the Environmental Protection Agency for certain air pollutants, like smog. Volkswagen owned up to rigging the tests, and then revealed it had installed the "defeat devices" in 11 million cars worldwide.
The fallout wasn't pretty. Volkswagen's shares plummeted, its CEO resigned, and prosecutors got to work on digging into the scandal. As Horn sat behind the microphone on Thursday, Reuters reported that German prosecutors raided Volkswagen's headquarters in Wolfsburg for information for their investigation.
Horn said Thursday he knew in 2014 of potential problems with emissions compliance. He said Volkswagen takes "full responsibility" for the scam, and that it would withdraw applications for U.S. emissions certifications for its model year 2016 cars with diesel engines. Horn said that three individuals have been suspended as a result of the scam. No one has been fired.
The company has vowed to to spend about $7 billion on "necessary service measures and other efforts to win back the trust of our customers."
Some of those customers include members of Congress. Representative Morgan Griffith, a Republican from Virginia, told Horn that he owns a 2012 Passat.
"Everybody's thinking, 'What are consumers thinking?' he said. "Well, you're looking at them. … I'm disappointed."
Peter Welch, Democrat from Vermont, read a series of messages he received from constituents angered by Volkswagen's actions. One member of his district, he said, wondered how Volkswagen officials sleep at night.
"I don't sleep at night," Horn said, and described Volkswagen's plans to restore trust in its vehicles.