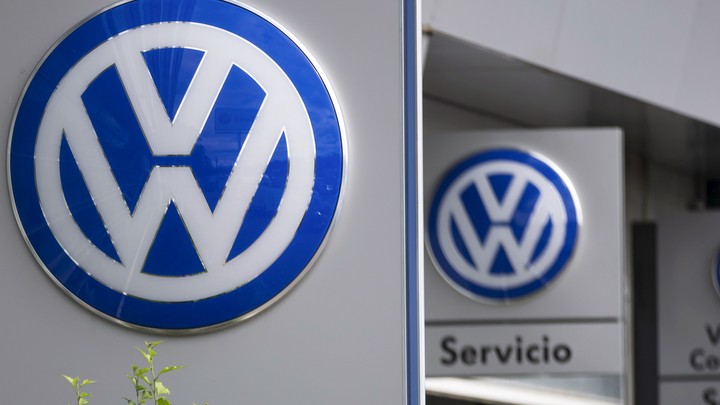 On Wednesday, Volkswagen posted a quarterly loss for the first time in 15 years. In a press release accompanying the announcement of the $1.8 billion net loss, Volkswagen Group emphasized that the company had been generating profit before "special items"—the  company's polite term for expenses related to its emissions scandal—emerged. Volkswagen has set aside $7.4 billion to cover the costs of the fallout, though some analysts suspect that that number will go up. Volkswagen's stock rose 4 percent on the earnings report, as the net loss is lower than some investors had feared.
"The figures show the core strength of the Volkswagen Group on the one hand, while on the other the initial impact of the current situation is becoming clear. We will do everything in our power to win back the trust we have lost," said Matthias Müller, the chairman of Volkswagen, in the press release.
In September, the Environmental Protection Agency ordered Volkswagen to fix nearly half a million of its vehicles after charging that the German car-maker installed illegal devices intended to cheat emissions testing. After admitting to the existence of "defeat devices" in some 11 million cars, Volkswagen has repeatedly apologized to its customers and replaced its CEO.
Earlier this month, German authorities ordered a mandatory recall of 8.5 million Volkswagen cars in Europe, with the deadline for repairs set at the end of next year. The company has announced plans to retrofit the affected cars, but most of the details on how exactly Volkswagen will fix the vehicles still remain unclear.
Details are even more scant regarding an official recall in the U.S., but there are reportedly already 350 lawsuits filed against Volkswagen in response to the emissions scandal. The EPA told Reuters earlier this month that it was awaiting a software fix from Volkswagen, which would require evaluation and approval before it can be implemented. But one hurdle in the U.S. will be convincing Volkswagen owners to comply with the eventual recall and repair their vehicles—many are worried that the fix will compromise performance. The Atlantic has reached out to the EPA for comment on the progress on the recall, and will update this story when we get a response.
We want to hear what you think about this article. Submit a letter to the editor or write to letters@theatlantic.com.
Bourree Lam
is a former staff writer at
The Atlantic
. She was previously the editor of Freakonomics.com.