A Deal to Unite the Pacific Rim Through Trade
The Trans-Pacific Partnership is the largest regional trade deal ever, but it faces opposition in Congress and overseas.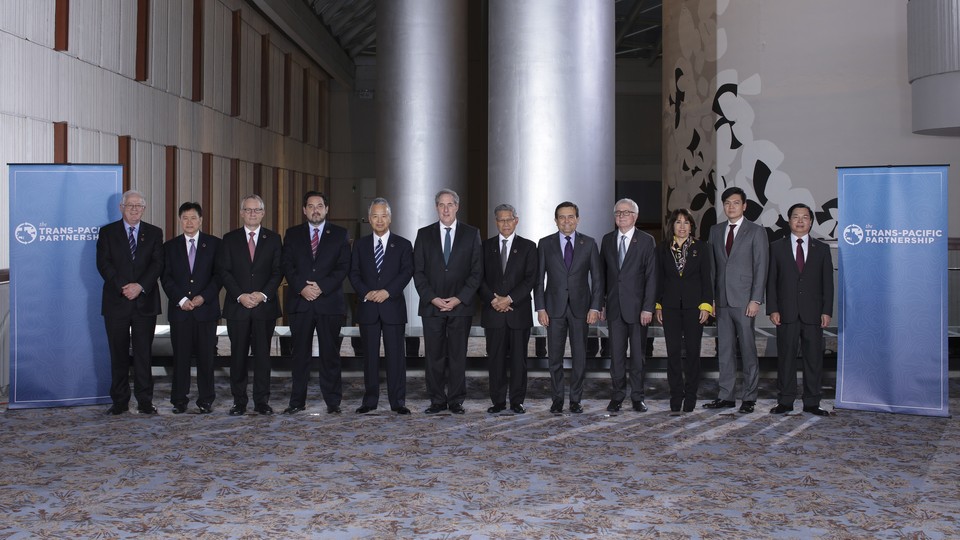 Updated on October 5 at 9:48 a.m. ET
Negotiators from 12 Pacific Rim countries, including the U.S., have agreed on a sweeping trade deal that would bring together about 40 percent of the global economy.
The Trans-Pacific Partnership includes Australia, Brunei, Canada, Chile, Japan, Malaysia, Mexico, New Zealand, Peru, the U.S., Singapore, and Vietnam. It would be President Obama's signature achievement on global trade and would mark his pivot toward Asia.
Michael Desch, a professor of political science at the University of Notre Dame, called the TPP the "jewel in the crown" of Obama's foreign-policy achievements.
"Walking this tight-rope between engagement [with China] and containment [of it] will be a challenge, as will dealing with domestic opposition to more free trade with China, but the Obama Administration seems committed to making this a big part of its legacy," he said.
The agreement, as you might have noticed, does not include China, and Beijing views that as a deliberate attempt to develop an economic counterweight to the world's second-largest (and by some measures largest) economy.
The TPP, which has been negotiated for nearly eight years, would be the largest-ever regional trade deal, and, as you would expect, it has strong opposition not only in the U.S. Congress, but also overseas. Congress must ratify the deal, which faces opposition from both Democrats as well as Republicans.
Part of the problem, as Alan Morrison wrote in The Atlantic in June, is the deal contains provisions that would allow foreign investors to bypass the federal courts.
But its supporters say the TPP would remove trade barriers and raise labor as well as environmental standards.