Tiny Homes for the Homeless
One Nashville pastor has a plan to help those without permanent shelter: building 60-square-foot houses with no bathroom, kitchen, or electricity.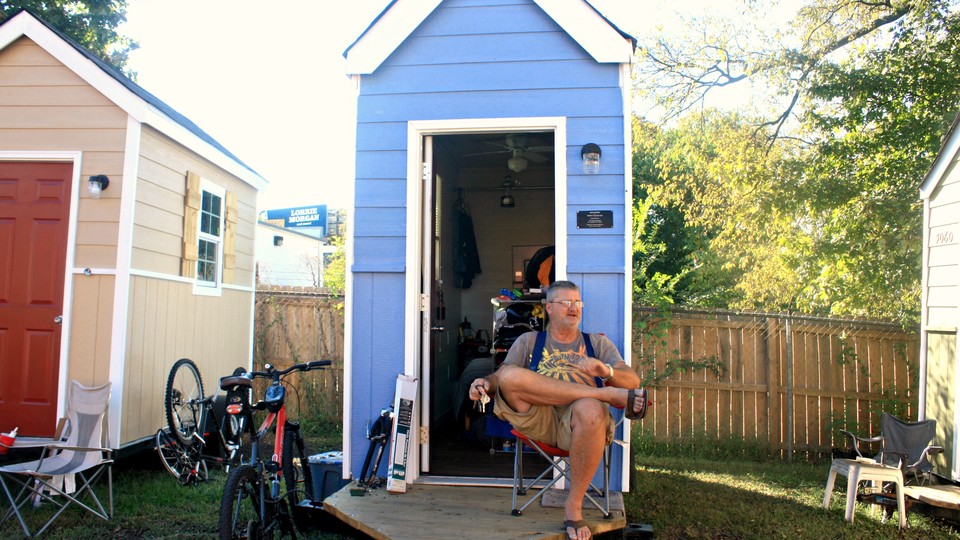 NASHVILLE—Around the time that Vanderbilt University released the results of a large-scale study outlining the most effective solutions to homelessness, Pastor Jeff Obafemi Carr was moving into a 60-square-foot house with no bathroom, kitchen, or even a sink. Carr's idea was to temporarily leave behind his wife and five kids to live in the tiny house, which looks like a tool shed, to raise $50,000 to build more such homes for the homeless.
After two months living in the home, Carr had raised $66,967—enough to build six. The buildings are now set up, on wheels, in the backyard of the Green Street Church on Nashville's east side, part of a sanctuary that also houses homeless people living in tents who moved from an encampment in one of Nashville's parks that recently closed.
The homes are brightly painted yellow, blue, orange, and purple, with red doors and white trim. They cost about $7,000 each to build, and measure 5-by-12 on the inside. Residents use bathrooms in the church, and shower outside with a hose. They eat donated food and drink coffee set up under a tent in the yard.
Peter Regan lives in one of the homes. He hangs his jacket on a bar above his bed, and folds his clothes in tiny cube containers at the foot of it. Batteries power a fan in the window, and many days, he'll sit on a camping chair on his front porch and talk to his neighbors, other people without permanent homes.
"It's a lot better than living in a tent, and if you've got some Yankee ingenuity in you, you can figure stuff out," he told me from his porch, gesturing to the jury-rigged lights he's set up (the homes are not yet connected to a power grid or generator).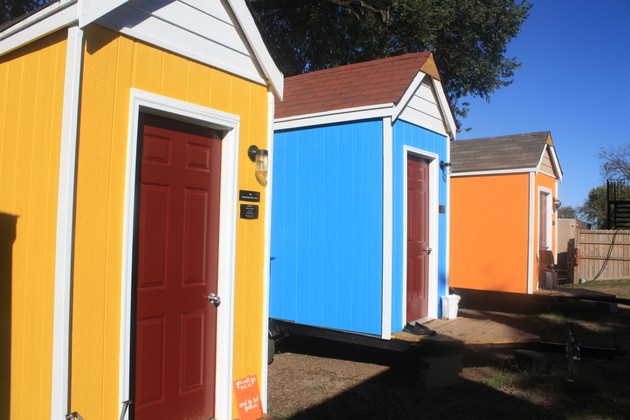 Tiny homes for the homeless may not be the solution policy wonks dream of. Indeed, the Vanderbilt study found that housing-choice vouchers, which allow families to live in market-rate apartments, are among the best solutions for homelessness. But in many booming cities, including Nashville, where rents are rising and vouchers can be hard to come by, and there's little city money for anti-homelessness programming, short-term solutions such as Carr's may make sense. Regan, for instance, says he's been on the waitlist for a Section 8 voucher for months.
"This model provides a stepping stone to homefulness," Carr told me. "If you set the goal as homefulness, you have to think, 'How do we get to that?' So many times, people think they have to get a Ph.D. so they can get grant money to do a study to find out that the number-one thing to do to fight homelessness is to give someone a home."
This DIY model to solving social problems is common in Nashville, a Bible Belt city where faith-based organizations play an especially important role in anti-poverty programs. Just consider where these homes are set up: the backyard of the Green Street Church, which welcomed in tents and tiny houses once homeless people were evicted from Fort Negley, a city park. "Sanctuary," a sign reads on the fence surrounding the lot, the "T" in the word designed to double as a cross.
The city may be spearheading the programs, but it's the people who are spiritually compelled to do so, such as Carr, who provide much of the support, financial and otherwise. Sometimes that support comes coupled with its own obligations, such as requiring participants to attend church to receive services. That may feel stringent, but Nashville's anti-homelessness programs would be a shadow of what they are now without the help of faith-based organizations.
"The way I have interpreted the city's role is the structure and the leadership, not the money," Rachel Hester, the executive director at Room In the Inn, told me.
Room In The Inn is a robust agency that provides year-round job training and support programs to the homeless, but is perhaps best known on the streets because every winter it offers up places to sleep in dozens of congregations throughout the region. It started in 1986 when four congregations committed to sheltering people through the winter, and now encompasses 180 congregations that can house 1,400 people.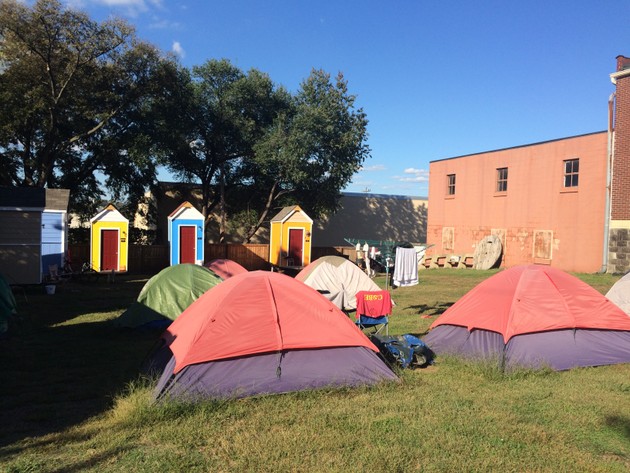 How's Nashville, an extensive campaign spearheaded by the Metropolitan Homelessness Coalition, also relies on faith-based organizations for funding and resources.
Kirby Davis, a landlord who manages 10,000 units in the region, got involved with How's Nashville when he donated housing units to homeless people. For little to no money, homeless people in Nashville were able to rent luxury private buildings, with access to fitness centers, computers, and pools.
"I'm a Christian, and I feel like it's part of my calling to help my fellow man where I can," Davis told me.
Over time, he said, as he realized that landlords weren't accepting housing vouchers because they could get more rent on the open market, he stopped trying to convince fellow landlords to donate units, and instead started lobbying them to merely accept vouchers. It is, slowly, working.
"The vouchers don't pay as much as the landlords could get on the open market, so you have to appeal to their better angels," he told me.
How's Nashville is much larger than just the landlord program. It's a group of organizations, spearheaded by the city, that seeks to find people on the streets and get them help via "housing navigators." But it is very dependent on the kindness of strangers. It recently launched a "2016 by 2016" campaign to get people to post videos of themselves on Facebook supporting ending homelessness or to donate.
The organization depends mostly on donations; of the $60,000 raised in the initial days of the program, $38,000 was from the public.
Nashville's successes are testament to what can happen when faith-based organizations get heavily involved in social problems. But it can help to have access to robust government resources, too.
John Noel lived in Nashville all of his life until he moved to New York three years ago. He found that New York City offered a wealth of opportunities to the homeless: job-training programs, food stamps, health insurance. Indeed, there are dozens of government-run programs in New York that seek to help employed families in shelters get up to four months of rent, reconnect with friends and family, and apply for various programs to get individuals and families into permanent homes. Of course, some of these programs depend on community-based organizations for help, but the city has its own Department of Homeless Services, which can partner with other city departments on issues related to homelessness. Working with the city's human-resources department, for instance, it helped find job placements for 7,000 New Yorkers in shelters in 2013.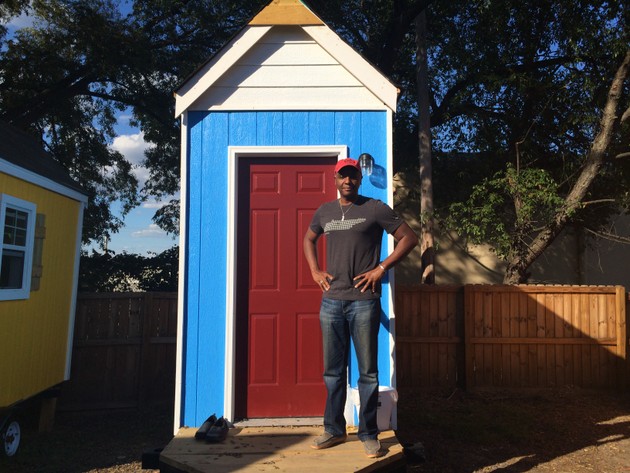 They may have included Noel. Through the city, he eventually got a job cleaning up New York City's subways. He returned to Nashville this spring when his father died, but he's planning to head back north.
"New York has so many more options than Nashville does," he told me, outside Room In The Inn's headquarters near downtown Nashville.
While that may be the case, Nashville's approach has distinct advantages: For example, depending on the community to address the problem of homelessness might eventually stir the political will to fund citywide programs, Hester said.
When members of congregations host the homeless, they get to know them as individuals, and are more motivated to try and help them.
"When a volunteer sits down and breaks bread with the homeless, they become an informed citizenry," she told me.
That's what happened with Pastor Jeff Carr, too. When he started his ministry, Infinity Fellowship, a year ago, members did a service mission serving food. Members were so galvanized by the experience that they started thinking about what more they could do, and came across the idea of building the tiny homes. Now, they're thinking about building a tiny-home village somewhere in Nashville.
"If you set a goal that's unreachable, people get frustrated," he told me. "But if you set a goal that's reasonable and that you can accomplish, people get motivated to do bigger and better things."
---
Related Video
After ditching their material possessions, this Portland couple went from $30,000 of debt to homeownership.
---