REI: 'Black Friday Has Gotten Out of Hand'
The retailer is shutting down operations on the day after Thanksgiving and encouraging its employees to go outside.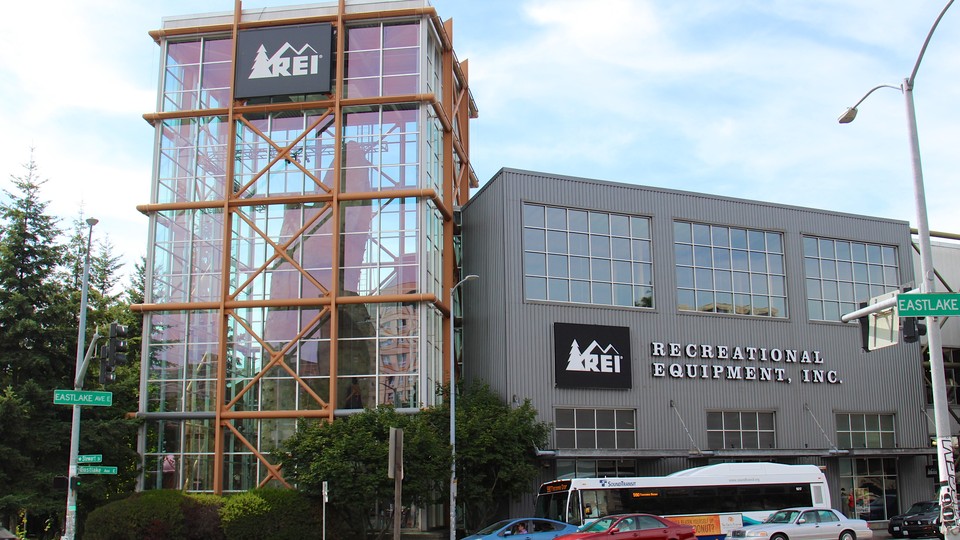 American retailers have been opening earlier and earlier for Black Friday, one of the biggest shopping days of the year. At first, some stores opened at the crack of dawn, then it crept up to midnight, and finally stores started opening on Thanksgiving evening to lure diehard deal hunters after dinner. Some of the more aggressive stores keep marathon store hours, operating continuously from Thursday evening till Friday night.
But then came the backlash: A group of retail chains, including Nordstorm and Costco, announced they wouldn't open on Thanksgiving day. Some framed it as giving their employees a break before the holiday season, and others hoped to elicit the goodwill of their customers.
Now one company is taking this ethos even further: The outdoor-equipment retailer REI announced on Monday that it plans to close its distribution centers, all 143 of its stores, its headquarters, and even its website on Black Friday this year. There will be no special promotions that day, either.
For the company's 12,000 employees, Black Friday will be a paid holiday. It's up to them to decide how to spend their time, but the company is hoping that they will follow a simple mandate: Go outside and do something.
"We're closing our doors, paying our employees to get out there," said Jerry Stritzke, the president and CEO of REI, in a press release. "We think that Black Friday has gotten out of hand and so we are choosing to invest in helping people get outside with loved ones this holiday season, over spending it in the aisles."
According to USA Today, Black Friday is one of REI's top sales days of the year. So while it's costly, it's a strong positive statement. "It seems consistent with REI's mission and ownership and does a great job making the organization's values clear to their employees and customers," said Zeynep Ton, a business professor at MIT who researches how companies can offer better jobs. "Good for them for standing up for something."
This keeps with REI's overall spirit. It is a business, but it's also a cooperative, meaning that its customers can pay a $20 membership fee, which gets them, among other things, annual "dividends" that come in part from the company's profits. REI currently has about 5.5 million members.
More generally in the economy though, Black Friday fatigue has been on the rise. Last year, there was a wave of Change.org petitions and social-media campaigns calling for both retailers and consumers to boycott Black Friday. While it's still one of the biggest shopping days of the year in the U.S., a report from the National Retail Federation found that only 55 percent of holiday shoppers spent money on Thanksgiving weekend last year, and that 42 percent of their spending was online. REI's announcement reflects more than just how tired its customers are of Black Friday; it reflects how tired many Americans are as well.