Americans Are Feeling Pretty Glum About Obama and the Economy
Citizens' views of their finances haven't improved in the past couple of years. Some blame the president.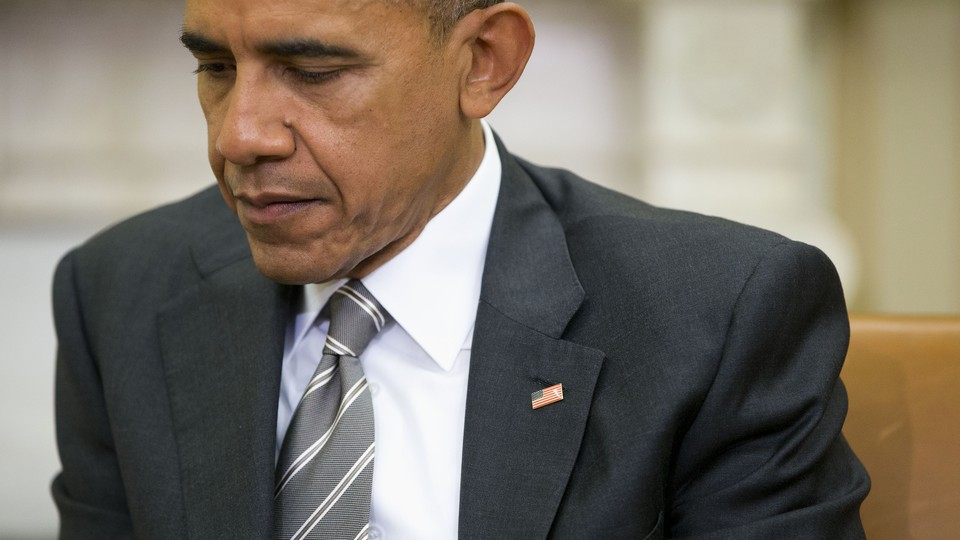 Like a baseball team faltering as the playoffs draw near, the public's attitudes toward President Obama, the economy, and the country's direction all hit a late-summer slump in the latest Allstate/National Journal Heartland Monitor Poll.
Although the changes were small, and often within the survey's margin of error, a distinct downward dip marked the latest poll on questions ranging from approval of Obama's performance to expectations of the economy's trajectory over the next year. Continuing the consistent pattern of his presidency, non-whites displayed considerably more optimism than whites on almost all of these questions.
On the broadest measure, the share of adults saying the country "is headed in the right direction" dropped to 23 percent, the lowest since late 2013. The portion saying the country is "seriously off on the wrong track" reached 62 percent. That marked a continued deterioration from last February's poll, which found 33 percent expressing a positive view and 54 percent have a negative assessment of the country's direction; those numbers eroded in the May survey (27 percent positive, 59 percent negative) and tumbled further in the latest sounding.
That slip appeared tied to economic attitudes—though less to changes in Americans' immediate experiences than in their expectations about the future.
In the new poll, 42 percent of respondents described their current personal financial situation as excellent or good, while 56 percent called it only fair or poor. That was virtually unchanged since May; indeed, the numbers have barely budged in any of the previous six Heartland Monitor polls, dating back to September 2013.
Americans also continued to withhold enthusiasm about the state of the national economy. Just 21 percent described it as excellent or good, up slightly from May but still slightly below the 25 percent positive response last February. All of these numbers represent an improvement from the meager 11 percent positive rating in 2013.
Expectations about the economy's future direction also remained stuck in second gear—and, in fact, lost momentum slightly. In the May survey, 47 percent said they expected their personal financial situation to improve over the next year; in the new poll, 43 percent felt optimistic. Just 10 percent, the same as before, thought their finances would deteriorate; the share that expected no change edged higher, from 42 percent to 44 percent, within the survey's margin of error. (In the latest poll, the remaining 3 percent said they didn't know, compared to 2 percent in May.)
The proportion that expects the national economy to improve over the next year also sagged to 28 percent, down from 32 percent in both surveys earlier this year. Another 27 percent thought the economy would get worse, while 39 percent expected no change
Against that backdrop of tepid economic expectations, approval ratings fell on both ends of Pennsylvania Avenue. Last May, the share of Americans who approved of President Obama's job performance matched those who disapproved (46 percent) for the first time in a Heartland Monitor Poll since mid-2013, when his approval rating slightly exceeded his disapproval rating. But in the new survey, Obama dipped back under water; 44 percent liked his performance, and 47 percent disapproved.
If Obama slipped under the waves, Congress fell deeper into its own Mariana trench: Just 13 percent of those polled approved of its performance, while 78 percent disapproved.
On another revealing measure, the share of adults who said Obama's economic agenda would increase opportunities to get ahead for people like themselves also fell, to just 24 percent. Continuing the pattern, that was the lowest number in a Heartland Monitor Poll since November 2013. Another 32 percent thought his actions would decrease their opportunities; that is still far below the nadir of nearly half of adults, which the poll recorded in late 2013 and early 2014. In the new survey, the largest group—38 percent—said his agenda was having no impact on their prospects.
As always, whites were especially downcast on Obama's performance. Just 16 percent of whites said Obama's actions were expanding their opportunities; only 33 percent said they approved of his job performance. In each case, more than twice as many nonwhite respondents gave a positive assessment. Obama's meager approval rating among whites was his weakest showing in a Heartland Monitor survey since two polls in the fall of 2013. By contrast, his approval rating among nonwhites in the new survey ticked up to 69 percent, his best showing since mid-2013.
No more than one in four white respondents have said Obama's agenda is improving their economic opportunities in a Heartland Monitor poll at any point during his second term. Among non-college whites, that number has not reached even one-fifth during his second term (it stood at one-seventh in the latest survey). In the new survey, just 17 percent of whites with a four-year college degree or post-graduate degree said Obama's agenda was increasing their opportunities, the lowest mark of his second term. Again, the contrast with minorities was sharp: 42 percent of minority respondents said Obama's agenda is increasing their opportunities.
And while just 36 percent of whites expected their financial situation to improve over the next year, 59 percent of minority respondents said they expected better times ahead.
Members of the millennial generation, another key component of the modern Democratic coalition, were also more upbeat; just over three-fifths of these younger adults expect a fatter wallet one year from now.
---
Janie Boschma contributed reporting to this story.