Call It a McComeback?
McDonald's stocks jumped after posting quarterly sales increases for the first time in two years. Here's how the company did it.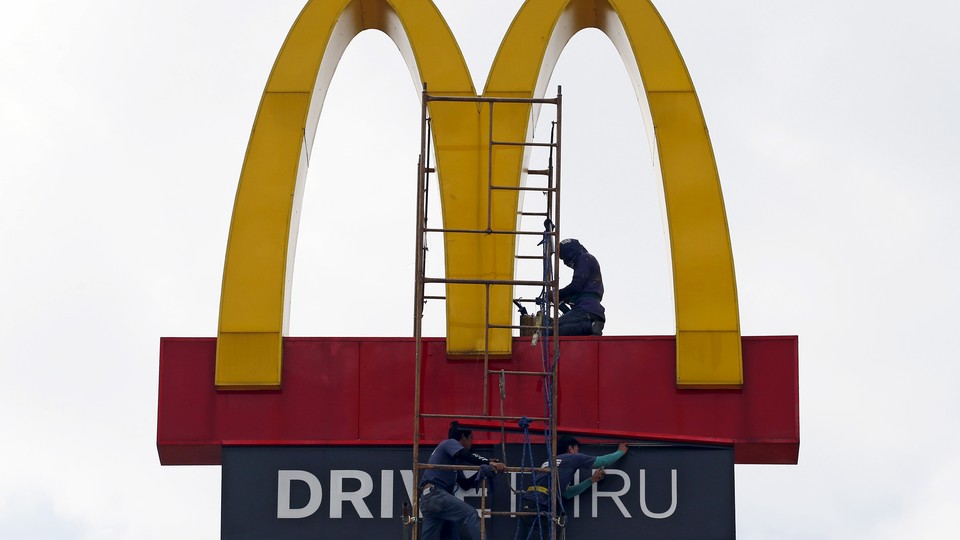 The Golden Arches of the universe are long, but despite recent woes, they still seem to bend toward profitability.
On Thursday, McDonald's stores showed quarterly growth for the first time in two years, exceeding expectations and causing shares to jump 7 percent. Global comparable sales for the company surged 4 percent and domestic comparable sales jumped 0.9 percent, defying a projected loss of a 0.2 percent.
The company says it owes its first signs of a turnaround to a return of demand in China, following a tainted meat scandal that gripped the country last year, as well as the popularity of the new Premium Buttermilk Crispy Chicken Deluxe sandwich.
Also, the paring down of menu items and some shifts in food preparation have given sales a boost.
McDonald's CEO says Egg McMuffin sales rose by double digit percentage after switching to butter from margarine. $MCD

— Phil Wahba (@philwahba) October 22, 2015
The surprising results undercut the extended speculation about the company's decline. Since introducing its new CEO Steve Easterbrook earlier this year, McDonald's has also helped to squelch the grease fire by reaching at the mantle of progressivism that have made its fast-casual competitors so successful.
Among the steps taken in the past few months alone, the company has pledged to shift to cage-free eggs, given raises to employees in company-run stores, made real the starry-eyed dream of all-day breakfast, and announced the phasing out of chicken raised with antibiotics. For now, it seems to be working.