Ikea's Possible Solution to Shrinking Apartments: Movable Walls
Just conjure up a bedroom at night, and then make it disappear.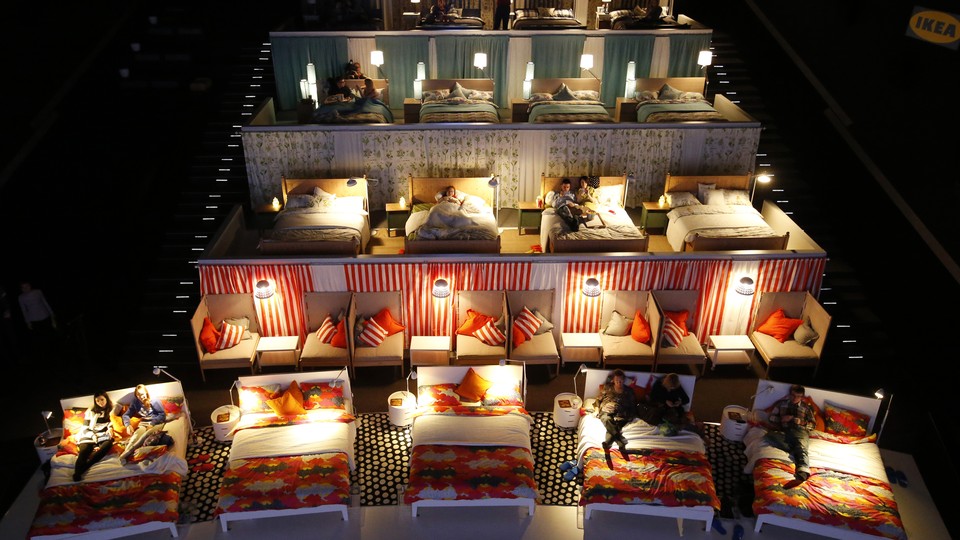 Manhattan real estate is not for the faint of heart (nor the light of pocket), and the latest reports about what it costs to live there are especially striking: The median price of an apartment is now just shy of a million dollars. To be clear, that's the median—not the mean—so it's not being tugged upward by stratospheric prices in the luxury market. It's the middle.
What does all that money buy you? "What you get for a million dollars is not a lot of space," Dottie Herman, the CEO of Douglas Elliman Real Estate, told The New York Times. And the market shows no signs of letting up.
One solution for the buyer who wants to do more with his or her hard-earned 800 square feet—and who's not content to just move somewhere else—could hit the market in a few years: movable walls. The walls, which sit less than an inch above the ground and are attached to runners on actual walls, could be shifted around like furniture to create small rooms—and then get rid of them and free up space. The Wall Street Journal reports that Ikea has been testing them out on Swedish families in a nondescript '80s apartment building in Malmö.
Aside from the minor frustration brought on by the constant unplugging and replugging of appliances and electronics, the walls seem to be a hit. "The apartment felt much bigger than mine, which is actually 20 square meters bigger," a single father who lived for two weeks in the test apartment with his three sons told the Journal.
The impetus for movable walls is that the people whom Ikea considers its target demographic are occupying ever-smaller spaces. The average size of a two-bedroom apartment built in Sweden this year is 580 square feet, but in 2001, it was 670. San Francisco, Seattle, and Boston have seen even bigger drops in square footage.
The movable walls probably won't be available for a little while. One Spanish architect the Journal reached out to said that he didn't even think it would be possible to install them without the assistance of several technicians (but then again, that's how a lot of people feel about the company's furniture). The walls haven't yet been given the umlauted honor of an Ikea product name, and because they'll take a lot more refining and rigorous safety testing, the company estimates they won't appear in catalogs for about three years. Who knows where Manhattan's real-estate prices will be by then.