How Hillary Clinton Helped Her Employees Manage Work-Life Balance
While secretary of state, she worked from home so that moms and dads could be with their kids on a snow day.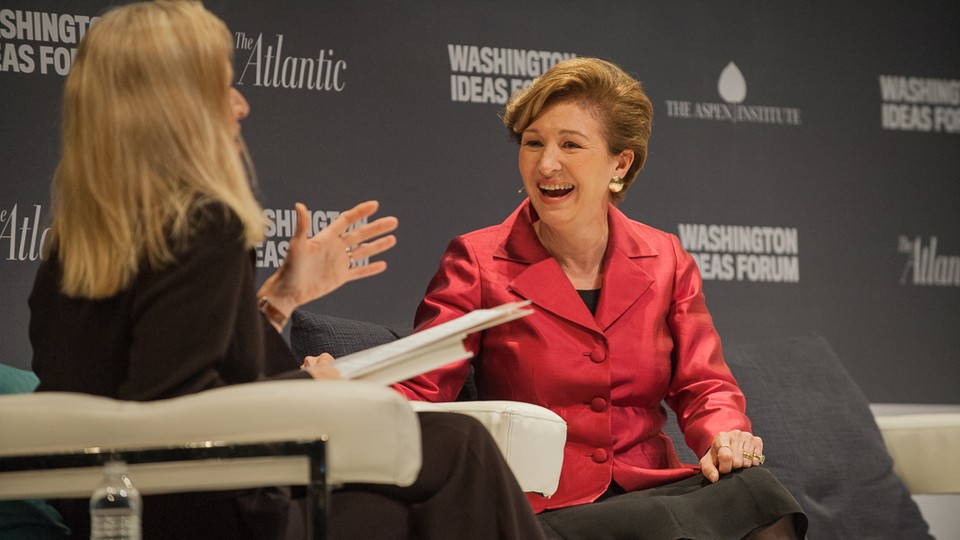 With every new release of Hillary Clinton's emails, Americans have gotten a better sense of what working in the U.S. State Department is actually like. The center of our national diplomacy is a place where people lose sunglasses, get stuck on the tarmac, and struggle with official phone trees.
The State Department has been revealed, in other words, to be a professional American workplace, though, of course, an unusually powerful one. And like other offices, it's one where employees struggle to balance their work and home life.  
In early December 2009, Anne-Marie Slaughter, then the State Department's director of policy planning, emailed Huma Abedin, a long-time aide to Clinton. She asked that Abedin take off some of the days before Christmas, to set an example so that other employees would know it was okay to be home for celebrations. The email said:
This is probably entirely inappropriate, but I had gathered you were thinking possibly of taking off on Dec 21. I would urge you to — for your own sake. The pace is absolutely killing and you deserve it. But it would also mean that a lot of folks who would like to take some time off with their family before Xmas (e.g. moms like me who are necessary to make Xmas happen) would feel much freer to do so.
A few months later, Slaughter asked if Clinton could work from home in the days after the massive 2010 blizzard in D.C. "Your staying home tomorrow will make lots of parents at higher levels feel ok about staying home with their kids. I may be one of them!" Slaughter wrote.
Clinton responded that she wouldn't have chosen to shut down the government, but that, now that that was the case, she would work from home.
One end to this story is well known: After leaving the State Department, Anne-Marie Slaughter wrote an article for this magazine about the many remaining problems of work-life balance for professional women. That article has now become a book: Unfinished Business, released this week.
But speaking at the Washington Ideas Forum on Thursday, Slaughter revealed another end of this story.
"I wasn't writing out of the blue. I knew Hillary Clinton cared," she said onstage, talking to Mary Louise Kelly, an Atlantic contributing editor. "I talked to her about having kids when she hired me, and that's the thing—she did, she did go home [on December 21st]."
Kelly replied: "No diplomacy was conducted for a few days and somehow—".
"Somehow we all survived," answered Slaughter.
Slaughter then recalled a story that's also told in her new book:
One week in the State Department, Deputy Secretary of State Jim Steinberg repeatedly missed or came late for Secretary Clinton's 8:45 meeting. On the fourth day, she raised an eyebrow at his assistant. But the minute his assistant explained that Jim's wife was traveling (she also worked for the government) and he was taking their daughters to school, Clinton's potential irritation turned to respect and support for his willingness to be an equal parent.
"If you work for her, you know that she cared," said Slaughter.
Since writing "Why Women Still Can't Have It All" back in 2012, Slaughter's focus on work-life issues has broadened to include both men and women, and wealthy and impoverished families.
"I could not have written this book three years ago, because I didn't believe what I am now arguing," she said at the 2015 Washington Ideas Forum on Thursday. Many of the issues associated with managing both career and family, she said, are in fact the issues of wealthy white women.
"60, 70 percent of all American mothers are in the workforce, and the workforce still assumes that all of us, women and men, have someone else at home," she said.
"The biggest change from that article to this book is: This book is not just written for working women, and as long as we keep thinking of this as a working women's issue, we are not going to fix it. We have been doing that for 20 years. This is a care problem, a problem of workplaces not making room for care."