Housing Boom, Schooling Bust
Why does a strong real-estate market push people to forgo getting an education?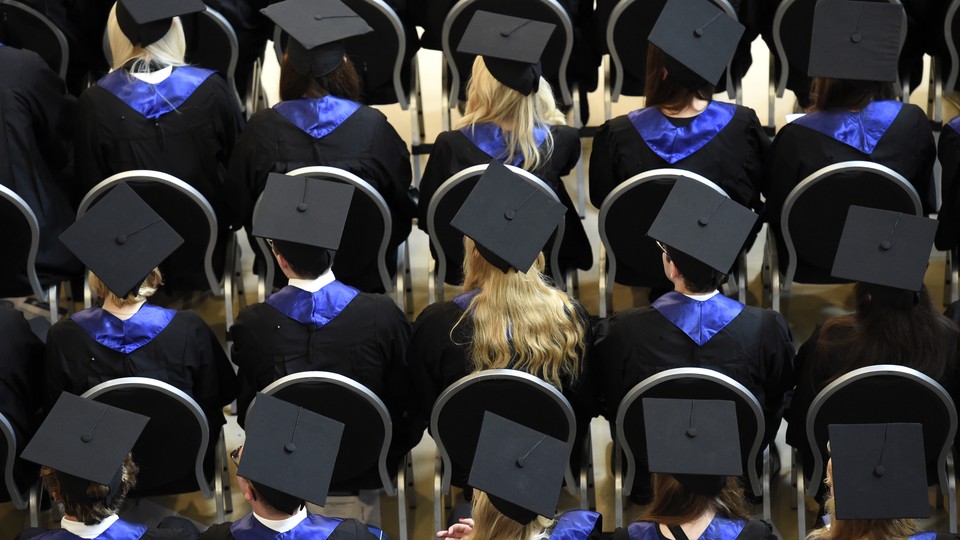 Education is often prescribed as the antidote for a host of job issues: low wages, unemployment, and career stagnation. So it's no surprise that when the housing market burst and the economy started to fall apart, more Americans turned to college to help them weather the storm. That's not just a broad trend. There's actually a correlation specifically between the performance of the housing market and college attendance for some groups. Why is that?
A new paper from the National Bureau of Economic Research investigates.
Though college attendance grew during the past several decades, that growth saw a significant slowing between the late 1990s (when the housing sector started to pick up) and 2006, when it started to stall. According to the study, written by Kerwin Kofi Charles and Erik Hurst of the University of Chicago; and Matthew J. Notowidigdo of Northwestern University, the housing boom accounts for about 30 percent of the slowdown in college attendance of young adults aged 18 to 25 during that time period.
Why does a booming market dampen college attendance? It's not because everyone thinks they can make it big in real estate. Instead it's because growing home values are correlated with many other economic improvements—particularly growing household wealth. And since housing has long been the largest asset of American families, increasing home equity can be felt in many other aspects of American life, such as increased demand in the labor market for a bevy of jobs including nannies, waitresses, construction workers, gardeners, hairdressers, and retail workers, according to the research.
Plentiful jobs are a huge reason that people skip school.That's because a booming job market increases the opportunity cost of higher education. Each week, month, or year that an individual is in school rather than working is time and money sacrificed. This trade-off is economically worth it if a college degree will almost certainly provide a higher salary at the end of the road, but there are some industries where a college degree isn't a necessity. And during boom years, that trade-off can be much less appealing.
That's probably why researchers saw the greatest impact on college attendance among two-year programs. For many, an associate's degree provides only a marginal improvement in earnings and job opportunities compared to a high-school degree. In times of economic plenty, that can make heading to a community college feel like an unnecessary step. For those pursuing four-year degrees, the booming housing market had less effect on college enrollment.
When the economy collapsed, enrollment in college increased for two-year schools. But the researchers found something else interest too. When enrollment at two-year colleges rebounded, those who had forgone school in favor of working weren't among the enrollees. In fact, a large portion of the group that skipped out on school during the boom years never went back to school at all. For this group, college wasn't just delayed by the choice to work, it was taken off the table entirely.