Free Tuition Is Not Enough
The Tennessee Promise has boosted enrollment at the state's community colleges. But will those students graduate?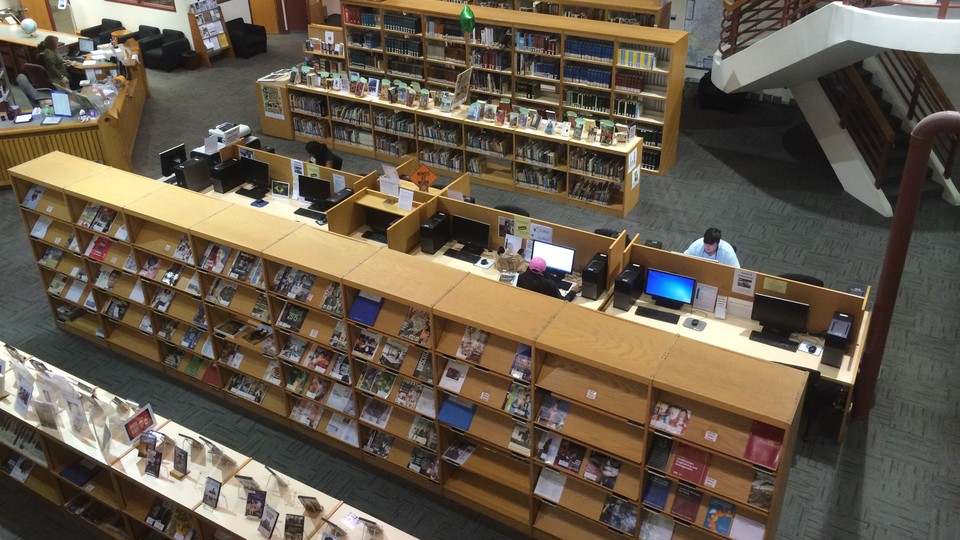 NASHVILLE, Tenn.—Thousands of students this fall are taking advantage of the Tennessee Promise, the much-vaunted program that provides two years of free tuition to any high-school graduate in the state who attends community college or technical school.
Whether they'll last beyond the fall semester, though, is far from certain.
Walk through the campuses of Tennessee's community colleges and you won't see many students studying in the library or lingering on the quad. Many of them come to school for classes, and then go off to jobs where they work 30 or 40 hours a week to pay for rent, books, and other living expenses.
That balancing act can be a challenge for students, free tuition notwithstanding.
"What you see is a lot of students enrolling who might not otherwise enroll.  But you see really low success rates, and things like students going part-time because they can't afford the books," Debbie Cochrane, the research director at The Institute for College Access and Success (TICAS), a nonprofit working on college affordability issues, about programs like the Tennessee Promise.
The Tennessee Promise is a last-dollar scholarship, which means it covers tuition after a student has applied for and received any federal and state grants that might also pay for tuition. Oregon will begin a similar program next year, and this summer President Obama proposed a nationwide program that would pay for two years of community and technical college for first-time students.
Free community college certainly boosts enrollment—the state's community colleges have seen a 6 percent increase in full-time students this year. And as I've written about before, even the promise of free college can completely change a community and its secondary-education system for the better.
But the big test will be whether programs like the Tennessee Promise, which get thousands of students to enroll, can actually get students to graduate. College tuition is one of the biggest costs of enrolling in school, and having that covered helps some students tremendously. There are still other big expenses that the Promise and other programs don't cover, and those expenses can make quitting and finding full-time work an appealing proposition.
Abigail Mitchell, 18, is the first in her family to go to college, having enrolled this fall at Volunteer State Community College. Her tuition is covered, but to pay rent, as well as to help out her grandmother and five younger siblings, Mitchell works 30 to 40 hours a week at Arby's. She also has a work-study at the school's financial-aid office and is enrolled in 15 hours of classes.
"Sleep is not a commodity I have a lot of right now," she told me. "I can see how someone in my position might be in danger of dropping out. For me, though, it's just not an option."
Even with tuition covered, attending college is expensive. More than one-third of students with Pell Grants, who can get up to $5,775 for fees, books, and living expenses, still have between $5,000 and $10,000 in expenses, according to Robert Kelchen, an assistant professor at Seton Hall University.
When aid doesn't go far enough, low-income students like Mitchell will work full time. Some will have trouble balancing work and school. Many will drop out. Just 23 percent of students who graduated from high school in 2011 and enrolled in college through a localized version of the Tennessee Promise had graduated by 2014, according to tnAchieves, which ran a privately-funded, last-dollar scholarship in Knoxville that served as the inspiration for the Tennessee Promise. (Nationally, just 29 percent of students enrolled in two-year programs get a degree within three years.)
"The other costs of college, including textbooks, transportation, and living expenses, are far more substantial–and far more likely to prove a barrier to student success," wrote Debbie Cochrane, of TICAS,  in a recent essay.
Cochrane and others have argued that programs like the Tennessee Promise actually help low-income students the least, because they pay for college for everyone, regardless of their income, rather than spending that money to help low-income students who might have already received tuition scholarships but still need help with living expenses.
"Free tuition plans are giant missed opportunities because they put resources where they are less needed when the need is so great in other areas," she wrote.
Still, students who enroll in school and can't finish aren't much worse off than they'd have been if they hadn't enrolled at all. They aren't taking on the huge amounts of student debt that are so common for people enrolling in higher education across the country. But drop-outs take up resources that could have otherwise been spent on other students.
To maximize the impact of its investment, the Tennessee Promise includes mentorship components that backers say will help low-income students get to college and stay there. Volunteer mentors help high-school students and families apply for financial aid, and every Monday, students should be receiving some kind of communication from the Tennessee Promise to make sure they're meeting application deadlines, said Krissy DeAlejandro, the director of tnAchieves. When they arrive at college, students are paired with volunteer mentors who are supposed to check in with them weekly, tailoring their counseling to the students' background and challenges.
"The overarching success factor for us has been the holistic approach—students having that volunteer mentor, understanding that this process can be very intimidating for students and families, and addressing that on the front end, " she said.
That mentoring increases enrollment by 20 percent, while students who receive money but don't get mentoring are only 4 percent more likely to attend college, DeAlejandro said. The program is also making progress on retention. Before it expanded statewide, it had a 71 percent fall-to-fall retention rate, while the state average is about 50 percent. It also had a 33 percent three-year graduation rate.
Ashley Jeans is a faculty member at Nashville State and also mentors 10 students in the Promise program. She says she makes sure to tell students who are working that school needs to be the priority. One student was having trouble balancing night shifts at Taco Bell with school work, and so Jeans advised her to talk to her employer, which she did.
"If I hadn't told her that, she would have continued working at night," Jeans told me.
---
Graduation Rates for Two-Year Post-Secondary Institutions
Data shows graduation rates within 150 percent of the normal time for first-time, full-time students
---
Still, I talked to students at both Volunteer State and Nashville State Community College who seemed to have fallen through the cracks in the state's mentoring and guidance program. One student, Aaron Smith, said he'd never had a mentor, and that he got kicked out of the program after he couldn't find a venue to do his requisite eight hours of community service. Another student, who just gave his name as Tyler, said he hadn't heard from his mentor since he enrolled.
Academics are also a challenge for some new community-college students, who passed through struggling secondary schools and who are not prepared for college-level courses. Jeans, the mentor, says she's had a lot more students right out of high school than in the past, when more students were non-traditional and older. Many high-school students haven't yet figured out how to manage their time, and don't have the math or reading skills expected of them in college-level courses. It can be more difficult to give them one-on-one attention with the influx of new students; Jeans now has 20 to 25 students per class, last year she had 15 to 20.
"Making sure they're college-ready has been a big jump," she told me. "Some of our high schools are doing a great job of getting them ready to write papers, but I do have students that are barely able to write a sentence."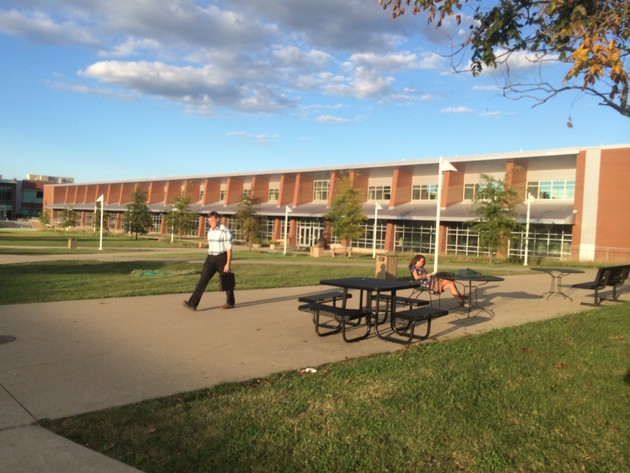 Tennessee community colleges are now trying to work more closely with students to make sure they're ready for school. Volunteer State Community College has hired five completion counselors who focus on retention efforts in different academic departments. The school is looking into book scholarships for low-income students for next year.  Volunteer State is beginning to realize that counseling and advising for students is going to have to be more aggressive and intrusive than ever before, Emily Short, the assistant vice president of student services at the school, told me. The school already provides advising to students about what it means to take 15 credit hours and how much studying time that will require. But the school wants to make advising for new students more aggressive next year, requiring students to have both completion and academic advisors.
"We're trying to move towards a much more intrusive advising set-up," Short said.
Other community colleges across the country are experimenting with other ways to help students complete college, including paying students who see mentors or who achieve certain completion goals, and establishing clearer pathways through different degrees and course sequences, said Josh Wyner, the executive director of the College Excellence Program at the Aspen Institute. Schools with Tennessee Promise students may be able to learn from those programs as well.
But they might learn the most from states such as California, which offer some grants to help offset the cost of books and living expenses, enabling students to focus on school, rather than on paying the bills.
Grants like that would help people like Kris Tugman, 19, another student who enrolled this fall on the Tennessee Promise. He wasn't sure if he would even go to college until the Promise was announced. Now, he studies mass communication at Nashville State Community College. But the Tennessee Promise hasn't been a panacea. Tugman works every day, Monday through Sunday, at a laundry service from 8p.m. til midnight, and does his homework on the bus from the laundry service back home. His mother took a second job to help make enough money that the two could still pay the rent when he was in college. Tugman's mother herself once had to drop out of college after two years because she could no longer pay for it, but they hope he can eventually transfer to a four-year college and finish there.