FIFA's Blatter Under Pressure
Coca-Cola, Visa, and McDonald's have called on him to resign immediately.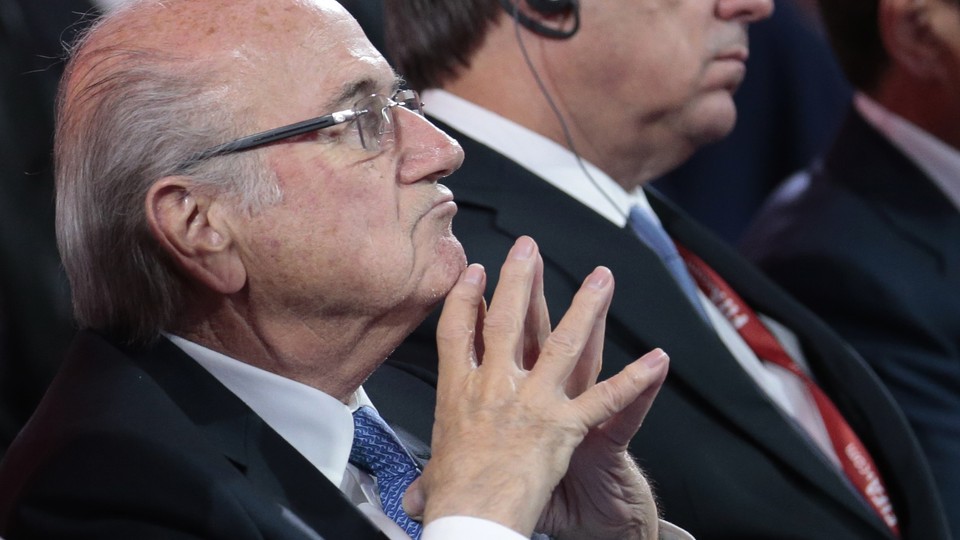 Updates on October 2 at 5:07 p.m.
Visa, McDonald's, and Coca Cola, among the biggest sponsors of the FIFA World Cup, have called on Sepp Blatter, the head of soccer's governing body, to resign immediately.
Here's McDonald's statement:
The events of recent weeks have continued to diminish the reputation of FIFA and public confidence in its leadership. We believe it would be in the best interest of the game for FIFA President Sepp Blatter to step down immediately so that the reform process can proceed with the credibility that is needed.
Coca Cola said:
For the benefit of the game, The Coca-Cola Company is calling for FIFA President Joseph Blatter to step down immediately so that a credible and sustainable reform process can begin in earnest. Every day that passes, the image and reputation of FIFA continues to tarnish. FIFA needs comprehensive and urgent reform, and that can only be accomplished through a truly independent approach.
Visa added:
We believe no meaningful reform can be made under FIFA's existing leadership. And given the events of last week, it's clear it would be in the best interests of FIFA and the sport for Sepp Blatter to step down immediately.
CNBC reported that AB INBev, the parent company of Budsweiser, echoed those calls.
Blatter's response:
The pressure from the corporations comes amid increased scrutiny of both FIFA and Blatter. FIFA has faced allegations of corruption for years. Those drumbeats became more prominent after the 2018 and 2022 World Cups were awarded to Russia and Qatar, respectively. They were capped in May by a joint U.S.-Swiss operation that resulted in the arrests of several FIFA executives in Zurich.
Last week, the Swiss attorney general's office announced it had opened a criminal investigation into Blatter. As my colleague Matt Ford reported:
Blatter faces allegations of criminal mismanagement and misappropriation during his presidency. According to the attorney general's office, the allegations center on a contract Blatter signed with the Caribbean Football Union in 2005.
To put in perspective FIFA's clout and the power exercised by Blatter, consider this from Matt:
FIFA commands tremendous financial resources and international clout. Blatter sat at the center of the web of regional and continental fiefdoms that shape the world's most popular sport for more than 17 years. Corruption allegations dogged various FIFA officials throughout his tenure, and as recently as last week, but Blatter endured, aided by his mastery of the organization's election processes and his dispensation of patronage to smaller, far-flung national soccer organizations that backed his reign.
But that reign ended on June 2, days after Blatter was re-elected to a fifth term as FIFA's president when the U.S. announced its indictments. Blatter resigned the presidency and announced new elections. He says he will stay in the position until that election takes place in February 2016. But it's unclear if the pressure from the biggest corporate sponsors will allow him to stay in office until then.