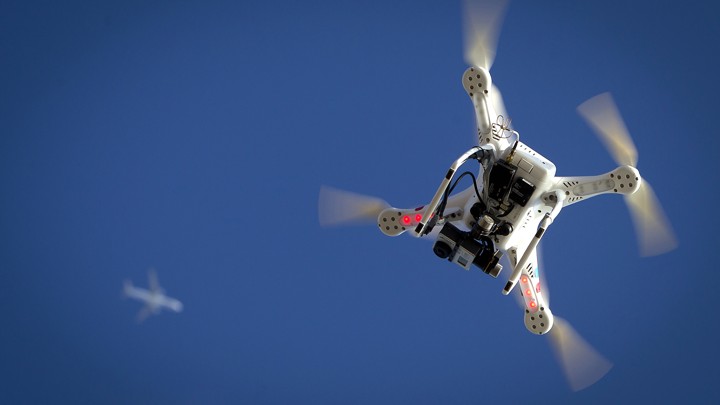 The Federal Aviation Administration expects that a million drones will be sold this holiday season, and as unmanned vehicles become even more popular among hobbyists and corporations alike, the FAA is expected to start regulating them a bit more strictly.
That's just what it did on Tuesday, when it announced that it is seeking to fine SkyPan International, a Chicago-based drone company, $1.9 million for "endangering the safety of our airspace." If SkyPan ends up having to pay, it'd be the largest civil penalty ever for a drone company.
According to the FAA's statements, SkyPan violated airspace regulations by controlling 65 unauthorized flights over New York City and Chicago, two of the most congested airspaces in the country. SkyPan, on its website, says that it is an FAA Section 333 UAS Exemption holder, which refers to the certificate that's required to fly commercial drones. But an FAA spokesperson said that while SkyPan was granted the Section 333 UAS exemption, the flights SkyPan is being fined for occurred before the company secured the exemption.
Pilots and airspace regulators have expressed concerns over drones flying too close to aircrafts, and regulators worry that hobbyists don't know the rules—namely that drones must fly below 400 feet and and at least five miles from an airport. Further, drones have recently interfered with fire-fighting operations, and reports of near-collisions with planes are on the rise. Through August 9th of this year, there were 650 near-collisions reported to the FAA. "Adding drones to the mix requires extremely careful coordination to protect manned aircraft traffic," says John Villasenor, a professor of engineering and public policy at UCLA.
Meanwhile, Google and a dozen other companies, as well as NASA, have been collaborating on creating an air-traffic control system for drones. The legality of property rights in the air has been a long-standing issue regarding recreational and commercial drone use, and Tuesday's FAA fine means that the issue is a little bit closer to resolution than it used to be.
We want to hear what you think about this article. Submit a letter to the editor or write to letters@theatlantic.com.
Bourree Lam
is a former staff writer at
The Atlantic
. She was previously the editor of Freakonomics.com.