The Flawed Immigration Program Congress Hasn't Changed
Advocates had hoped controversial sections of the EB-5 program would be reformed before it was extended last month.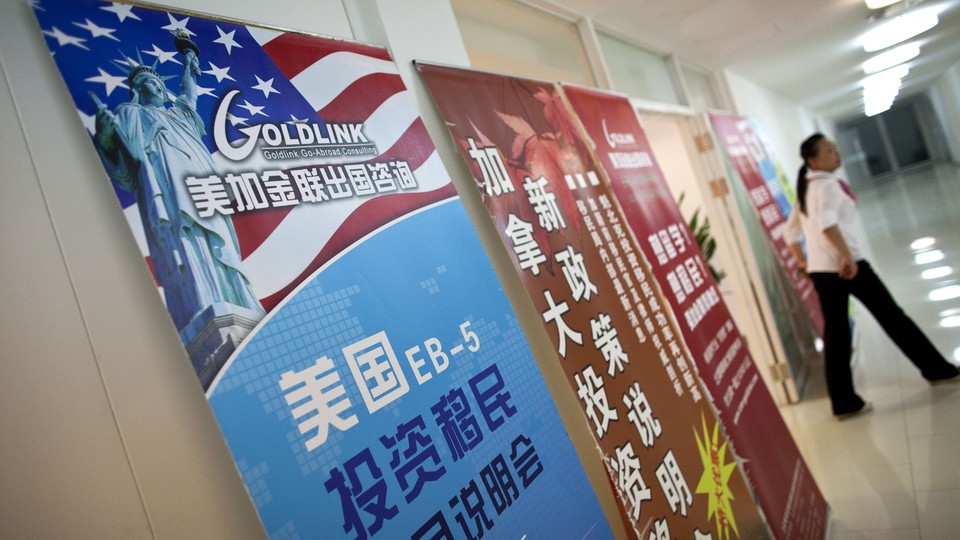 When it decided this week to continue to fund the government (for the time being), Congress also kicked the can down the road on another program that could affect thousands of Americans and foreigners alike. The EB-5 visa program allows wealthy people around the world to essentially buy green cards by investing in development projects in the United States.
The question facing Congress was whether to preserve a part of the program known as regional centers. These centers are essentially development projects through which foreigners pool their money, enabling them to get their visas. The provision that set up regional centers, which have become by far the most popular way place for investors to put their money, was set to expire September 30. Some observers thought this was a good thing, since regional centers were supposed to encourage investment in rural and high unemployment areas, but instead were helping to fund projects in wealthy areas such as Manhattan.
Under the current law, investors must put $1 million into a project to get a visa. But regional centers allow investors to put money into a "Targeted Employment Area," which is a place with high unemployment, and pay just $500,000. The idea behind a TEA was to encourage investment in rural areas that don't see much foreign investment.
In reality, as many investigations have noted, regional centers help build projects in wealthy areas by including poor urban areas that abut rich neighborhoods in the calculations for their proposals.
But rather than let the regional-center program expire, or agree upon much-needed reforms, Congress instead extended the program until December 11, allowing wealthy foreigners to continue to rush to get in their applications for an EB-5 visa before the parameters change.
As Congress battles over regional centers, both sides have agreed on some modifications to the program, according to Steve Yale-Loehr, an immigration lawyer at Miller Mayer and a professor of immigration law at Cornell Law School. The minimum amount of investment will likely rise, and Congress will implement more oversight of EB-5 investors to avoid giving green cards to people with criminal backgrounds or whose money has been earned through criminal enterprises. None of these changes will happen without a new bill, though, and until the controversy over regional centers is hashed out, no new bill will be passed.
What's holding up reform, Yale-Loehr says, is those who represent urban districts who don't want to see the program changed. (By contrast, members from the rural and high-unemployment districts the program is supposed to help tend to support reform.) Senators Chuck Grassley and Patrick Leahy, from Iowa and Vermont, respectively, want to change the definition of a Targeted Employment Area to make it harder to invest in urban areas, Yale-Loehr says. But others in Congress, including Senator Chuck Schumer, from New York, want to keep the law as-is.
Since Congress temporarily extended the law, two new bills have been introduced: one by Republican senator Rand Paul of Kentucky, one by Republican senator Jeff Flake of Arizona. Neither make much in the way of changes to Targeted Employment Areas. Neither hold regional centers accountable for showing they've created jobs for the people who need them most, as Audrey Singer of the Brookings Institution has suggested would be essential for any reform. Despite calls for changes—or even elimination of the regional-center program—few changes seem likely.
Still, Congress has a few months to come up with new changes."With that kind of attention, it seems like more people are making the case to change the TEA provisions of the program," Singer told me. But, on the other hand, she said, "in the past we've seen that it's been easiest to just continue the program as-is."