Does America Still Want the American Dream?
Twelve years after work began on a $2 billion entertainment complex in New Jersey, is another giant mall still an appealing vision?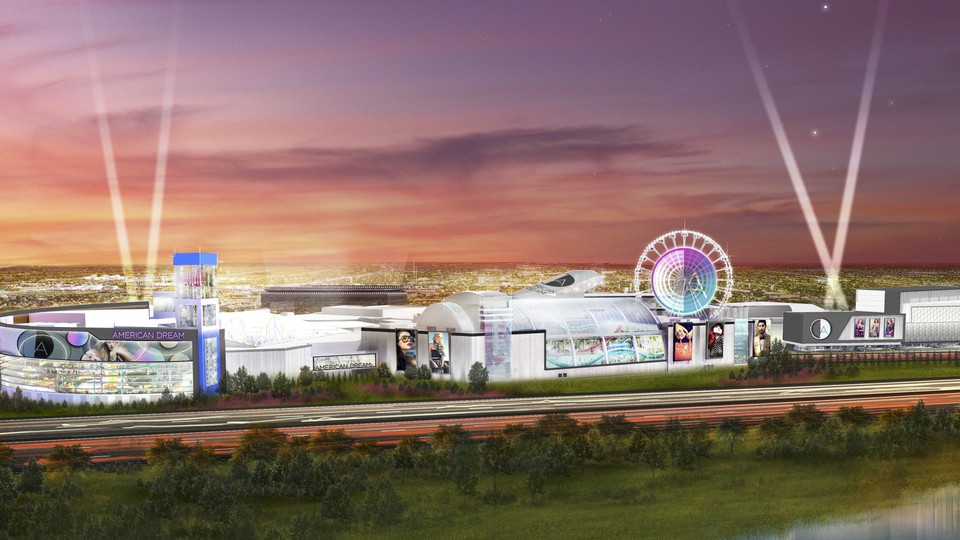 Driving north on the New Jersey Turnpike, past the proverbial smoke stacks and then across a brief interruption of marshland, a massive orange snout looms into view. Around the next bend, you see the cranes: not the marsh kind, but tall yellow-metal arms, five or six of them, perched beside the sprawling body attached to the snout.
The cranes are quiet for now. Their symbolism, however, broadcasts loud and clear. The American Dream mall and entertainment complex at the Meadowlands—the half-built behemoth that Governor Chris Christie called "the ugliest damn building in New Jersey and maybe America," the mega-project that has lurched from failure to would-be rescue and back again—is finally going to be completed.
In 2017, its developers say, the American Dream will open with "the largest mix of indoor facilities in the world," according to its slick website, offering millions of visitors "the ultimate family experience." It will have 400 stores and restaurants, a DreamWorks-themed amusement park and waterpark, an indoor ski slope (that's the orange snout), an aquarium, mini-golf course, and theater. The 4.8-million-square-foot complex will feature "the world's first exclusive kosher food hall" and a giant ferris wheel looking onto the New York skyline.
For years, the big question in New Jersey was whether this thing would ever be built. The answer appears to be yes. So the question now is a different one: Does a giant shopping mall represent anyone's American dream anymore?
East Rutherford is a town just shy of 10,000 people in northern New Jersey, west of the Hackensack River and Secaucus. With its vinyl-sided houses and mom-and-pop businesses lining Paterson Avenue, it feels like the Midwest, except for the skyline that flickers in your peripheral vision. The town is 10 miles from midtown Manhattan.
Ask people in East Rutherford and nearby Rutherford, population 18,000, about the American Dream, and they usually ask if you mean the Xanadu. That's what the mega-mall project used to be called, back in the pre-recession days of 2002 and 2003. The Mills Corporation, which launched it, specialized in big discount malls with large multiplexes and themed restaurants. This was the era of passive wealth and easy credit. Home values were on an ever-giddier climb; interest rates were lower than they'd been in decades.
And just two years earlier, after the September 11th attacks, President George W. Bush had urged "continued participation and confidence in the American economy." In other words: "Everybody keep shopping." Americans were happy to do their patriotic duty, fighting terrorism one Coach bag or pair of Jimmy Choos at a time.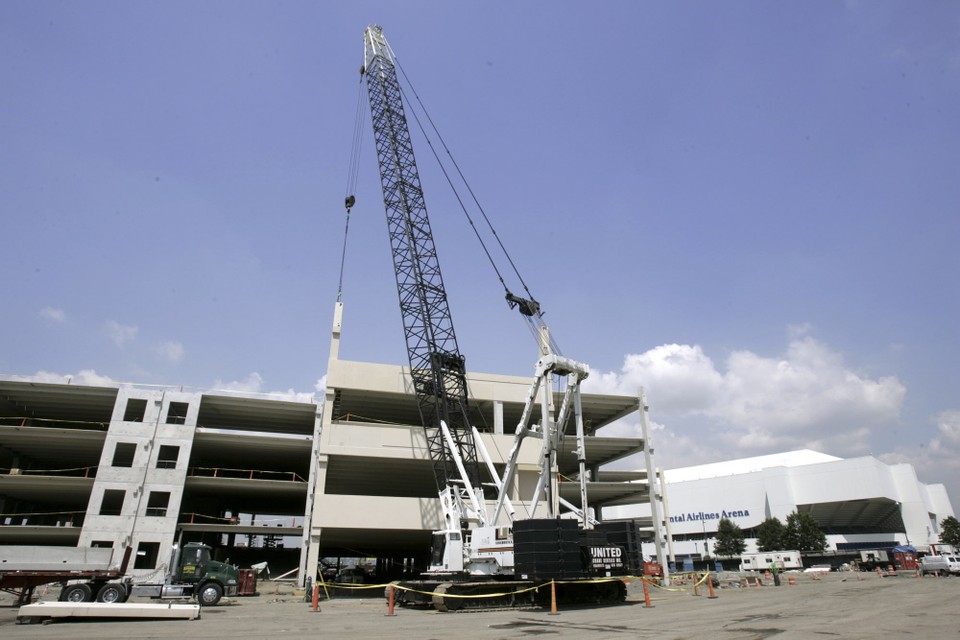 When Mills arrived in New Jersey, the company was flush with the successful opening of its first international venture, Madrid Xanadú. Located about 14 miles outside of Spain's capital city, the Xanadú was one of the largest shopping centers in Europe, with more than 200 stores and restaurants. But the main attraction wasn't the shopping—it was the entertainment, centered on an indoor snowdome for year-round skiing and snowboarding. For visitors who didn't want to hit the slopes, there were plenty of other diversions, like a multiplex, bowling alley, and go-kart track. It was an innovation on the traditional mall, a panoply of stores combined with high-octane entertainment. "Shoppertainment" was a differentiator—something that could draw people from miles away, even tourists.
The Xanadú's sister project in New Jersey, however, faltered almost as soon as it got started. In 2006, the Mills Corporation was investigated by the Securities and Exchange Commission for accounting irregularities. Short of cash after spending $485 million building part of the complex, Mills handed it to Colony Capital before declaring bankruptcy. The cost estimate had been revised up from $1.3 to $2 billion.
The mall began to take shape. Its original design was by architect David Rockwell, known for his theater sets and bright, scenographic hotels and restaurants. But Rockwell quit the project, claiming the developer had not adhered to his concept, and disavowing responsibility for the mall's appearance, defined by colorful—many would say garish—checkerboards and stripes. Locals call it ugly. "Like the containers at the docks," complained Kathy Young, the owner of Varrelmann's, a German bakery on Rutherford's main street.
In mid-2006, home prices rounded their peak, then dropped. The adjustable-rate mortgages that fueled the boom started to reset at higher rates, and borrowers, unable to refinance, defaulted. Xanadu had already been substantially built when Wall Street crashed in 2008. Lenders fled. The unfinished project hunkered on its site. In 2011, heavy snow accumulated on the roof of the ski slope and caused it to buckle, as if nature was trying to take it back.
Ironically, Triple Five, the group that came up with the project's all-American name, was founded by Jacob Ghermezian, an Iranian Jewish rug merchant who'd immigrated to Canada and set up as an importer of Persian rugs. He and his four sons had then moved inland to capitalize on the oil boom in Alberta, where their real-estate business flourished.
Triple Five is best known for creating the country's biggest mall, which opened outside of Minneapolis in 1992. Each phase of its development was progressively larger and more eye-popping: a full-scale replica of New Orleans' Bourbon Street came in Phase Two, a dolphin tank and submarine ride in Phase Three. Forty million people now go there each year. It is, after Disney World, the quintessential American attraction, dreamed up by an Iranian-Canadian family on the other side of the border. In fact, the project was modeled after Triple Five's earlier West Edmonton Mall in Alberta, Canada—a spectacular modern bazaar where shoppers could while away the long, harsh Canadian winter. But when the Ghermezians set out to replicate their success in Minnesota, they called it the Mall of America.
Similarly, when the Ghermezians took over the Xanadu in 2010, they immediately renamed it. Mills' allusion to Kubla Khan's summer capital—and the "stately pleasure dome" Samuel Taylor Coleridge imagined there—had worked in Europe. But the Ghermezians knew that Americans and their visitors found America itself more alluring than any foreign fantasy. So they traded in the grandiose foreign-sounding name for one just as high-flown, but redolent of comforting apple pie and picket fences: the American Dream.
At the time, the Ghermezians had just come off a string of frustrating defeats. Projects they'd dreamed up in cities as far flung as Beijing and Moscow had died in the proposal stage. Financial trouble had killed projects in British Columbia and the U.K. They'd come close to signing a deal with the D.C. suburb of Silver Spring, Maryland, but local officials had balked at the heavy subsidies Triple Five customarily demands.
The American Dream's prospects seem more promising. In August, New Jersey's Economic Development Authority reauthorized a $390 million tax break for the project. East Rutherford's council voted to issue $675 million in bonds toward construction; Triple Five will provide tens of million dollars a year to the borough in payments in lieu of taxes.
East Rutherford's longtime Republican mayor, James Casella, is happy about the deal he brokered with the Ghermezians. The mall is expected to create 6,000 construction jobs and 11,000 permanent jobs, eagerly awaited in a state that's seen sluggish employment growth. When it opens in 2017—assuming it does—it will have a new exterior, reclad in neutral gray and white. The Ghermezians, who shun the press and declined to comment for this article, have forecast that 40 million people will come to the mall every year, half of them tourists.
For now, Casella is eager to draw a line under the project that has eaten up more than a decade of his life. As for whether he'll patronize the American Dream: "I really don't know. I hate to shop," Casella says. "I don't like going to big shopping centers. I'd rather walk on the streets in Manhattan and go into a place and buy something there."
Critics of the American Dream contend that malls are passé. Americans no longer want to fight traffic to spend their Saturdays inside a hulking barn of commerce. Hardly any new indoor malls are being built in the United States, and dozens have been demolished in recent years. Foot traffic is down; sales are lagging. In New Jersey, younger people are gravitating toward dense places like Hoboken and Jersey City, where they can live in urban neighborhoods, walk to dinner, and hop a quick train to work in Manhattan. It's hard to grasp how the American Dream would appeal to this cohort.
Besides, Northern New Jersey has a lot of malls already. Bergen County, where East Rutherford is located, "is probably the capital of shopping malls," says Loretta Weinberg, the Democratic majority leader of the New Jersey State Senate, who represents the county. She reels off a list: Westfield Garden State Plaza, The Outlets at Bergen Town Center, Paramus Park Mall, The Shops at Riverside. "Supposedly, this is a quote-destination-end quote," she says of the American Dream. "We'll see whether it's true or not."
Jon Whiten, deputy director of the liberal think tank New Jersey Policy Perspective, can't see the American Dream succeeding long-term, and says the state tax breaks for it "make absolutely no sense."
"In a lot of ways, the project is everything that's not working in economic development right now. It's in the middle of nowhere; it's not connected to anything that's happening organically or any other development," Whiten says. "The expectation that it's going to be some hugely successful destination is sort of beyond believable at this point."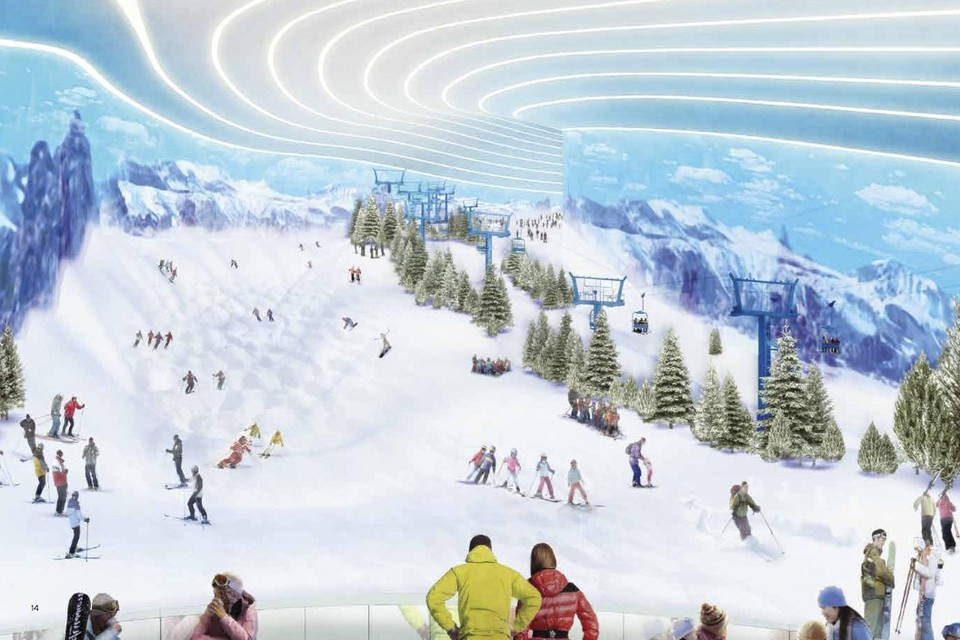 Others complain that the mall is a boondoggle, one of the worst in New Jersey history. In The Nation last year, investigative reporters Bob and Barbara Dreyfuss untangled a dense web of conflicts of interest in the project, centered on Christie's inner circle. A prominent local lawyer and Bergen County Democrat who consulted for Mills, Joe Ferriero, was tried earlier this year for bribery and extortion relating to the project; he was acquitted, but found guilty on three other racketeering charges.
Jeff Tittel, director of the state's Sierra Club chapter, calls the development "the American Scheme." He figures "the big giveaway of public money and loan guarantees" has cost state taxpayers a total of $1.3 billion. Even if it's an economic success, he predicts the mall will be an environmental disaster. "That thing is going to be the biggest generator of greenhouse gases in northern New Jersey," he says. If it receives the level of visitors the Ghermezians expect, the mall will pull in tens of thousands of cars a day, further clogging Route 3 and polluting local air.
In fact, Tittel takes issue with the entire concept. New Jersey, he says, "needs another mall like we need another Superfund site." He's incredulous that Triple Five expects half of the mall's visitors to be tourists. "I really see a lot of people flying in from Wichita, Kansas, to see the Rockettes, the Yankees, the Empire State Building—and then driving to a mall in New Jersey," he says sarcastically.
This is the biggest point of divergence between the American Dream and its older siblings in Minneapolis and Edmonton. If you're visiting Edmonton, there's not a whole lot else to do except go to the huge mall. In the Twin Cities, you might go to the Guthrie Theater or catch a Twins game. But New York is New York. There's competition for your time and money at every turn. (The temperature doesn't drop to 20 below zero in the winter, either.)
"At the end of the day, it's a giant mall," Tittel says. "Everything else is just an add-on."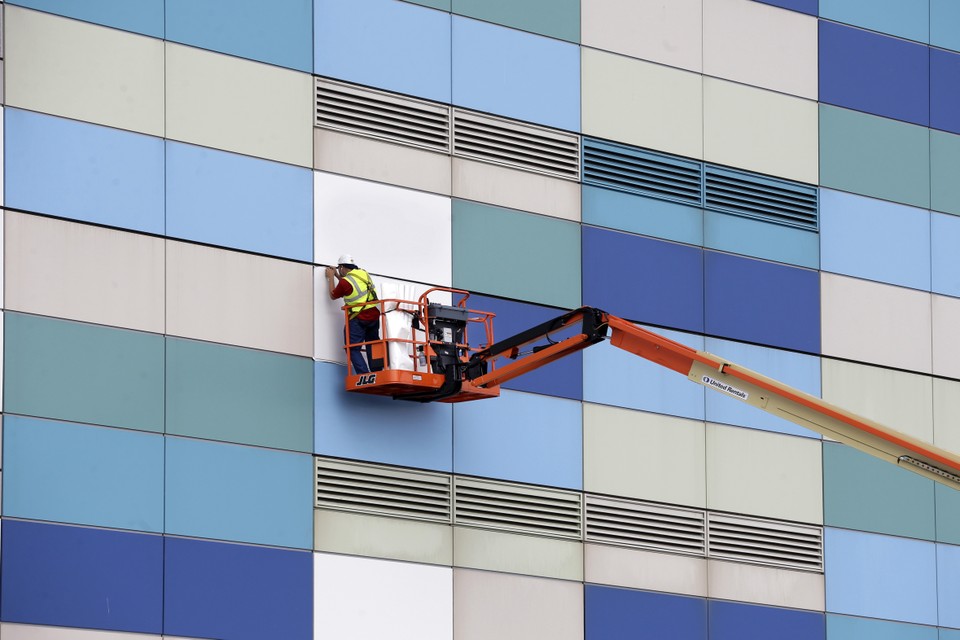 In truth, the amusement and water parks, at a combined 500,000 square feet, are more than add-ons. They could well set it apart. There isn't another big, modern amusement park in the region. The nearest is Six Flags Great Adventure, 70 miles to the south. Pennsylvania's Hersheypark is about three hours away. Smaller amusement parks and water attractions are plentiful on the Jersey Shore, but they're seasonal, and farther from Metro New York. With its DreamWorks partnership, Triple Five should be able to deliver novel attractions when it opens. Whether those have staying power depends on the company's ability to reinvest, and how well it reads the changing tastes of the public.
"Given its location—and usually I'm considered the Dr. Kevorkian of the New Jersey economy—I'm not that pessimistic on this," says James W. Hughes, dean of the Edward J. Bloustein School of Planning and Public Policy at Rutgers University. The New York-New Jersey-Connecticut market is huge and affluent. The American Dream is close to Newark airport, close enough that travelers on a layover could easily take a shuttle there to kill time. Besides, many people visit New York City multiple times. If it's your third visit, you've already been to Times Square; why not hit the mega-mall? He refers to a recent New York Times article on Queens as an up-and-coming tourist zone. "If it reaches Queens, it can reach the Meadowlands."
In particular, the appetite of New York's foreign tourists for shopping shouldn't be underestimated. According to a recent analysis, the number-one attraction for Chinese visitors is not the Empire State Building or Statue of Liberty but Woodbury Commons, an outlet mall north of the city. Evan Saunders, who advises American businesses on connecting with Chinese consumers, says the American Dream would be a magnet. Chinese tourists prioritize good shopping, and "to be able to combine shopping with unique experiences they can undertake in an hour or two really creates a destination unto itself." By 2019, China will be the first country of origin for overseas visitors to the U.S. There's talk of adding a huge hotel to the site, even a casino.
Given the long, twisting, singular journey the concept has taken, it's oddly fitting that it wound up being called the American Dream. What could be more American than the idea that people will come from far and wide to be dazzled by abundance—in an attraction built by ambitious foreigners, even conceived elsewhere? Like so many other vaunted examples of private enterprise in America, from homeownership to the healthcare industry, the American Dream is undergirded by heavy government subsidies. It likely holds more luster for foreign visitors, especially those from China's exploding middle class, than the disillusioned native born. The mall may still be the butt of jokes in New Jersey, but in many ways, it's the perfect snapshot of America in 2015.