What Makes D.C.'s Universal Leave Plan So Special?
That it's actually universal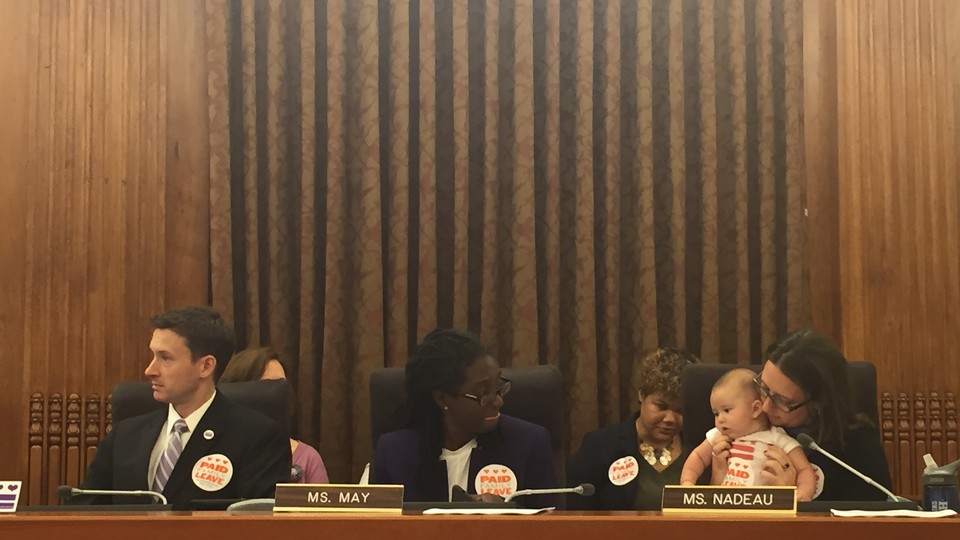 Over the past few months, some pretty major companies have responded to criticism about America's leave policies by rolling out some big benefits: At Netflix, for instance, some new parents can stay home for up to a year. And the Bill and Melinda Gates Foundation recently matched that offer. That's great—but only if you work at these prestigious places. But what if paid time-off weren't dependent upon a company's benevolence, but were instead a right afforded by the government? A new bill introduced on Tuesday, by members of the D.C. City Council would do just that, both for residents of the District and for people who work there.
The proposal is generous compared with leave policies across the country, giving residents 16 weeks off—paid—to tend to a new baby, a sick family member, or other qualifying circumstances.
Introduced by council members David Grosso and Elissa Silverman, the bill is aptly timed. A recent executive order from the Obama administration extended paid sick leave to federal contractors, many of whom live and work in the District. The District was also one of several governments that received a grant from the Department of Labor to investigate how to implement paid-leave policies. Elise Gould, a senior economist at the Economic Policy Institute, says there is momentum at the state and local level to improve family-leave policies right now, mostly driven by necessity. "For the most part, Congress has been fairly quiet about legislation in these areas. So states and localities have decided it's really important to provide some of these basic labor standards."
Part of the problem, Gould says, is that relying on companies to provide these benefits means that they never reach the portions of the workforce that need paid leave the most. "Some of the companies that are instituting these more generous policies look like they're doing the right thing, but the benefits may only be going to their higher-wage, white-collar employees," she says. "So they may just be reinforcing the inequality that we see out there."
And the little federal law there is on this matter, namely the Family and Medical Leave Act, exempts many workers. And for those who are eligible, the coverage provides job security, but not pay during leave time, making taking advantage of it a nearly impossible proposition for many low- and middle-income families.
In writing D.C.'s plan, Silverman says that ensuring that these workers would have access to it was incredibly important. The proposal, as they've crafted it, would work like this: During leave, workers would be paid at 100 percent of their weekly income up to $1,000 from money collected by the city. After that, pay is compensated at 50 percent up to $3,000. That means that workers who make $1,000 or less per week—up to$52,000 a year—would be eligible to receive their full salary for about four months.The funds would mostly come from a payroll tax of up to 1 percent.
D.C.'s plan isn't the first to take on leave at a local level. New York, New Jersey, California, Hawaii, Rhode Island, and Puerto Rico have temporary-disability leave policies that cover similar circumstances. Each provides some wage replacement while out. But D.C.'s is different in that it provides more wage coverage for an extended period, and gives workers who live or work within the District the possibility of receiving the benefit, even if their employer isn't eligible to participate, a point that's especially important in a city where a large number of people are employed by the federal government or commute to states such as Maryland or Virginia where the city can't impose payroll taxes.
Grosso and Silverman both say that they've been in contact with business owners to discuss the plan. While they are touting the policy as a competitive advantage for District businesses, saying that it could help businesses of all sizes provide a substantial benefit for minimal cost, they say that some are reticent. "They're still learning about what this is, and the impact it would have, how much it would cost," Grosso says. Still, they both seem confident that the bill could get pushed forward, and maybe even be implemented by the 2017 fiscal year.
Gould sees it as a promising step, especially given how comprehensive the coverage is in the face of D.C.'s complex tax and labor situation. Supporters of the bill are hopeful: If a universal paid-leave policy can work in D.C., it can work anywhere.