Can California Prevent Wage Discrimination Against Women?
The Fair Pay Act is being called one of the strongest such protections in the nation.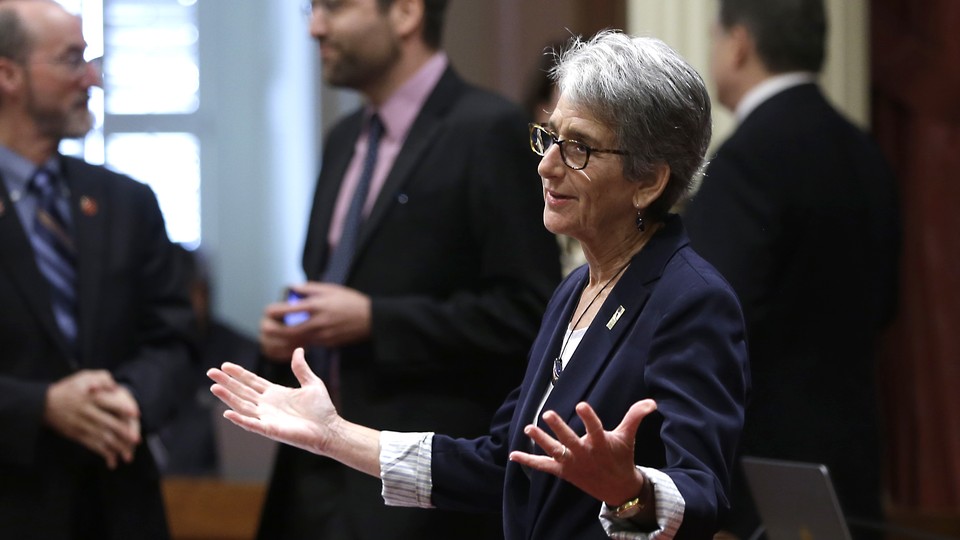 Despite, or perhaps because of, overwhelming congressional gridlock that has stymied federal legislation, states are taking their own steps toward addressing the gender wage gap. On Tuesday evening, California Governor Jerry Brown signed the California Fair Pay Act, which is being called the "strongest" state law to tackle the issue. The legislation requires employers to justify their reasoning for salary differentials between employees doing "substantially similar" work, by citing "a bona fide factor other than sex." These factors include concrete qualities such as education, professional experience, technical skills, and seniority.
The new law, authored by state senator Hannah-Beth Jackson, passed with unanimous bipartisan support in the state senate earlier this year, and goes into effect on January 1st. The Fair Pay Act enables female workers to openly ask for and discuss co-workers' salary information, while explicitly protecting them from employer retaliation, a protection that did not exist before.
"Many women still earn less money than men doing the same or similar work, said Brown. "The stratification and the pay disparities...are something that really eats away at our whole society."
This bill builds extensively on the California Equal Pay Act of 1949, which has been interpreted by courts as giving employees the right to equal pay for equal work. Because of this phrasing, equal work has commonly been seen as only applicable when a male colleague holds the exact same title as a female one. Women who realize they are being paid less than a male coworker at a comparable role, who was hired after them with a different title, have previously faced challenges in justifying their cases and obtaining equitable compensation. Lawmakers say achieving equal pay in California would account for $33.6 billion in annual wages that full-time female workers are currently losing.
By covering female workers who are engaging in "substantially similar" work as a male counterpart—including those who may hold analogous positions, but don't work in the same physical location of a company—the Fair Pay Act expands the scope of questions around wage equality and closes longstanding loopholes that limited previous claims of biased treatment. Workers at the same company can now investigate what their counterparts make in another office location. Additionally, they can also inquire about those in positions that closely resemble theirs in responsibility. In an example cited by the Los Angeles Times, a hotel maid can now compare her salary to that of a janitor who cleans conference rooms.
Critics of the bill have argued that because of lawsuits the law may lead to as well as additional expenses for the state's businesses, California companies will opt to move their operations elsewhere and take their jobs with them. There are also concerns that the bill doesn't go far enough, since it grants employees significant power to question their employers, but doesn't legally require employers to provide a response, or guarantee plaintiffs who sue companies the option to recover punitive damages.
For now, advocates of wage equality think this move brings the state closer to reaching that goal, allowing women to ask questions about their compensation freely and strengthening its businesses in the process. "Equal pay isn't just the right thing for women, it's the right thing for our economy and for California," said Jackson.