The Big, Bad Breastfeeding Industry
How much of the pressure to avoid formula is coming from companies with a financial stake in the matter?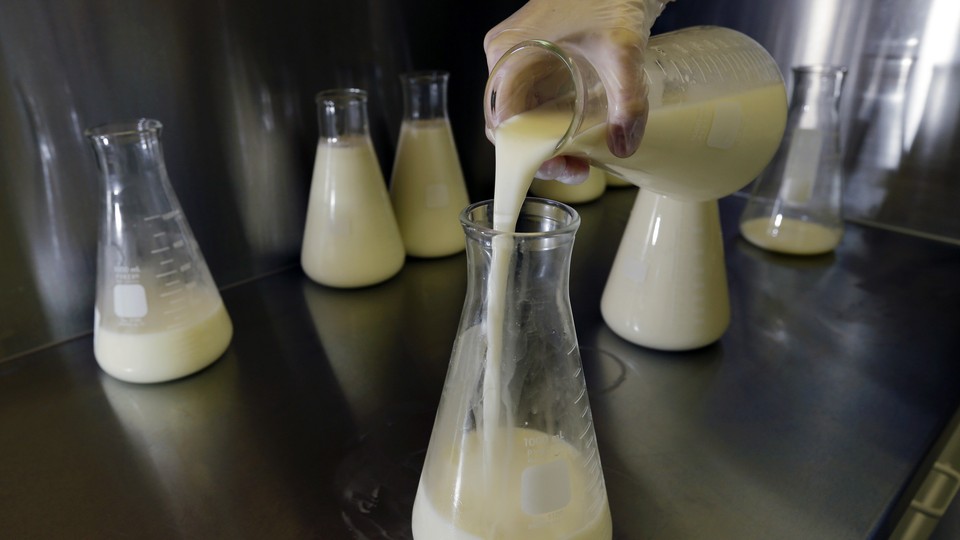 In a recent New York Times essay, "Overselling Breast-Feeding," Courtney Jung points out that there is big money on both sides of the breastfeeding debate, not merely the obvious one.
People tend to associate the formula faction with corporate profits: It generates, by some accounts, "two million dollars a day." But, Jung asserts, "some of the research that corroborates the benefits of human milk for infants is funded by companies like Medela, which makes breast pumps, and Prolacta Bioscience, a company that makes infant nutrition supplements from human breast milk." The breast-pump and nursing-accessory industries, she writes, have market share to gain from an increase in the number of breastfeeding parents.
In other words, self-interest is inescapable, and unbiased information is hard to come by. This echoes an argument put forward in The Federalist by Rebekah Curtis, which came with the subtitle, "Breastfeeding wasn't just revived by La Leche League but by those who figured out how to profit off it."
How much does the drive for profits—on either side—explain the pressures that women face?
The commercial history of infant formula is a long and colorful one. In the '70s, Nestle was "accused of getting Third World mothers hooked on formula" via misleading promotional campaigns. The results were disastrous: Since many mothers could not afford the stuff they were told they needed, they over-diluted it, often using contaminated water. An in-depth New York Times Magazine investigation from 1981 reported that "the health consequences of the shift to bottle-feeding in the third world have been severe." A worldwide consumer boycott of Nestle products ensued and lasted seven years.
Nestle's PR disaster did not set it back for long. It remains "the biggest player in the infant nutrition market," according to The Motley Fool. It is one of the world's most valuable brands, according to Forbes, with annual sales over $100 billion. And its formula division still makes 85 percent of its profits in the developing world. Its foremost competitor, Mead Johnson, an American company that sells Enfamil, has also been praised for its "stellar track record" and its "financial success and consistency." Its annual profits are in the $150 to $190 million range, with "about 70 percent of its business in international markets."
Breastfeeding, by contrast, has long been seen as the cheaper choice. (Though, as K.J. Dell'Antonia points out in a piece about the real costs of nursing, "It's tough to make all that 'free' milk for your baby if you can't afford to feed, clothe and shelter yourself." And as Hanna Rosin wrote in The Atlantic, "It's only free if a woman's time is worth nothing.") Still, there are products involved, products that become necessary, even mandatory, when breastfeeding mothers are forced back into the workplace ASAP by America's shameful and highly unusual lack of paid parental leave.
Americans who want to nurse and yet remain employed often must rely on breast pumps. As a result, Pacific Standard recently reported, "among U.S. moms of healthy, full-term infants, 85 percent have used a breast pump at some point, 25 percent pump their milk regularly, and six percent pump exclusively." Jill Lepore calls pumps "such a ubiquitous personal accessory that they're more like cell phones."
Good pumps don't come cheap. Parents are advised not to buy them secondhand, because of concerns about contamination; luckily for them, though, the Affordable Care Act mandates that insurance companies now must cover even the models that cost several hundred dollars without charging a co-pay. These measures, in conjunction with the laws that have been passed in an attempt to accommodate women pumping at work, are still, Lepore notes, "such a paltry substitute for maternity leave."
Are the interests of pump manufacturers what motivated that ACA affordance?There doesn't seem to be much evidence, even in Jung's account. In her book she writes:
In 2015 journalist Steven Brill published a remarkable 455-page book describing the political and economic interests behind the passage of the Affordable Care Act. Every company that stood to gain from health-care reform had lobbyists running all over Capitol Hill. When I asked him about how free breast pumps had made it into the legislation, he said he had not heard specifically of a breast-pump manufacturers' lobby, but he would be surprised if they didn't have one.

I didn't find any evidence of such a lobby either, but breast-pump manufacturers certainly had a close ally in the Democratic senator from Maryland.
Yes, there is money to be made from breastfeeding, but Medela's balance sheets, though they are growing, look positively anemic when compared to the billions of dollars generated annually by even less robust competitors such as Abbott, which makes Similac. There is, ultimately, no comparison between a successful company like Medela and Fortune 500 behemoths such as Abbott, Mead Johnson, and, especially, Nestle.
Jung's case is stronger when she describes the connection between breast-pump manufacturers and research into breastfeeding. As she describes it in her book:
In the decade between 2000 and 2009 alone, [the biochemist Peter] Hartmann wrote 21 research articles on breast milk and human lactation that were sponsored by Medela and published in some of the most important medical journals in the field, including Pediatrics, the Journal of Human Lactation, and Breastfeeding Medicine. These articles covered such topics as the composition of breast milk, the effect of vacuum profile on breast-milk expression (in other words, what vacuuming strength is ideal for expressing breast milk most efficiently), milk ejection using a pump, and how to standardize the fat content of human milk.
Of course, it makes a lot of sense that Medela would fund such research—it has quite an interest in building more efficient pumps.
The question that matters is whether such research improperly influences the official recommendations of groups such as the American Academy of Pediatrics. Susan Stevens Martin, of the AAP's Department of Public Affairs, found such a suggestion baffling. Of the recent research the AAP cites when making its official recommendations, she said, "three of those surveys included questions related to physicians' knowledge, attitudes, and behaviors regarding breastfeeding. One of those was partially funded by the Maternal Child Health Bureau. None had funding from a company with ties to breastfeeding products." She added, "I've checked with several departments here and no one is aware of any AAP-conducted research that included funding such as you describe."
Indeed, research indicating that "breast is best" for the health of mother and baby alike can be traced back to 1800, long before there were friendly corporate interests to consider. And many of the studies long relied on by international organizations such as UNICEF were concluded 30 years ago—around the same time that Medela, Inc., first began serving consumers in the United States.
The fact that formula is big business does not make it evil, and the fact that breastfeeding is a less commercial choice doesn't make it right for every family. It helps no one to draw false equivalences between both sides of this debate when they're as different, in terms of resources, as PBS and Comcast, or to imply that, when health organizations recommend nursing when possible, as they have done for centuries, they are doing the bidding of profit-hungry corporations.