Black Colleges Might Be Struggling, but Their Alums Are Thriving
African Americans who graduated from majority-minority colleges feel more professionally and personally fulfilled than their peers who attended predominantly white schools.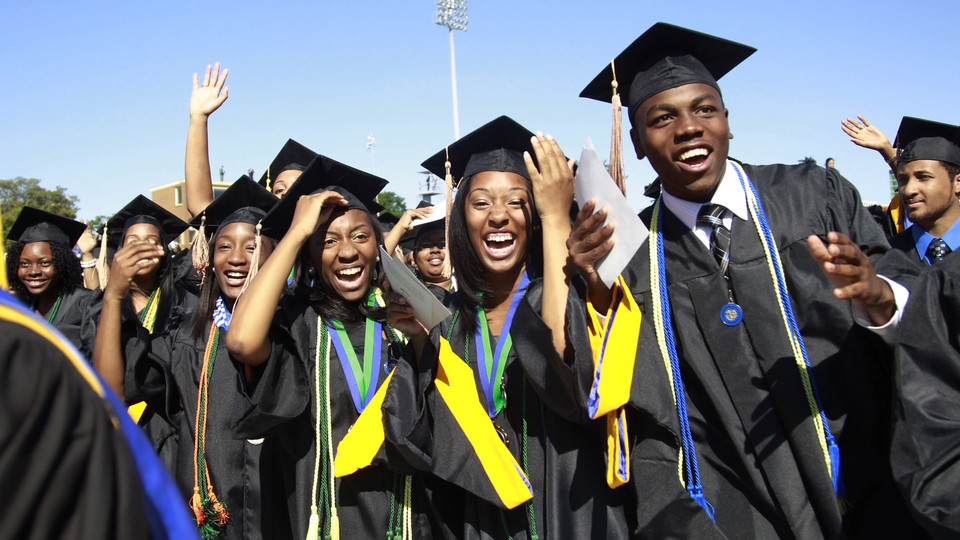 Anyone who has spoken with alums of a historically black college or university (HBCU) can attest, they really love their schools. Whether it's the swarms of current and former students who travel to attend homecomings year after year, the (mostly) friendly competition among schools, or just the ferociousness with which grads defend and promote their alma maters, there's something about most HBCUs that inspires intense loyalty.
A new poll from Gallup and Purdue University might help explain why.
The report takes a look at the post-graduation outcomes of a broad sampling of American college graduates to determine how they measured their own well-being, defined as physical health, social relationships, finances, goal achievement, and community engagement. The researchers then categorized individuals as either thriving, struggling, or suffering in each area. The method is highly subjective, but there were some noticeable differences, especially when it came to black college graduates: Graduates of HBCUs ranked their well-being higher in all five areas than their black peers who attended predominantly white institutions. Additionally, HBCU alums were more likely to say that they're engaged and fulfilled at work and ranked significantly higher in measures of financial success and fulfillment than black grads who went to other schools.
This achievement is notable for HBCUs given the struggles that black Americans continue to face when it comes to completing college and finding gainful employment afterward, compared to graduates of other ethnicities. Black students are less likely than other ethnicities to complete a bachelor's degree within six years. They also have a higher unemployment rate after graduation. When compared to other races in the Gallup poll, black grads ranked lowest on every measure of well-being except for social relationships. Black women ranked the lowest in most measures of well-being.
Part of the reason may be the education that HBCU students received while enrolled: HBCU grads were substantially more likely to say that they had professors who cared about them and mentors who helped them pursue their goals. They also felt certain that their school prepared them well for post-grad life. These feelings may help help explain why alums of HBCUs are so much more likely (49 percent vs. 34 percent for black grads who didn't attend HBCUs) to say that their university is the perfect place for someone similar to them, and why they have so much affinity for these institutions, despite the fact that many of these colleges and universities are struggling.
But the strength of HBCUs may also derive from another resource, one that lives off-campus, and that is a robust and engaged alumni network. The warm feelings that HBCU grads have about their schools may stem from deeper feelings of belonging and connection created at such schools, and that can help create a sense of kinship not only among classmates, but among all grads, which makes them more open to assisting and mentoring the students who come after them.
As more black Americans attend colleges outside of the HBCU system, some wonder if such institutions have outlived their usefulness. Attendance at the country's 107 HBCUs as a share of total black-student enrollment has dropped in recent years. In 2010 through 2011, these schools accounted for 16 percent of black college graduates, in 1976 to 1977, the share was more than double that. The schools have a lower-than-average graduation rate: about 35 percent for HBCUs compared to 59 percent nationally, though that's in part because these schools are more likely to enroll low-income, first-generation students, a population that's more likely to drop out before finishing.
There are other problems, too. Morris Brown, an HBCU in Atlanta is struggling to stage a comeback after losing its accreditation years ago. Howard University in D.C., which remains one of the most popular and well-known HBCUs has publicly struggled with financing and has been forced to cut staff and been subjected to credit downgrades in recent years. Fisk University in Nashville was placed on probation by the Southern Association of Colleges and Schools Commission on Colleges  until the university overhauled its finances a few years ago. With all of their challenges, the survival of many of these schools—once the only places where black Americans could get a college education—is largely uncertain.
But for now, both alums and current students aren't hesitant about supporting and promoting the value of these institutions. I conducted a much less robust, more informal survey, taking to social media to ask HBCU alums if they had good feelings about their college experience. The answers were largely similar to Gallup's results: People were mostly positive, noting that the benefits of their education were as much personal as they were professional.
Steve Owens, an alumni of Howard University responded on Facebook saying, "It's a very tight knit community. I was able to use my connections and experiences at Howard to enter and succeed in music and entertainment." A fellow alum, Marcus Thomas added, "We compete with each other but also root for the other to reach the finish line. Howard will humble you and build you up."