What Would Americans Do With an Extra Couple Hundred Bucks?
That's not a hypothetical question. Falling gas prices mean the average household will be about $700 richer this year.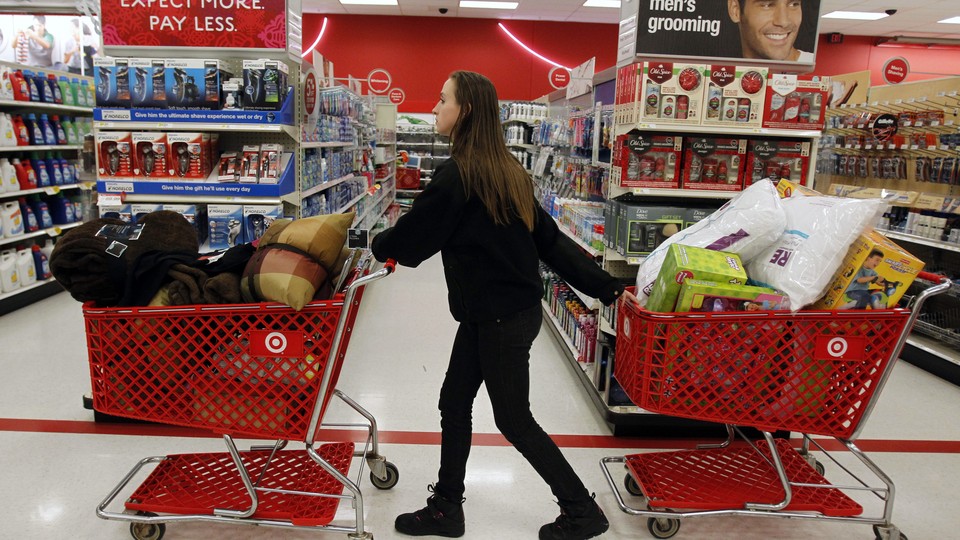 For most Americans, trying to cut back on bills involves a mix of discipline and sacrifice: Moving into a smaller place, searching for sales at the grocery store, or forgoing air conditioning on hot days, for examples. But drivers around the country have been getting a reprieve without any effort thanks to falling gas prices. So what are they doing with the unanticipated bonus in their bank accounts? Not saving it, a new report from J.P. Morgan finds.
The price of gas peaked at about $3.70 a gallon in 2014. At present, that price has declined by about $1.50. While those single-gallon prices might seem insignificant, they add up. Take the example of a Toyota Camry, one of the nation's top-selling cars with a fuel tank that holds around 17 gallons: Filling a totally empty tank at the peak would cost over $60. Now it would cost a much more reasonable $37. And for those who rely on their car as the main method of transportation, that's a big deal. It's been estimated that over the course of 2015, Americans will save on average $700 thanks to the dip in gas prices. That's more than government stimulus checks in recent years, which paid out between $300 and $600.
And they're spending it—most of it, at least. According to the J.P. Morgan Institute, Americans are spending about 80 cents for every dollar they've saved. They're going out to restaurants—which accounted for nearly 20 percent of gas savings—shopping for clothes, and buying groceries, electronics, and appliances.
These findings imply that Americans are feeling surprisingly upbeat about the economy. Were they more pessimistic, economists would expect them to be saving a greater portion of the money for the expected tough times ahead, or using the money strictly for essentials, like housing and bills. Other recent reports on the impact of lowered gas prices have painted a less optimistic picture. The Council of Economic Advisors puts the consumption bump at closer to 45 percent of gas savings, and a Gallup poll found that though nearly 60 percent of respondents said they're feeling the positive effects of lower prices, only about one-quarter said that that they were spending the extra money. The bulk of respondents told Gallup that the money was going toward bills or savings.
---
Increase in Purchasing Power, by Income Level

---
So what explains the difference? The study's authors, Diana Farrell and Fiona Greig note that these discrepancies could be related to sample size or more limited data in those surveys. In their study, J.P. Morgan analyzes the spending of 25 million clients via transactions on debit and credit cards between October 2012 and June 2015. While that certainly is a robust sample, it too has its own limitations and biases. For instance the bank's data won't capture transactions made with cash or on other credit or debit cards, which could be money that families are using for essentials rather than a night out or a new television. The data could also be skewed to reflect the habits and demographics of the bank's clientele. For instance, the survey finds that gas bills account for only 2.9 percent of individual's incomes in 2014 while the Consumer Expenditure Survey reports that it accounts for 3.7 percent, which could reflect a difference between where these sample groups live, their access to public transportation, or their income.
Nonetheless, some of the broad trends are intriguing. The data show that the gas-price infusion is obviously not spread equally among all Americans. It's more heavily concentrated among those who live in the South and Midwest where people drive more, over greater distances, and have decreased access to and use of public transportation. The savings are also more meaningful for low-income households—who saw their monthly disposable income climb by more than 1 percent for those pulling in less than $30,000 a year—and young people.
Though the money spent on gas makes up a nominal amount of consumption in the grand scheme, the impact of gas prices on American families can be a telling way to assess how confident people are feeling about spending. It could also help predict spending trends should prices hold steady, or increase in the future. That could help inform policy decisions on things like gas taxes. For an economy that's been puttering along with little wage growth, increasing costs of living, and little disposable income—spending is a good thing. It puts more money into businesses, which then creates more jobs and helps spur further economic growth. And there hasn't been quite enough of that since 2008.