The Literal Marketplace of Ideas
From books to movies to musicals, Americans spend heavily on the historical narratives they want to believe.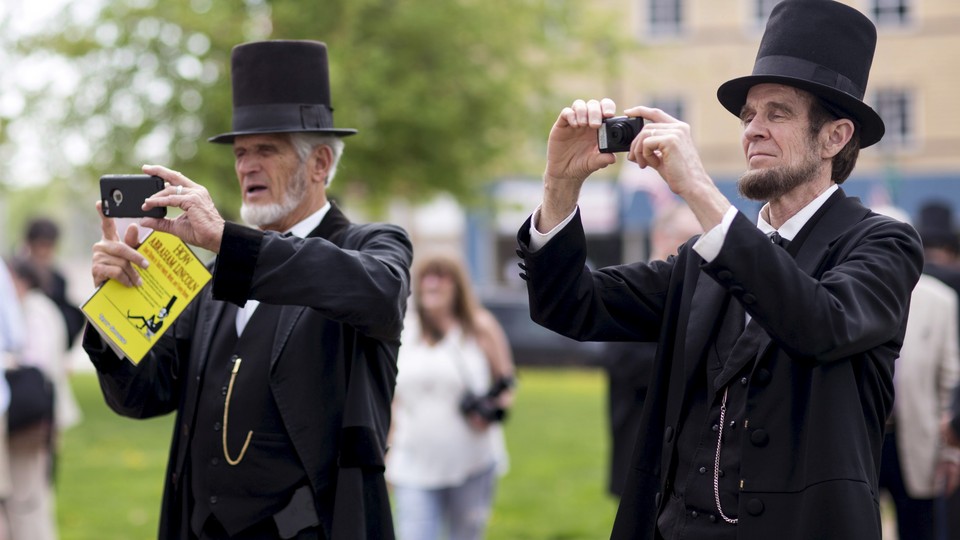 The Broadway "masterpiece" Hamilton, based on Pulitzer Prize-winner Ron Chernow's 2004 biography of the Founding Father, is currently New York's most highly sought after ticket. An energetic, erudite, hip-hop infused take on the nation's first leaders, it feels like 1776, as remade by the precocious love child of Les Miserables and Rent. But Hamilton does not stint on substance or talk down to its audience in an attempt to make learning fun. In two rap battles between Alexander Hamilton and Thomas Jefferson in the second act, for example, the immigrant New Yorker and the patrician Virginian debate abstract issues of import to the future of their young nation, and audiences love it. As a result the show has had "one of the largest pre-opening totals in history" and has been consistently selling out.
Americans' ignorance about their own country's history has been called an "epidemic," and yet they seem as enthusiastic as ever to consume books, TV shows, movies, and musicals with a historical slant. The American-history industry is thriving, and within this literal marketplace of ideas, there are sub-industries selling Americans of different political persuasions the historical narratives they prefer.
Liberals seem to prioritize historical titles that offer irreverence, complexity, and, sometimes, humor. While Republicans and Democrats alike may be found waiting in line in front of the Richard Rodgers Theater to enter the lottery for discounted tickets—Lin-Manuel Miranda's musical is one of the few subjects on which former Vice President Cheney and President Obama can publicly agree—Democrats seem to be more enthusiastic, given that they are using the show for fundraising purposes. And, before there was Hamilton, there was the off-Broadway (and briefly on-Broadway) sensation Bloody Bloody Andrew Jackson, wherein the famous frontiersman and seventh president was pilloried via comic rock opera.
Jonathan Haidt, a social psychologist and a professor of ethical leadership at New York University's Stern School of Business, has written that his research suggests that "liberals want to loosen things up, especially in ways that they believe will make more room for women, African Americans, gay people, and other oppressed groups to escape from traditional strictures, express themselves, and succeed." In other words, the same kind of people who turn to satire for their news prefer their history to be inclusive and not taken too seriously.
Conservatives are also fans of civics, though they tend to come at the subject in a more sincere, goal-oriented fashion. One right-wing site, Liberty News, posits that forgetting the sacrifices made by the Founding Fathers "will ultimately lead to government dependence," in which case, "ownership over our way of life will be transferred to the government." A belief that the stakes are truly that high may be the reason that conservative pundits Bill O'Reilly, Rush Limbaugh, and Glenn Beck have recently—and with immense success—repackaged themselves as earnest writers of a kind of history that venerates so-called Great Men.
Bill O'Reilly's nonfiction book Killing Reagan (co-written by Martin Duggard) has been atop the New York Times bestseller list for weeks. O'Reilly's previous efforts along the same lines—Killing Patton, Killing Lincoln, Killing Kennedy, and Killing Jesus—were all similarly successful, to the degree that Bill O'Reilly is among the top authors in Amazon's history section, ahead of prize-winners David McCullough, Erik Larson, and Laura Hillenbrand. (Ron Chernow, the Hamilton biographer, is #19.)
Rush Limbaugh was named "Author Of The Year" in 2014 by the Children's Book Council at a time when two of his three Rush Revere novels appeared on the Times bestseller list. And Glenn Beck has been equally prolific. In the past few years alone, he has published several best-selling works of history including Dreamers and Deceivers: True Stories of the Heroes and Villains Who Made America, Miracles and Massacres: True and Untold Stories of the Making of America, and The Original Argument: The Federalists' Case for the Constitution, Adapted for the 21st Century.
Likewise, History (once known as The History Channel), though it is derided by some as ironically history-free, remains one of America's top cable networks, and is especially popular among right-wing viewers. From "Pawn Stars," to "Ice Road Truckers," "Ax Men" to "Sons of Liberty," its shows also center on strong white men in positions of authority.
Is there any historical common ground over which liberals and conservatives can meet? One answer may lie in the multiplex. The recent Oscar-winner Lincoln, for example, had sterling liberal bona fides, including a script by the playwright behind Angels in America, Tony Kushner. Yet, unlike other progressive takes on contemporary history such as Selma and 12 Years A Slave, each of which only grossed about $55 million domestically, it was a financial hit, perhaps because Lincoln is one of the few legendary leaders whom everyone generally agrees deserves to be venerated.
But though history as presented through film has the potential to reach across the aisle, through much of the 20th century its most popular embodiments made liberals cringe. Indeed, despite the success of contemporary blockbusters from Avatar to The Avengers, the all-time domestic box office champion remains the controversial Civil War epic from 1939, Gone With The Wind. The even more controversial Civil War epic from 1915, Birth Of A Nation, is also "one of the biggest box-office money-makers in the history of film." It remained Hollywood's most profitable movie for two decades.
American history is hardly something about which Americans can agree. Instead, it functions as yet another way for Americans to spend their money on narratives that reflect back to them their own biases as fact.