Where Not to Be Old and Jobless
Hidden by the steady, optimistic jobs reports in recent months is the fact that unemployment rates for Americans 55 and older have been increasing.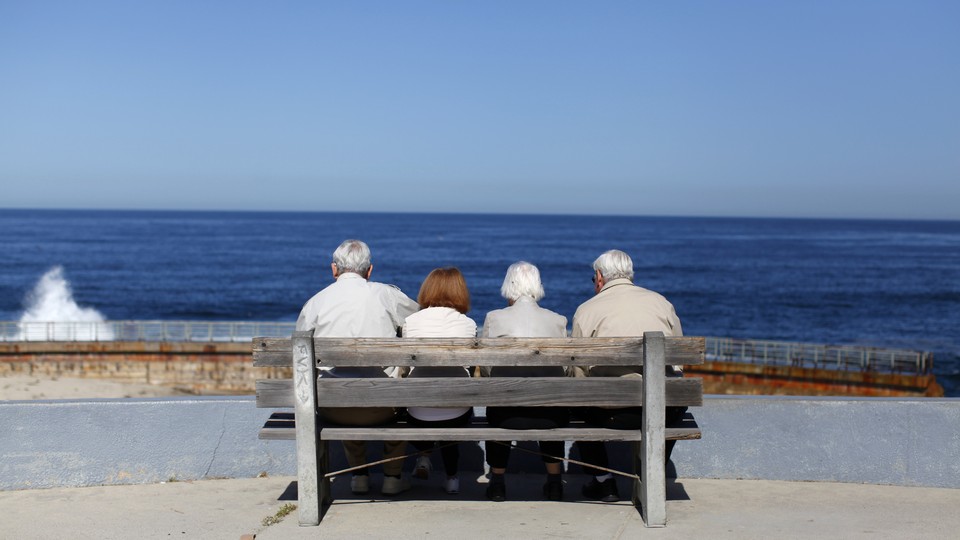 Ten days ago, another monthly jobs report came in, indicating slow but steady progress: In August, the overall rate of unemployment fell to pre-crisis levels, 5.1 percent—the lowest since April 2008. Adding to the media's positive reception of this buoyant news, job growth was widespread across many sectors of the economy.
Meanwhile, though, the slight increase in the unemployment rate for workers ages 55 and over, from 3.7 percent to 3.8 percent, was scarcely noted. While the jobless rate is always lower for older workers, it is unusual for their increase or decrease to diverge much from those of the national numbers.
As of last month, there are about 1.3 million Americans over 55 who are actively looking for a job, but can't find one. But that estimate is probably low, because it doesn't count the older people who are too discouraged to actively seek work or too proud to tell a pollster they are jobless, instead saying they're a more respectable-sounding "retiree." It has been suggested that a lot of the older people who report being retired are closet unemployed.
In short, the declining national unemployment rate hides the fact that economic growth is not benefiting everyone. These disparities probably exist because many workplaces are biased against older workers and because older workers who have seen their 401(k)s shrink and their pensions evaporate are looking for more work, increasing labor-market competition.
Looking at city-specific figures can provide some other clues as to why many older workers are being left behind during the recovery. Four metropolitan areas have high jobless rates—higher than 12 percent—for older workers. What is illuminating and disturbing is that the unemployment rates are larger in cities that are vital and vibrant. As of 2014, the latest year with the most complete data, the new economies have been leaving the old behind: Among the 10 cities with the highest rates of unemployment for older workers are San Jose (13.7 percent), El Paso, Texas (13.6 percent), New Haven (13.1 percent), and Austin (12.2 percent).
---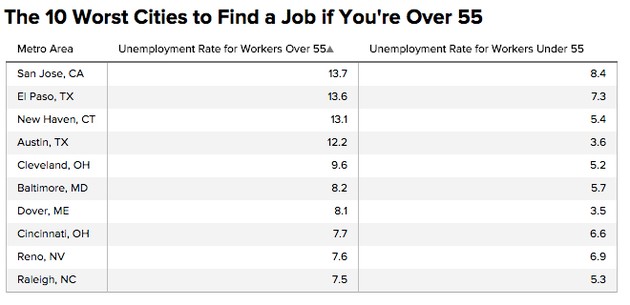 ---
Some cities' extraordinarily high unemployment rates for older workers are not moving in the same direction as the unemployment rates for job seekers 54 and under. While San Jose and El Paso have high unemployment rates for younger workers, at 8.4 percent and 7.3 percent respectively, Austin has one of the country's lowest unemployment rates in the country for younger workers—just 3.6 percent.
The reasons a city's economy would prefer younger workers over older ones are complex and murky—there's more research needed to be sure of anything. However, the types of industries each city specializes in could be to be blame for the age gap. San Jose and Austin are tech hubs, and New Haven's college-town economy has many stores and restaurants geared toward young people's tastes. And Ohio's Rust Belt cities feature similar disparities: Cleveland's August unemployment rate was 9.6 percent for workers 55 and over, versus 5.2 percent for workers 54 and under, and Cincinnati's older unemployment rate is 7.7 percent, versus 6.6 percent for younger workers.
Economists have long understood that high unemployment weakens bargaining power and lowers wages. Adding to the weakened bargaining power of older workers is the downward trend in access to retirement-savings plans at work. This means older workers nearing retirement age have less of a safety net, and are increasingly at the mercy of a less than robust labor market. They are facing pressure from two directions: As older workers are losing their pensions and their 401(k) plans have lost value, they feel the need to work more at precisely the time the economy may be leaving them behind.
Only policies dedicated to affordable and sustainable pensions for all workers—expanding Social Security and creating universal pensions for all, regardless of where they live, are two such policies—will help older workers so that they aren't desperate to take the first job they might find. But for now, worse than taking a job at low pay and with requirements that don't utilize one's full abilities is finding no job at all—a fate likely in many cities for older workers.