What One Union Learned From the Recession
While labor has struggled around the country, the United Automobile Workers has remained relevant. But can it succeed in this year's negotiations?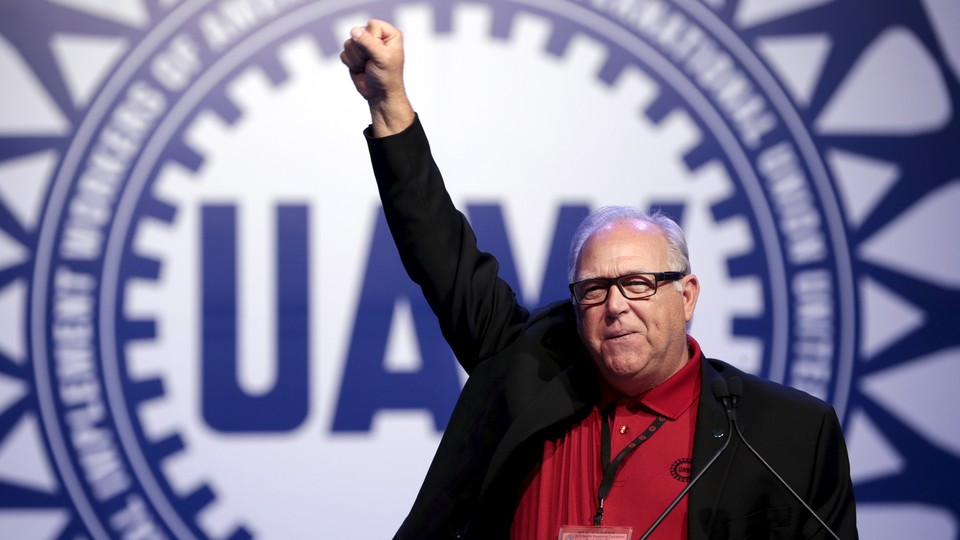 There's no denying unions have taken a beating in the last decade, with the Supreme Court making it harder to collect dues and states disbanding their collective bargaining rights.
But this has only made some unions around the country more determined to stay relevant and negotiate on behalf of their members. Few have done this as successfully as the United Automobile Workers.
The UAW is currently in the thick of contract negotiations with the Big Three (Ford, General Motors and Chrysler), and is entering the bargaining from a position of strength for the first time in a long time. The last time the union negotiated with the Big Three, in 2011, the country was still struggling with high unemployment and analysts were concerned that the economy would enter another recession. No one was quite sure whether people would buy U.S. cars in the wake of the 2008 automakers bailout.
This time around, things are much different. The nation has the lowest unemployment rate since 2008. Ford recently had its best quarter for its automotive business since 2000, and expects a profit of $8.5 billion this year. General Motors said in July that its earnings were five times larger than a year ago, despite vehicle recalls. And Chrysler, now known as FCA, or Fiat Chrysler Automobiles, is finally starting to post profits.
That means that regardless of how unions have deteriorated in the rest of the country, the UAW is going to ask  a lot of the automakers.
"Our members made a lot of sacrifices and we feel like it's our time," Dennis Williams, the president of the UAW, said at a roundtable this summer.
If they succeed, the UAW could very well be a model for how a union can work with big business to keep companies profitable while still improving life for workers. It's an approach that's all but disappeared in much of America, where unions and employers have increasingly combative relationships and companies do as much as legally possible (and sometimes more) to disband unions.
"Unions in general, and the UAW in particular, played a critical role in building the road to the middle class," said Harley Shaiken, a professor at UC Berkeley who specializes in labor and the global economy. "It was the most important model that rolled out of Detroit. They're seeking to update that model and to ensure the middle class is still a critical part of U.S. society."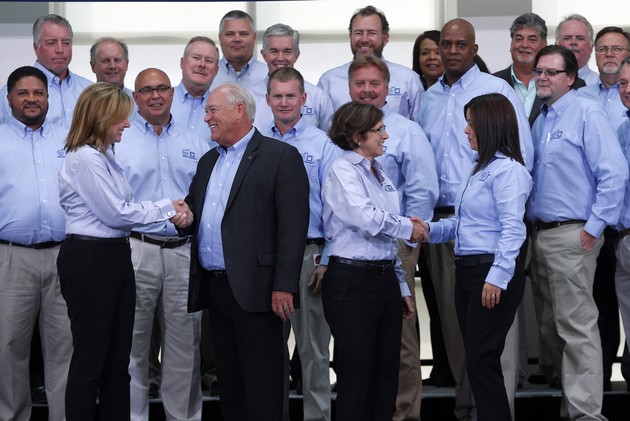 The UAW was founded 80 years ago, and through strikes and negotiations, gained significant leverage in one of America's most successful industries. The UAW reached peak membership in 1979, at 1.5 million workers. Now, it has about 400,000 members, up from a low of 355,000 in 2010.
Today, union members have a pretty good deal. Legacy employees make $28 an hour and pay virtually no deductibles or premiums for their health care. They receive a share of automakers' profits—between 2011 and 2015, workers earned between $21,000 and $40,000 each in profit-sharing, according to Kristin Dziczek, the director of the Industry & Labor Group at the Center for Automotive Research.
This is perhaps not as generous a deal as other unionized workers, including aerospace workers, oil-refinery workers, and UPS drivers, but it's a good one. That's made them a target.
"Autoworkers are the most visible class of unionized, industrialized elites," Dziczek said.
During the automakers' bailout in 2008-2009, some observers wanted the government to force the companies renege on obligations to autoworkers' pension funds and bring down wages, as might be done in typical bankruptcy proceedings. But the UAW helped convince the government to bail out the auto companies, and the industry did not want to sour the unions on the deal. Conservatives have grumbled about the bailout ever since (ultimately, taxpayers spent about $9 billion on the deal).
"President Obama did not bail out the auto industry. He bailed out the United Auto Workers," wrote James Sherk of the Heritage Foundation and Todd Zywicki of George Mason University, in an Op-Ed in the Wall Street Journal in 2012.
But autoworkers have made sacrifices, too. One of the biggest: In 2007, the union agreed to add a second tier of workers who make about half of what already-employed workers earned. The idea was to bring labor costs down without cutting the pay of employees. The original intent of the second tier was that people doing jobs that were less difficult would get less pay, said Art Schwartz, a former GM negotiator who is now president of Labor and Economics Associates, a consulting firm.
Because legacy employees have their choice of jobs in the factory, they often bid for the easier, less physically taxing jobs while new employees get the strenuous work, and are paid less for it, he told me.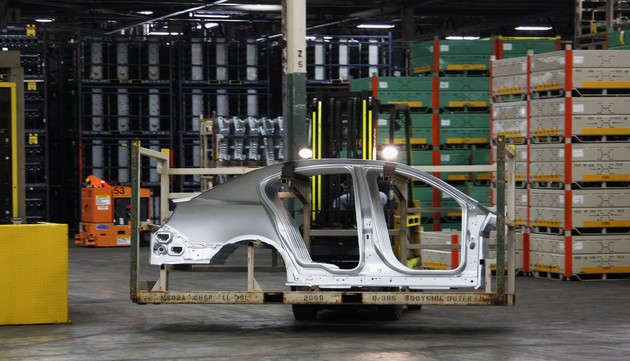 Entry-level workers at the Big Three now make around $17 an hour, and are an increasing part of the workforce as the automakers add jobs. Second-tier workers make up 45 percent of the workforce at Chrysler, 20 percent at GM, and 30 percent at Ford.
The two-tier system causes tensions among workers at plants where entry-level workers are doing the exact same job as some long-time workers, for much less money. The UAW has said it wants to do away with the second tier s, though it's unlikely to disappear this time around. The automakers can't bring everyone to the salaries of the legacy employees, and the unions wouldn't agree to cut the salaries of the higher-paid workers.
Those higher-paid workers have had to give up a little bit, too. They haven't received a raise in a decade, even as automakers have posted five years of profits, Dziczek said.
Unions have also watched as automakers have increased production in Mexico, as that country's favorable trade status with other nations have made it more economical to make small cars there. This summer, as negotiations began, Ford said that it was moving production of two cars, the Focus and C-Max, to Mexico from Michigan in 2018.
These concessions are putting pressure on the unions to get a good deal this time around, especially in light of the U.S. automakers' runaway successes.
The UAW needs both first-tier and second-tier members to ratify the contracts that they negotiate, and they won't have the votes if they don't get a good deal. Most workers aren't happy about the two tiers: The existence of second-tier workers was one reason people at a Volkswagen plant in Tennessee voted not to join the UAW in 2014, according to the Detroit News.
But the union's attitude post-bailout might make it easier for them to come up with a deal both the automakers and the workers can live with. The union used to be more combative. Now, it has realized that it needs to help the companies thrive so that there are jobs and profits for workers.
"I think twenty or more years ago, there wasn't as much cooperation or understanding that when businesses are competitive, they continue to provide jobs," Dziczek said.  "The attitude was that businesses that are doing well 'owe us.'"
Though some workers may still have that attitude, union leadership doesn't. President Dennis Williams has offered up an idea for a health-care co-op covering current workers that would save automakers money, which could then be reinvested into workers. He's looked at ways to make workers more productive, and kept labor costs down by agreeing to the two tiers in the first place. Workers have good reason to back this approach. The profit-sharing equation gives every worker an equal share of the automakers' profits, ensuring that employees are vested in making their employers do well.
Members of the Ford-UAW bargaining committee made this clear in a video they posted to YouTube last week. Though members of the committee pledged to bring back a good deal to workers, they were also realistic.
"We're going to do everything we can to give a great contract to the membership but also to retain our competitiveness," Mark Payne, president of the Local 1250, said.
"What our membership needs to understand is that there's always a fine line between what we deserve and what they deserve in keeping the company profitable," added Jim Caygill, president of Local 400, from the Romeo Engine Plant, added.
The comments are indicative of how the UAW has evolved alongside the auto companies. They think that manufacturing is good for the U.S. economy, and that they need to make some sacrifices to ensure it can continue to be located here. And that if they help the companies succeed, if they play their cards right, workers will thrive as well.
"They're not going for broke on some of the demands, in order to ensure that the industry remains competitive globally and that is able to make commitments to new products in their US plants," Shaiken said. "They acknowledge proactively the common interest they share, and that's a big gain to come out of this."
Perhaps other unions will take note. Perhaps other employees, including state and local governments, will too.