Volkswagen's Cheating Scandal Is Costing Them
The apparatuses that the company is said to have installed in nearly 500,000 cars were "defeat devices" in more ways than one.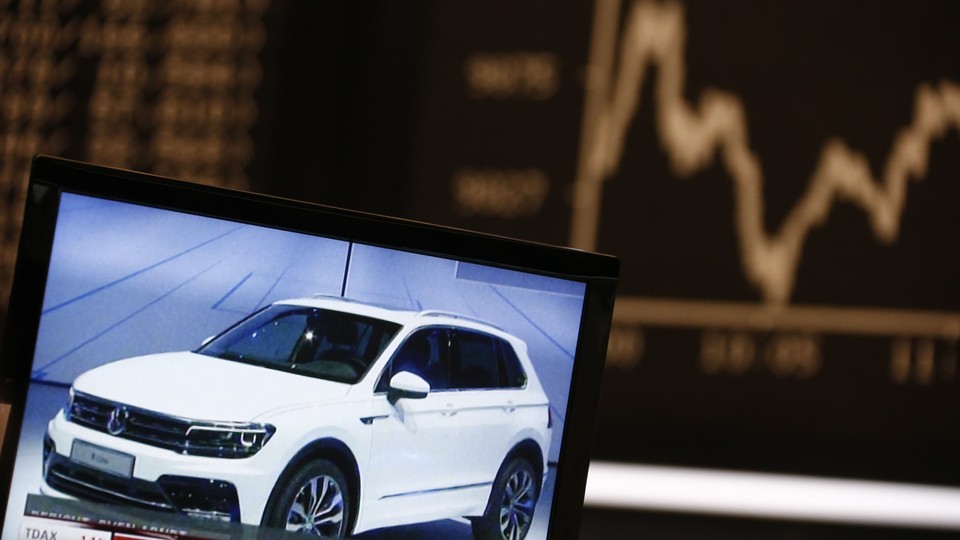 Late last week, the U.S. Environmental Protection Agency ordered Volkswagen to fix nearly half a million of its vehicles after saying that the German car-maker installed illegal devices intended to cheat emissions testing.* The devices made sure that the vehicle's pollution-control systems was activated during emissions testing, but deactivated them during unmonitored driving—allowing the cars to pollute up to 40 times the legally-allowed amount. The company has since admitted to the deception to regulators (after a year of denying it).
This cheating scandal is costing Volkswagen. First, the company is potentially facing criminal charges and a fine of $18 billion (that's $37,500 per car) by the Justice Department. On top of that, investors have been dumping the stock this morning since the news of the company's mass deception. Volkswagen shares dropped by more than 20 percent—the company's biggest one-day fall—wiping out an estimated $17 billion in company value.
---
Volkswagen Share Price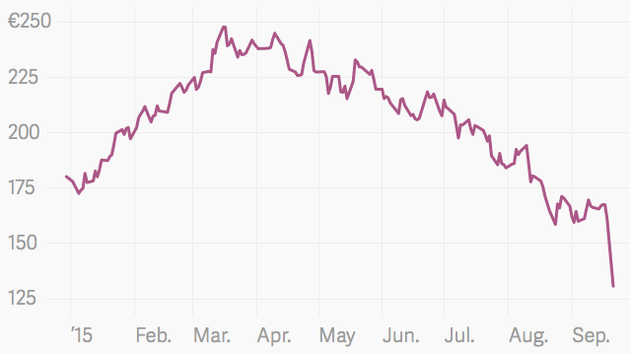 ---
The potential fine is quite large, but that's not the only thing out of the ordinary about this anticipated recall: Volkswagen deceived not just regulators, but customers too—many of whom bought these vehicles precisely because they wanted clean diesel cars.* This eroded trust was well-noted by the company. "We at Volkswagen will do everything that must be done in order to re-establish the trust that so many people have placed in us, and we will do everything necessary in order to reverse the damage this has caused," said CEO Martin Winterkorn in a statement.
Volkswagen is halting sales of the vehicles that are involved in the emissions-cheating-scandal, which affects the Volkswagen and Audi vehicles that are powered by its 4-cylinder diesel engines, including the Jetta, Beetle, Golf and the Audi A3.* The U.S. was a key growth market for Volkswagen, but now it looks like investors will stay away until they clean up their act.
---
* This article originally stated that the EPA ordered Volkswagen to issue a recall of vehicles that violate U.S. emissions standards. Although a recall is anticipated, it was not explicitly ordered by the EPA, and it has not yet been initiated. We regret the error.