A High School Where College Is Not the Goal
At Randolph Technical High School in Philadelphia, students are learning about carpentry, culinary arts, and auto repair. Has the system given up on them, or has it saved them?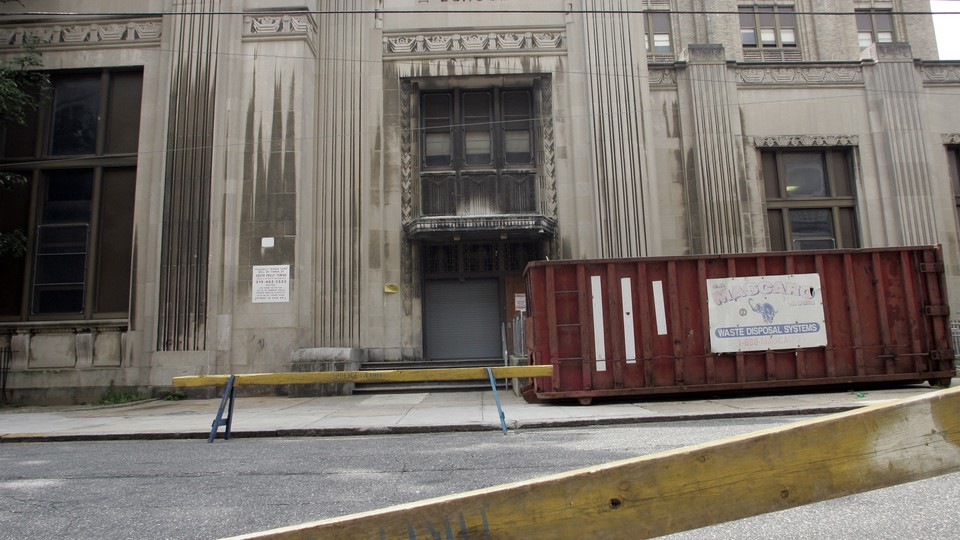 PHILADELPHIA—The halls of Randolph Technical High School looks like almost any other public school in an urban core: a labyrinth of classrooms and lockers housed in an old building, hallways loud with constant chatter and chaos as students and teachers bustle around. But inside these classrooms, students are just as likely to be found working dental X-ray machines or learning how to sauté vegetables as they are to be sitting at a desk, learning about math or history.
Eighteen-year-old Johnika Tavares just graduated from Randolph in June with a specialization in health care. She's now taking classes at a nearby college and working as a home health aide. She's able to grasp the concepts and medical terminology easily, she says, because she's seen most of it already during her time at Randolph.
Joe Williams, who now runs Randolph's welding program, is another former student. Last year, he says, he had a 100 percent success rate—all of his seniors got jobs. The profession is so highly in demand that he's been able to help secure partnerships with five outside companies, creating a job pipeline for students. "You'll have a 17-year-old graduating making $45,000 or $50,000 a year as opposed to working for a fast food company, flipping burgers," he says.
Randolph is one of this city's Career and Technical Education High Schools, where all students participate in vocational programs. In addition to the five high schools, the city also runs programs at traditional high schools throughout the city, for a total of 111 programs in 28 high schools. All students take standard classes such as math and English, but they also choose a speciality where they can earn college credit or a professional certification in areas such as dentistry, carpentry, automotive repair, vending, or health care.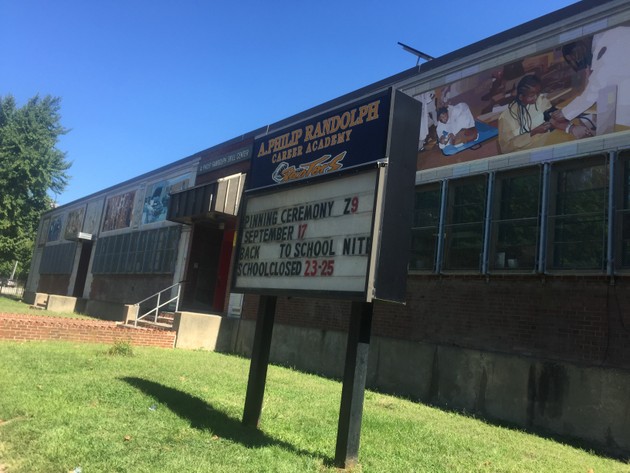 The goal is to graduate kids who have options. They can go on to a community college or a four-year degree program. They can also start a career with a marketable skill and three years of training behind them, making them more likely to secure a job and higher wages, instead of floundering out in the job market, where more than 10 percent of young adults with only a high school diploma are unemployed and more than 20 percent live in poverty, according to Pew Research Center.
In Philadelphia, demand for programs like the one at Randolph is outstripping the school district's ability to accommodate students. David Kipphut, the deputy chief of the CTE program in Philadelphia tells me that it's not unusual to have thousands of applicants for a program with only 200 to 300 spaces in some instances. At Randolph the school year began over capacity, with more than 600 students slotted for only about 580 openings.
Demand varies, of course, depending on the program and subject matter. Some programs have empty seats while others are forced to turn away more than half of the kids who are interested. According to Kipphut, the district wants the program to expand significantly over the next few years. The program's current capacity is  8,000 students. The school district has said that they would like to see that grow to 12,000—which would make about one-third of all district public-school students CTE participants.
But the cost of those increases would be substantial and "we don't have that kind of money," Kipphut tells me. Teaching professional skills requires professional equipment. Ovens and cooktops in the culinary arts department, X-ray machines in the dental specialization. All told, equipment and materials can costs millions of dollars. For a program like CTE to work, the skills that students are learning need to be readily applicable as soon as they graduate. Training on old machines won't work for a vast number of the competencies. As technology changes, the schools need to stay on top of advancements for their students to have a shot. But that can be increasingly difficult, especially since funding at the federal and district level is shrinking around the country.
Currently the approved per-student state subsidy for CTE programs is about $900. The state's new governor has proposed increasing that allotment to over $4,000, which would please Kipphut, though he doubts it will come to be. In order to make such a significant funding jump it would mean cutting something else in the budget, or passing an increase in taxes or fees. "We have a Democratic governor and a Republican legislature," he says. "It's all politics." For now, it's unclear if the growth Kipphut would like to see is something the city and state will provide room for.
The setup of Philadelphia's CTE program is a bit different than that of many others around the country, where CTE programs are all housed in one specialized center and schools form a consortium, to pool funding and resources so all kids in the district can attend programs at one, up-to-date, well-maintained center. But in this city, CTE programs are vast and widespread, in part to cut down on the centralized costs and hassle of bussing. Having programs around the city means that students are more likely to be able to participate without trekking long distances. The multiple-location approach is also a means of bolstering the district's troubled neighborhood schools, which have seen huge budget declines, brain drains, and decreased academic performance as the school district has struggled and more kids depart for magnet schools, charters, and private schools.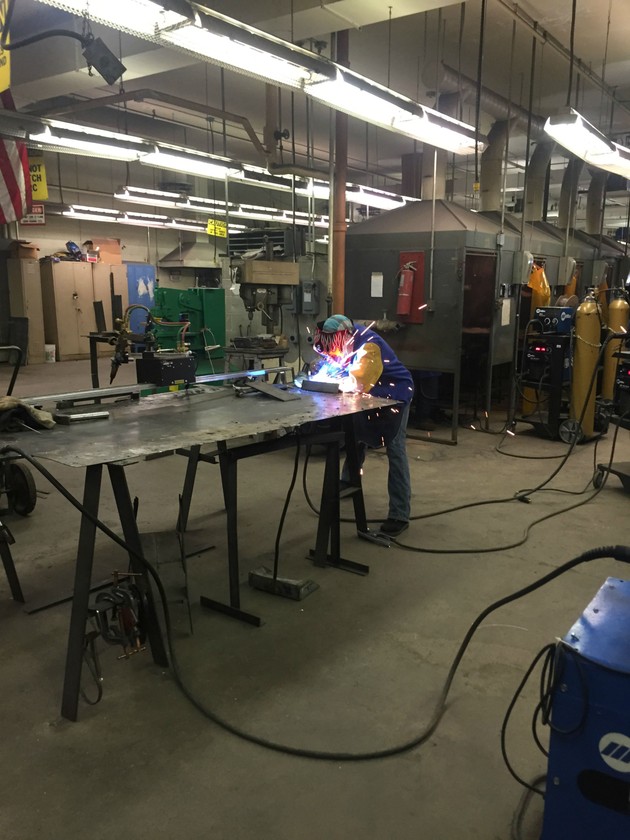 Partnerships with companies and agencies that benefit from a supply of young, skilled workers have become an important part of Philadelphia's CTE success story on both the front and back end. San Francisco-based Cantaloupe Systems donates machines for Randolph's vending program, which teaches kids the intertwined robotics, mechanics, and electrical skills behind everything from soda machines to self-checkout systems. The school has a partnership in the works with SEPTA, Philadelphia's transit authority, which  hopefully will hire students from the program once the city's transit lines convert to a new electronic pass system. And Williams's successful welding program? That had been on hiatus for years until Airgas, which is headquartered in Pennsylvania, donated a crop of new machinery about three years ago.
Aside from donations, funding for the programs arrives in fits and starts, some from the district, some from federal grants, and some from teachers and administrators seeking out and applying for grants from a myriad of sources. Darryl Overton, Randolph's principal, is open about the fact that part of his role is to be a salesman of sorts, marketing the school to interested parties who might consider gifts or donations.
Several projects this year are being funded through a grant from SkillsUSA and Lowes, put together by the heads of Randolph's construction, dentistry, and auto departments. Then there's the massive donation the district's CTE program got from the Middleton family, who are also partial owners of the Philadelphia Phillies. The money from the Middletons, along with district funds and other grants helped to build the program's new $6.1 million Center for Advanced Manufacturing at Benjamin Franklin High school.
For now the program is making it work, but year to year, it can be difficult to estimate exactly how much the program will be able to grow, especially with so much fiscal uncertainty. Federal Perkins loans, which have long been one of the most important funding sources for the city's CTE programs, have been shrinking, down about half a million dollars this year, Kipphut tells me.  And the school district is in disarray when it comes to funding, which was cut drastically under the last governor. Currently the state is facing a billion dollar deficit, and it hasn't even managed to pass a new budget.
Money isn't the only problem facing CTE programs. There can still be a stigma attached to vocational education, left over from the days when it was considered a last resort. "This used to be the place to throw students who weren't going anywhere. They'd say, 'They're not going to college, let's try to get them to do something,'" James Esposito, the construction teacher tells me as we tour his shop. "They didn't think we were really teachers."
There's also a question of who exactly, such programs are meant to serve. Some critics feel that these programs, especially in inner cities, can marginalize vulnerable students, hinting that college isn't an appropriate path for them. That feeling can be especially difficult to shake when you look at the makeup of CTE programs. At Randolph the majority of students that are black or Hispanic. That's true of all CTE programs within the district, where black and Hispanic kids represent a higher share of students than in the district's neighborhood schools overall.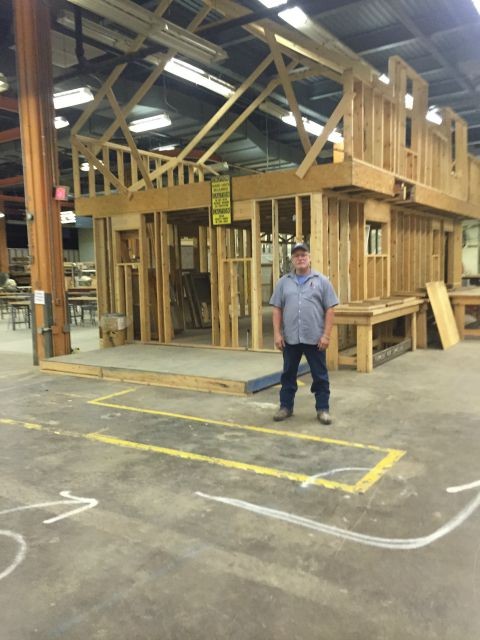 But Overton doesn't see it that way. He says it's a place where all kinds of students can succeed, including ones who have potential but don't perform well in traditional settings, such as kids with learning disabilities, a group that makes up nearly a quarter of the school's students. "If they don't get an opportunity here, and they're not going to college, where are they going to learn a trade and become successful?" he says.
The results in Philadelphia would suggest that perhaps critics' fears aren't well founded. According to a recent report that followed the performance of the cohort of 9th graders who started high school in 2010-2011, students in CTE programs perform about as well on tests as their peers and and are more likely to complete school. The high-school graduation rate for CTE participants was 84 percent, compared to only 65 percent for all Philadelphia high schoolers. And 75 percent of CTE students go on to pursue post-secondary education of some kind, with about 40 percent heading to four-year colleges—a higher share than graduates in the district overall. The data also showed that the graduation gap between white and Asian students, and black and Hispanic students closes by about 10 percentage points when comparing traditional students to CTE students.
Still it can be hard to get the message across that teaching students technical skills can be an effective way to prepare them for whatever path they choose next, even if it isn't higher education. "It isn't PC to say, 'After high school you don't have to go to college,'" Kipphut whispers to me.
Stigma or not, the CTE faculty seems excited. In each classroom teachers laughed and joked with kids, or carefully stood by, giving them pointers on their technique or overseeing the work. In many rooms, kids were cutting into their lunch time to continue working on projects, and they too, seemed to take pride in the work they were doing. In every classroom, teachers have examples of students who came in with borderline grades and disciplinary problems, but great attendance and a strong work ethic. Overton says most wind up sticking with it, graduating, and the school is able to help them find a job or internship. These are the kids, Overton says, that could have been lost in traditional schools that gave up on them too soon. "You have a kid that probably wouldn't have had a chance. Now they have the opportunity to become successful."