Hollywood Still Won't Admit It Has a Gender-Diversity Problem
In the nearly 20 years since researchers started keeping track, the proportion of women working in prime-time television has barely changed.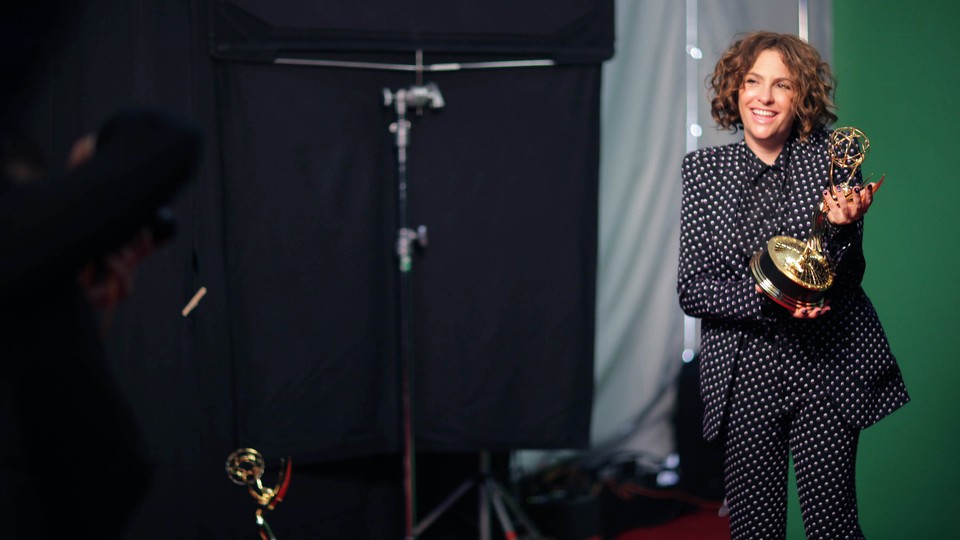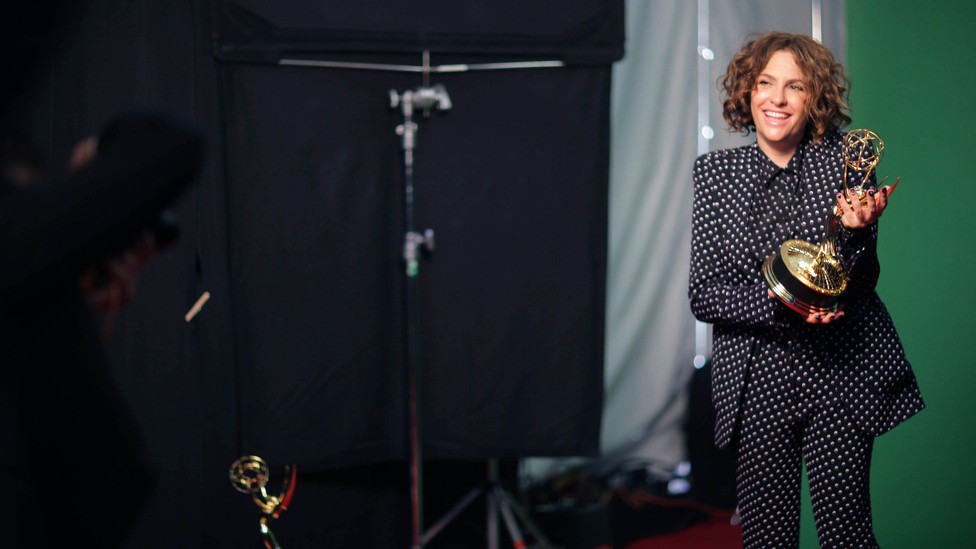 Women in the entertainment industry fared well at the Emmys this Sunday, despite being outnumbered by men 3-to-1 in nominations. Jill Soloway, Amy Schumer, Lisa Cholodenko, and others beat out their predominantly male counterparts in categories such as "Outstanding Directing for a Comedy Series" and "Best Variety Sketch Series." But while gender diversity may be coming, gradually, to the TV industry's biggest awards stage, a new study shows that the pace of change in Hollywood at large is staggeringly slow.
The proportion of women working in prime-time television has barely changed since 1997, according to this year's edition of "Boxed In," an annual report from San Diego State University's Center for the Study of Women in Television and Film. While attention paid the issue has increased, the numbers in the industry have stayed pretty much the same for more than 18 years.
Back then, 21 percent of those working behind the scenes, as creators, executive producers, producers, writers, editors, directors, and directors of photography, were women. Today, that number has only jumped 6 percentage points, to 27 percent, a pace that Martha Lauzen, the study's author and a professor film and television at San Diego State, calls "glacial." Similarly, the percentage of women on camera has seen little growth, increasing 3 percentage points from 39 percent in 1997 to 42 percent today.
---
Percentage of Prime-Time Production Staff That Are Women, vs. Percentage That Are Men, Between 1997 and 2015
---
Based on Lauzen's research, many of the efforts to erase prime-time television's lack of diversity have hardly made a dent thus far, largely because the authoritative bodies in the industry refuse to take an active role in addressing the problem.
"The television and, to a greater extent the film industries, have been in denial for many years," Lauzen says, "Studies from multiple sources have now made women's under-representation undeniable." She applauds the increased discussion on the subject, but also finds descriptions of progress to be anecdotal. "Heads of studios will name a few women directors they have worked with over the years to suggest that if there is a problem, they are not to blame," she says. Unfortunately, Lauzen notes, although more and more research is being conducted and shared on the issue, the actual change has been nominal. This disconnect is, dispiritingly, what led her to begin examining the data after the 1997-1998 television season. "I kept hearing that women were making significant strides in film and television but I was not seeing that progress on screen and in the behind-the-scenes credits," she says.
Broader research has shown that women are vastly underrepresented in a range of industries including tech, venture capital, and as one Vanity Fair spread made painfully clear, late-night television-show hosting. So what can be done in prime-time TV?
Those at the very top are the ones who need to change most, Lauzen notes. According to her, much of the research on this topic has been championed by "grassroots efforts," with no studios and guilds taking a strong, clear step to remedying the imbalance. She says that external pressure, including the ACLU's recent call for a government inquiry into biased hiring practices at Hollywood studios, could help. In response to her research, the Directors' Guild of America cited research they had conducted, which has also highlighted the lack of diversity behind the camera in both film and television.
This year's installment of "Boxed In" does reveal a trend that may have had an impact on increasing the proportion of women in TV. Lauzen found that women in leadership roles, such as show creator or executive producer, were significantly more likely to have other women on their teams than men in those same positions of power. On programs that had at least one woman as an executive producer, 32 percent of writers were female, compared to only 6 percent on those with no female executive producers. The same pattern was seen regarding the presence of female editors, directors, and lead actors.
---
The Percentage of Production Staff Who Are Women, by Gender of Executive Producer
---
While Lauzen does not assert causation, this data seems to suggest that women are more likely to hire other women. She attributes this trend to the fact that people's networks often include individuals like themselves. "People tend to prefer to work with others who reflect their own demographic profile, and people tend to create what they know," she says.
"When more women are in the gatekeeping jobs, when they are in those roles, then the amount of women in those shows increases exponentially," notes Cathy Schulman, the president of Women in Film (WIF), an organization aimed at promoting gender equality in Hollywood. Schulman is optimistic that things will improve in the coming years. She thinks that advocacy efforts from industry groups including the Sundance Institute, WIF, and many other organizations, coupled with increasing support for women already in the field, will lead to more diversity.
Although this finding is a positive one, it still depends on women holding these positions of power in the first place. Currently, 26 percent of executive producers and 23 percent of creators are women."Because men comprise the majority of the decision makers in the business, they must be part of the solution," says Lauzen, "Significant change is not possible unless many men in the business make a conscious effort to change the gender dynamic."
Christopher Hansen, an associate professor of film at Baylor University, believes that discrete policies, as opposed to cautious recommendations, need to be implemented in order to make progress. "I think the people making those decisions need to take a more conscious stance to consider at least one woman for such positions," says Hansen. He cites the NFL's Rooney Rule, which requires each team to interview at least one minority candidate for head coaching vacancies, as an example that the film industry could potentially follow to promote the consideration of more women candidates. Following implementation of the rule in 2003, the NFL has seen the proportion of minority coaches double from 10 percent to 20 percent—still low, but a major improvement.
"It's frustrating that we live in a world where this is still necessary, but steps like that can serve to remind people of candidates they might not have otherwise remembered," Hansen says. As Viola Davis said in her acceptance speech at the Emmy's, "The only thing that separates women of color from anyone else is opportunity. You cannot win an Emmy for roles that simply are not there."