The Class-Action Lawsuit Against Uber Is a Case to Watch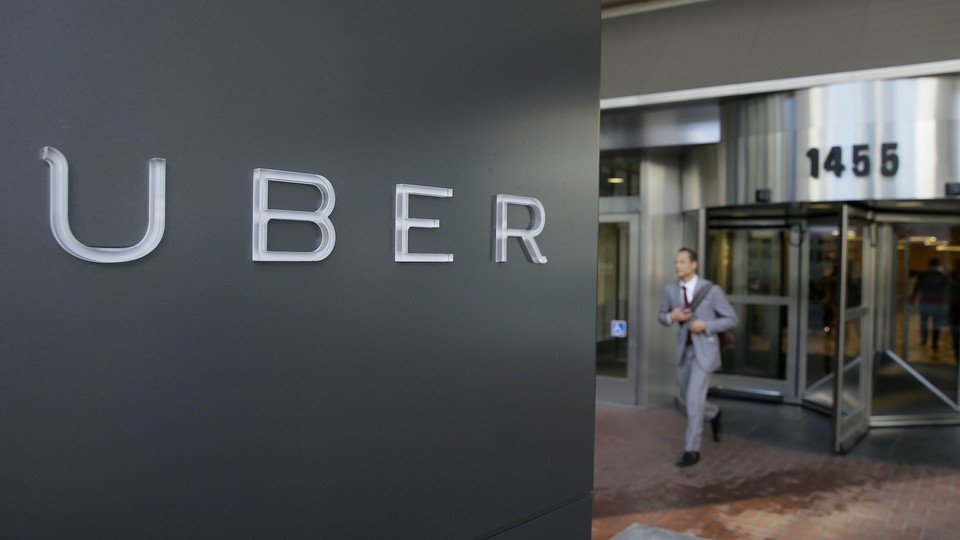 Editor's Note:
This article previously appeared in a different format as part of The Atlantic's Notes section, retired in 2021.
Labor Day is as good an excuse as any to catch up on a case that's been drawing a lot of attention recently: Last week, US District Judge Edward Chen certified that a lawsuit against Uber could proceed as a class-action suit. The decision means that "as many as 160,000 Uber drivers in California could join the case seeking mileage and tip reimbursement from the company."
As Gillian White has reported for The Atlantic, Uber, the ride-sharing juggernaut, has been fighting for a while to limit who can be considered an Uber "employee." The company has argued that it doesn't "employ" drivers so much as facilitate connections between independent entrepreneurs and prospective customers. Facing a class-action lawsuit, Uber said its relationships with all those individual drivers were too idiosyncratic to be represented by a single class of plaintiffs. Judge Chen disagreed.
Shannon Liss-Riordan, the employment lawyer who's leading this fight against Uber, is one of the highest-profile figures taking on the on-demand/sharing/gig/you-name-it economy. "In recent months, Liss-Riordan has filed lawsuits against Uber, Lyft, Homejoy, Postmates, and Caviar—five of the largest on-demand start-ups in the world," reported Fusion's Kashmir Hill in April. "These suits all boil down to a rather simple allegation: these companies pay the people who supply the equipment and manpower that power their businesses like independent contractors, while burdening them with the work expectations of employees."
Liss-Riordan is so busy with lawsuits, in fact, that Uber brought the matter up in court. "Uber professes concern that Ms. Liss-Riordan is inadequate to serve as class counsel here because she is overextended given all of the multitude of cases she is currently prosecuting against Uber and similar firms," wrote Judge Chen in his decision certifying the class. "The Court shares Uber's concern at least in theory, and advises Ms. Liss-Riordan to focus considerable time and attention on this case now that it has been certified. That said, the Court has not witnessed anything in Ms. Liss-Riordan's performance in this case (or in any of the many others she is currently prosecuting before this Court) to date that would cause the Court to be concerned that Ms. Liss-Riordan and her colleagues will not prosecute this action vigorously and with skill on behalf of the class members."