Sponsors Aren't Fazed by NFL's Summer of Controversy
Even after the commotion over "Deflategate," the league will see increased revenues in the upcoming season.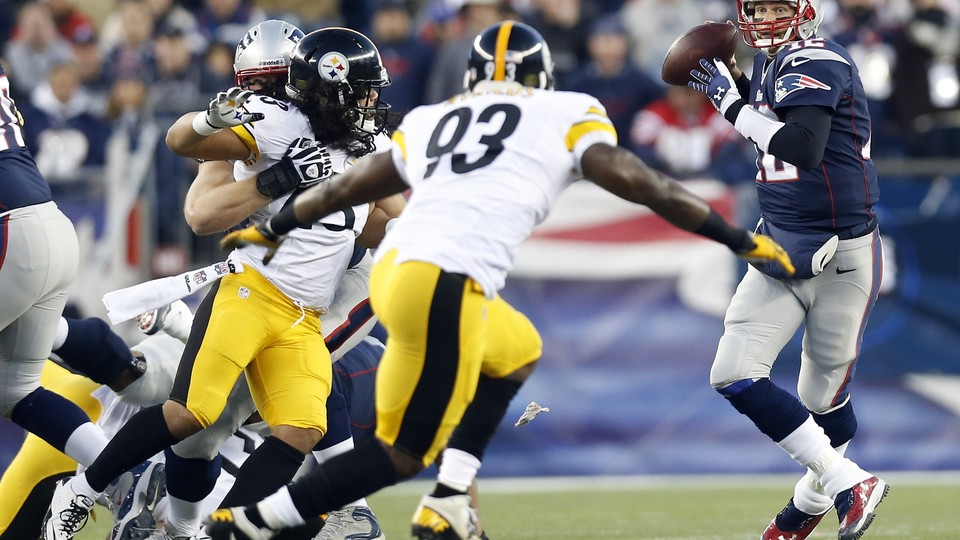 Tonight, in the NFL's season opener, the New England Patriots and their newly unsuspended quarterback, Tom Brady, will host the Pittsburgh Steelers. If you think you're excited for the start of football season, imagine how elated executives of the NFL must be to focus on something other than their own inability to police the league's rulebreakers, Brady (allegedly) among them.
Despite hits to their image and, likely, their egos this summer, the NFL still has quite a payday to look forward to. League officials say that the league expects to bring in $1.3 billion in sponsorship revenue this year, a 15 percent increase over last year, The Wall Street Journal reports.
It seems as though highly public controversies—including multiple instances of violence and abuse committed by players off the field and ex-players' contentions that playing football gave them lasting brain damage—were not enough to make corporate sponsors jump ship: The NFL continued to sign deals with DirectTV, Twitter, Hyundai, and others. That's in addition to longstanding broadcasting contracts with CBS, NBC, ESPN, and Fox worth roughly $30 billion through 2022, according to the Journal.
The Journal's estimates say little of the league's 32 teams' expected revenues, which is, arguably, where the real money is: The average NFL team is currently worth $1.43 billion, the highest value in the 17 years and a 23 percent increase since last year. There's no reason to believe that these teams don't expect to see their revenues increase this year as well—a fact that won't get near the levels of attention Tom Brady's game balls received.