The Power of Public Housing
"The story of American public housing is one of quiet successes drowned out by loud failures," writes the historian Ed Goetz.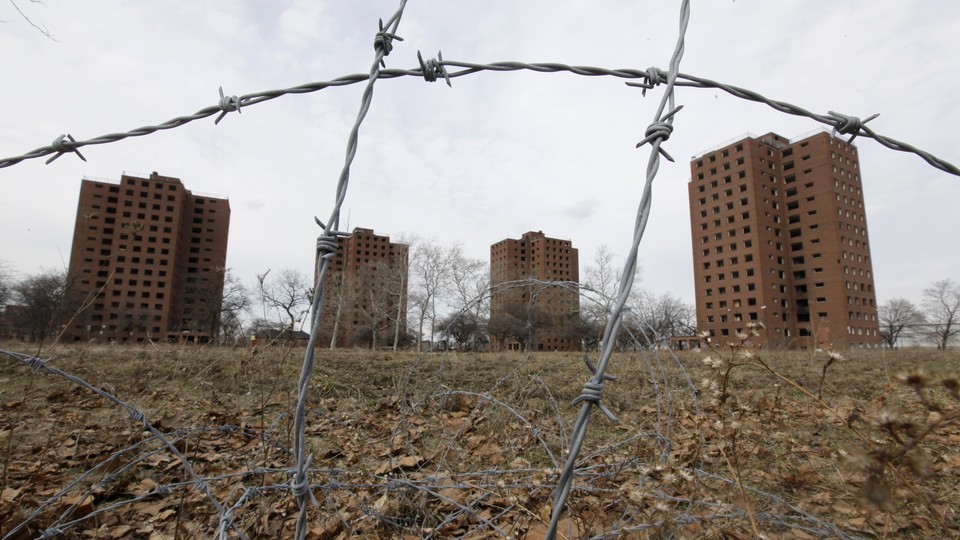 Public housing gets a bad rap, but Maddie Garrett has no complaints. She's lived on the same few blocks on Austin's east side for 50 years, moving between one of the nation's oldest public-housing complexes, Rosewood Courts, and a senior housing development called Salina Apartments. When her family grew, the housing authority helped her move to a bigger apartment; when her kids moved away, she moved back to a smaller one. When her husband became disabled, the housing authority put them in a unit that could accommodate his disabilities.
"It's comfortable; it's safe; I haven't had any problems," she told me, in the shady courtyard of her apartment building.
It can be hard to remember, among the multiple stories of neglect and crime in the nation's public-housing complexes, and amid the efforts to dismantle the buildings over the last few decades, that for millions of Americans over the past century, public housing has worked well. Today there are 1.2 million Americans living in housing managed by some 3,300 public-housing authorities, many of which have received scores of 98 or higher out of 100 in HUD's public-housing assessment system.
"The story of American public housing is one of quiet successes drowned out by loud failures," writes Ed Goetz, a professor at the University of Minnesota, in his book New Deal Ruins: Race, Economic Justice and Public Housing Policy.
Those failures have been in the news of late, what with the HBO series Show Me A Hero reminding viewers just how bad public housing in Yonkers was in the late 1980s, New York City's Housing Authority publicly struggling to pay the bills, and the head of a Florida public housing authority being arrested for stealing federal funds.
But as Maddie Garrett's experience shows, and as Goetz details in his book, public housing had—and still has—a lot of potential. It's just that seemingly no one—not politicians, not Congress, not home builders—wants it to succeed.
* * *
The first federal efforts to help build public housing began in the 1930s, during the worst of the Great Depression. Concerned about a shortage of affordable housing, the government loaned money to housing authorities, which then built units and repaid the loans with money earned from collecting rent. The program became more formal with the 1937 Housing Act, which sought to create jobs and build housing.
There was widespread opposition to the Housing Act from people who didn't want to spend tax dollars on housing for the poor and from private developers who didn't want to compete with the government on housing. "Can you afford to pay someone else's rent?" billboards paid for by the real-estate lobby asked, according to Goetz.
An ambitious congressman from Austin named Lyndon B. Johnson was instrumental in getting that Housing Act passed, and he insisted that his district be one of the first sites for public-housing construction, alongside New Orleans and New York. To deal with local opposition, three buildings were constructed, Santa Rita Courts for Latino residents, Rosewood Courts for black residents, and Chalmers Courts for white residents. (Chalmers Courts was allocated the most units of the three.)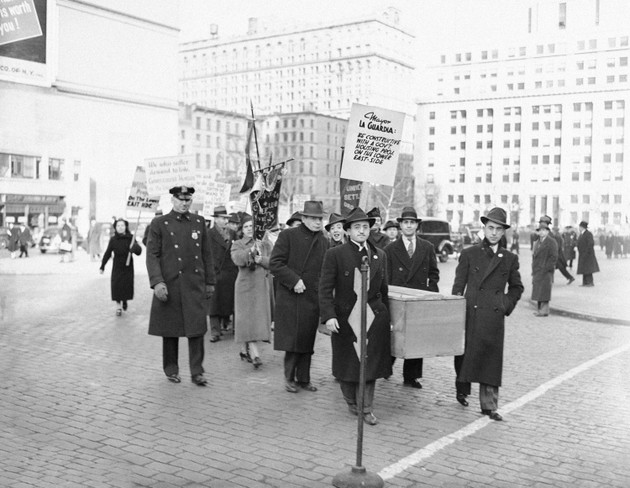 Johnson addressed these concerns in a 1938 radio address, "Tarnish on the Violent Crown," in which he called for his fellow Austinites to support the construction of new homes for their fellow citizens living in squalor.
"People who now have to put up with conditions such as I have already described will be able to move into new, clean, and safe dwellings," he said. "There won't be Persian rugs on the floors. There won't be Venetian blinds in the windows. But there will be light and water and air, and windows to let in sunshine, and strong walls to hold back the chill of winter."
For a while, this worked. Tenants were carefully screened, and public-housing complexes, though largely segregated, were home to working-class residents of all races. But this all changed after World War II, when the federal government pushed for many people to buy their own homes by increasing the authorization for Federal Housing Authority loans, which were mostly available to white families. The job opportunities were mostly available for white workers, too. The combination meant that many working-class white families could afford to move out of the housing projects and buy their own homes. Those job (and housing) opportunities were closed off to minority residents, though, who were discriminated against in job applications and prevented from buying homes in certain areas. As the population of public-housing properties became more impoverished and blacker, white residents with jobs, even low-paying ones, hurried to move out of the projects.
"You saw a change in the racial composition, which simply added to the stigma and the pattern of administrative neglect that characterized many housing authorities," Goetz told me.
As the 1950s began, big-city public-housing agencies like Chicago, New York, and Baltimore built high-rise units that would soon become emblematic of all the problems with public housing.
But public-housing authority budgets took a big hit as working-class residents moved out and the poor remained. They charged a set amount for rent, but this increasingly amounted to a larger and larger percentage of the incomes of the people still living in public housing, in part because the federal government was hesitant to subsidize public housing. By the late 1960s, some of the worst-performing buildings had high vacancy rates and high rents. The 1964 Civil Rights Act accelerated the exodus—as public housing was integrated, white residents left, according to "A Brief History of Public Housing," a paper by J.A. Stoloff.
"Anyone who could afford to live elsewhere moved out of public housing, and whites had more opportunities than minorities to take advantage of government subsidies that promoted homeownership," Stoloff writes.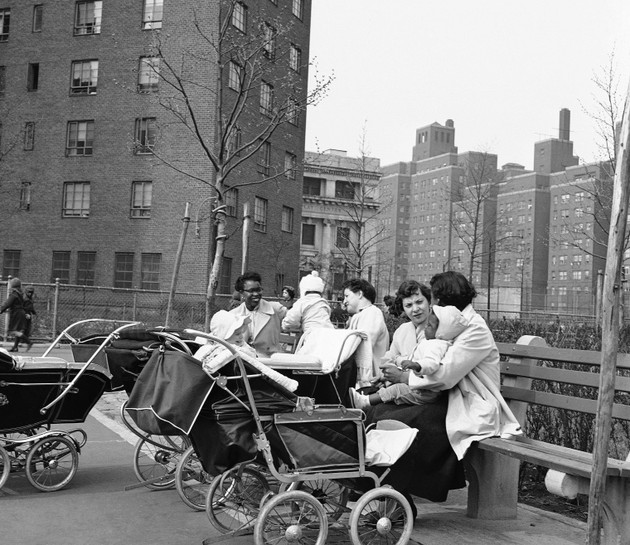 As working-class residents moved out, those left behind were required to pay an increasing share of the rents. In time, some residents were paying more than half of their income for rent to live in public housing, Goetz said. A highly-publicized rent strike in St. Louis in 1969 drew attention to this and Congress passed the Brooke Amendment, which limited the rents that public-housing authorities could charge to a certain percentage of a residents' income. Though it was well-intended, Goetz said, the Brooke Amendment made it nearly impossible for many public-housing authorities to collect enough money to keep their properties in good condition. Going into the 1970s, public-housing authorities were becoming poorly-run, barely-financed departments, with most of their properties located in urban areas that were marked by declines related to white flight. And then they had to face urban decline, crime, and the gangs that rose up in the 1970s and 1980s with diminishing funding from both HUD and the local municipalities that didn't want to spend money on deteriorating properties for the poor.
"It is impossible to overstate the dysfunctional state of some public housing complexes in the late 1980s and 1990s," Goetz writes, in his book.
* * *
For some officials, the solution to many of the problems with public housing in the biggest cities was obvious: Tear them down. By the 1980s and 1990s, there were other federal-housing programs that sought to help house the nation's poor, which public housing opponents argued could do better. The Low-Income Housing Tax Credit, created under the Tax Reform Act of 1986, provided tax credits for local developers to build affordable housing (though this often segregated affordable housing in poor neighborhoods). The Housing Choice Voucher program, commonly known as Section 8, was created in 1974 to provide subsidies for poor families to move into market-rate apartments (though this also segregated families in housing where landlords would accept vouchers).
Because of these programs and because of the popular opinion that public housing was failing, the municipalities started depending on nonprofit developers to build housing for the poor, Goetz says. They also started to demolish public-housing complexes: Between 1978 and 1989, local housing authorities sold or demolished 15,000 units, Goetz says.
This strategy became federal law in 1992, when public-housing authorities began receiving billions through the HOPE VI to tear down some of the nation's worst housing complexes. The idea was that projects like the infamous Cabrini-Green in Chicago would go away, and along with them, the blight that characterized center cities.
"CHA [Chicago Housing Authority] must come down. You can no longer put a Band-Aid on a bullet wound," Andrew Cuomo, the secretary of HUD, said in 2000.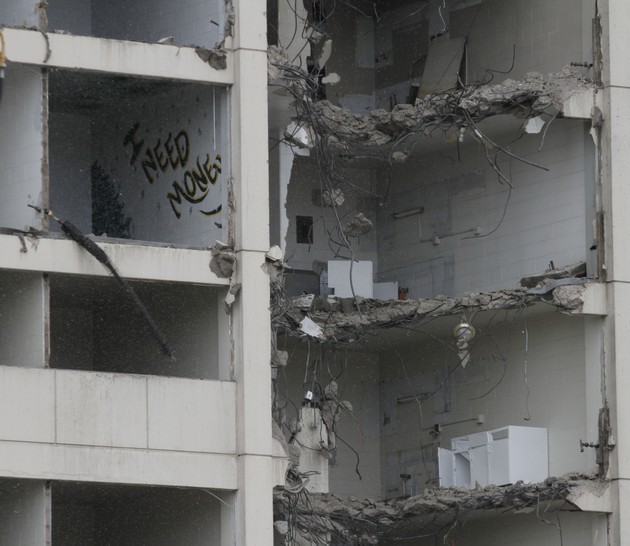 Through HOPE VI, public-housing residents were supposed to get vouchers to relocate to market-rate units or other public housing properties. But as is becoming increasingly evident in research, this approach had problems. Sometimes, residents were told that their housing would be demolished and they'd have to move immediately, with little help to relocate. Though the idea was that original residents could move back to the redeveloped, mixed-income properties, in some places, only about 15 percent of original tenants ended up making their way back. Other reports found that rather than tearing down the most distressed public-housing properties, HOPE VI instead targeted those most wanted by developers for high-income units.
"Most of the original residents have been shunted aside to other high-poverty, segregated neighborhoods," Goetz told me. "It's quite clear from the record that this, in practice, was never really about improving the lives of residents. It was really about reactivating real-estate markets in central cities that were beginning to be rediscovered."
* * *
Recent efforts to tear down public housing have made many observers look back on the policy and remember it as an abject failure.
"Public housing is a failed policy, and in many ways an immoral policy," Rick White, the spokesman for the Atlanta Housing Authority, said in 2008.
In some small cities, though, public housing has worked and continues to work. That includes Austin, the site of one of the first public-housing complexes in the nation, which still stands today. The Housing Authority of the City of Austin has been recognized as a "High Performer" by HUD for 15 years in a row, and, rather than depending on the federal government for help, it has embarked on a few entrepreneurial programs to raise money.
"We've certainly been more aggressive and achieved more than most," Michael Gerber, the president of the housing authority, told me.
Its nonprofit subsidiary, the Austin Affordable Housing Corporation, owns a commercial property, Eastland Plaza, which it rents out to tenants to make money for the organization, and AAHC also runs well-kept, affordable-housing complexes that feature tennis courts and pools.  It's also launched a community land trust, which it hopes to expand in the future.
"We've been fortunate because we've developed additional affordable-housing resources that generate revenue, and we've been able to use that to plug holes," Gerber said.
Other properties the housing authority has acquired have been turned into hubs for after-school and mentoring programs and for community development, he told me.
Of course, with just 1,838 public housing units, Austin has a much easier time running a public-housing agency than a city like Chicago (around 18,000 units) or New York (some 180,000 units).
By and large, smaller agencies across the country have been more successful at providing good public housing for residents than giant city agencies have, Goetz says. The example of Austin and other cities such as Cambridge, Massachusetts; Portland, Oregon; and St. Paul, Minnesota; indicate that public housing didn't have to fail. And perhaps with some tweaking—dividing big public-housing authorities into smaller, regional ones, or spending more money on housing for the poor in good neighborhoods—it doesn't have to fail in the future, either.