How the Pope Is Helping Airbnb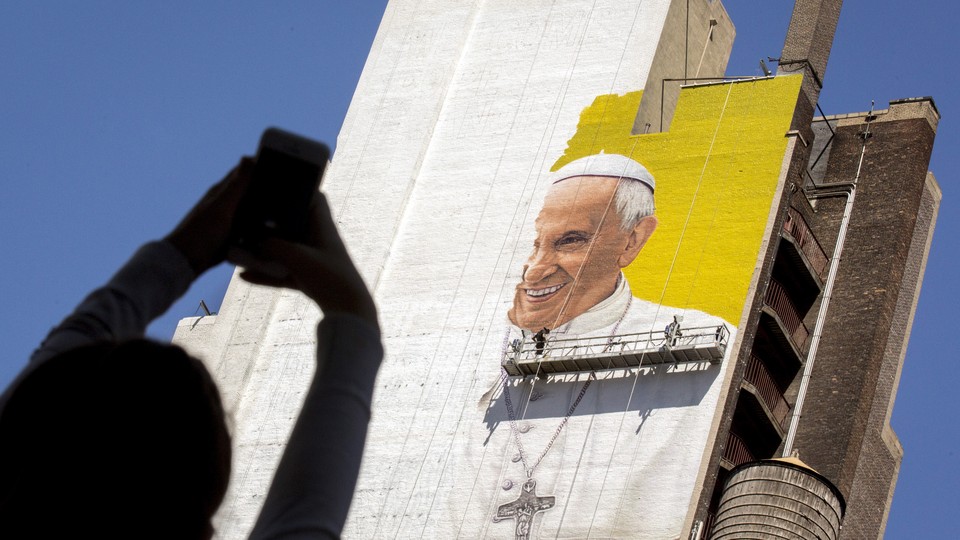 Editor's Note:
This article previously appeared in a different format as part of The Atlantic's Notes section, retired in 2021.
Pope Francis will soon be making a long-awaited visit to the U.S., with stops in Washington, D.C., New York City, and Philadelphia. His travel plans are keeping local businesses busy with preparations—and they're also, apparently, really good news for Airbnb. The company said today that, thanks to the Pope's upcoming visit, Philadelphia has become one of the company's two fastest-growing markets in the last six months.
The papal influence on Airbnb is very apparent in its listings.
A quick search on the website reveals dozens of local listings that carry the words "Pope Visit" in their title. Some offerings are so high-priced—a week-long rental for $15,000, a weekend stay on a pull-out couch for $5,000—that they're leading to complaints of rent gouging. Turns out the Pope is a hot commodity in Philly.
The expansion of Airbnb's Philadelphia market only adds to the company's enormous growth across the board. According to the new report, 17 million guests used the service around the world this summer, compared to 47,000 people in the summer of 2010. Hotel chains, especially budget ones, keep claiming that they aren't worried about the amateur presence of Airbnb, but this number may catch their attention. After all, the company is a competitor not just in price but also in experience; why stay in a hotel room when you could rent a room in an ancient British castle for the same fee?
The Pope is helping Airbnb's business outside of the U.S., too. Before he visits the city of brotherly love, he'll be in Cuba—Airbnb's other fastest-growing market this summer.