Paid Sick Leave Gets Another Boost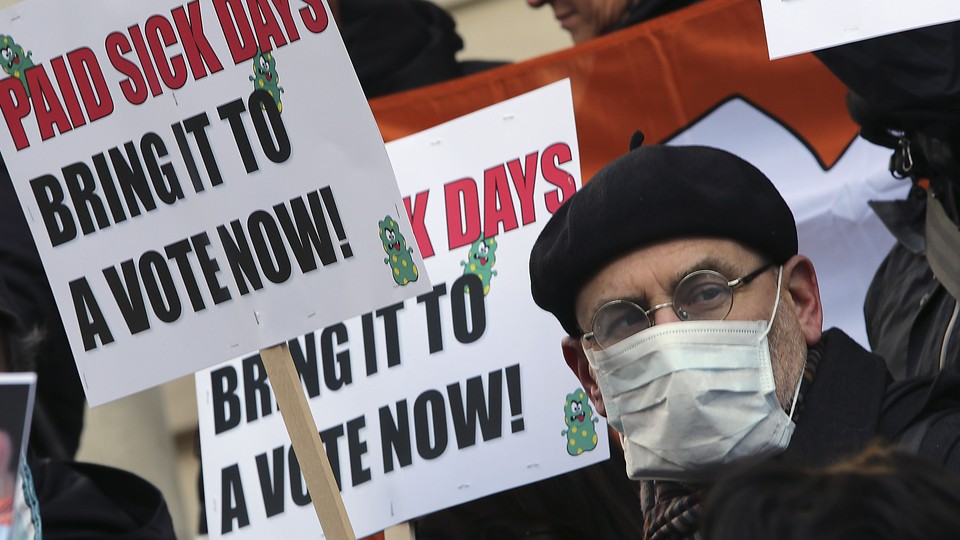 Editor's Note:
This article previously appeared in a different format as part of The Atlantic's Notes section, retired in 2021.
The latest action in the Democrats' push for paid sick leave takes place today: President Obama is signing an executive order requiring government contractors to offer seven days of paid sick leave to their employees. According to the White House, per Reuters, this move "would benefit about 300,000 people working on government contracts."
There's been a flurry of motion on this issue over the past year. Last September, thanks in part to the work of California's state assemblywoman Lorena Gonzalez, the country's most populous state passed guaranteed sick days for all private-sector workers into law. Earlier this year, the push for paid sick leave made it into a Senate budget resolution—a largely symbolic measure, but notable nonetheless. "In January," Reuters reports, "Obama issued a Presidential Memorandum directing the government to advance up to six weeks of paid sick leave for the birth or adoption of a child, or for other sick-leave eligible uses." Today's executive order will begin to take effect in 2017.
But these expansions leave a patchwork of circumstances for workers across the country; in most places nationwide, workers aren't guaranteed paid sick leave. A recent report from the liberal publication In These Times found that nearly a quarter of new mothers were back at work within two weeks of having a baby:
How are new mothers faring in today's age of austerity? Data analyzed for In These Times by Abt Associates, a research and evaluation company, provides a window into these experiences. Abt went back to a 2012 survey it conducted for the Department of Labor of 2,852 employees who had taken family or medical leave in the last year, looking specifically at the 93 women who took time off work to care for a new baby.

Nearly 12 percent of those women took off only a week or less. Another 11 percent took between one and two weeks off. That means that about 23 percent—nearly 1 in 4—of the women interviewed were back at work within two weeks of having a child.