$15 Minimum Wage May Be Coming to New York
Governor Andrew Cuomo has backed a proposal for $15 minimum wage in New York state.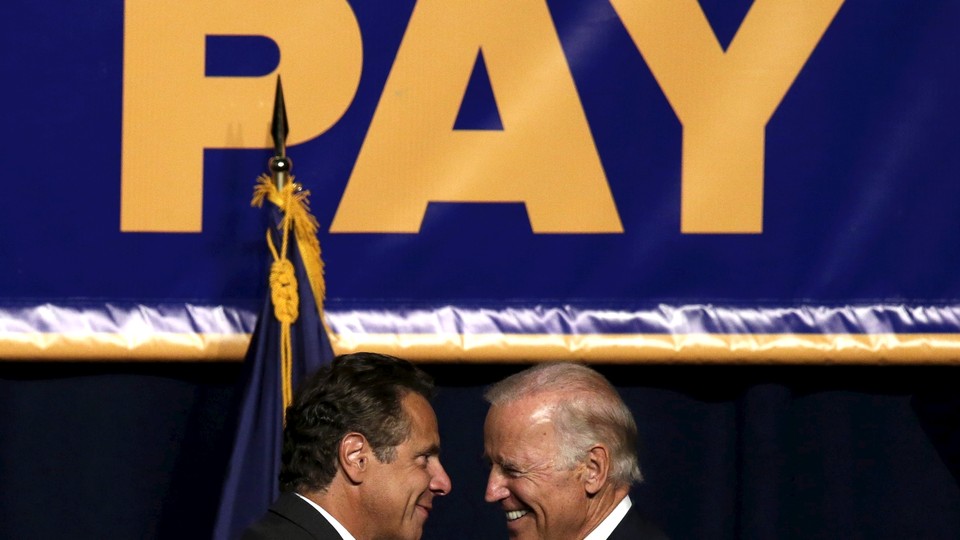 New York Governor Andrew Cuomo on Thursday called for a statewide minimum wage of $15. His announcement marks the first time that any state is attempting to set the minimum wage at this rate—while the city of Seattle passed an ordinance for $15 minimum wage by 2021, the District of Columbia currently leads the way with a statewide minimum wage of $10.50.
The minimum wage increase would be phased in for all employees by 2018 in New York City, and 2021 statewide. It starts now for fast-food workers, however:
"If you work full time, you shouldn't have to live in poverty—plain and simple," said Cuomo at a rally at Javits Center. He was joined by Vice President Joe Biden. "Raising the minimum wage to $15 an hour will add fairness to our economy and bring dignity and respect to 2.2 million people, many of whom have been forced to live in poverty for too long."
While labor groups support Cuomo's campaign, the restaurant industry has been hostile. In May, the National Restaurant Association's president described the wage increase as "an assault on an industry that has delivered nearly 800,000 jobs to the state of New York."
Cuomo has mentioned that Republicans in New York's state legislature in Albany aren't fans of his $15 minimum wage proposals. In May, he created a wage board so he could act without approval by the state's legislature. The increase proposed on Thursday may simply require the approval of the wage board and the labor commissioner.
"If Governor Cuomo succeeds in raising the minimum wage to $15 statewide, it will be one for the history books," says Bill Lipton, the New York state director for the  Working Families Party.
Other supporters have highlighted the vast impact the new wage policy would have: "Up to 3 million New Yorkers—37 percent of the workforce—could benefit. They span every demographic:  half are over age 35, 58 percent live outside New York City, most are women, and half are black, Latino or Asian-American," said Paul Sonn, the general counsel of the National Employment Law Project.