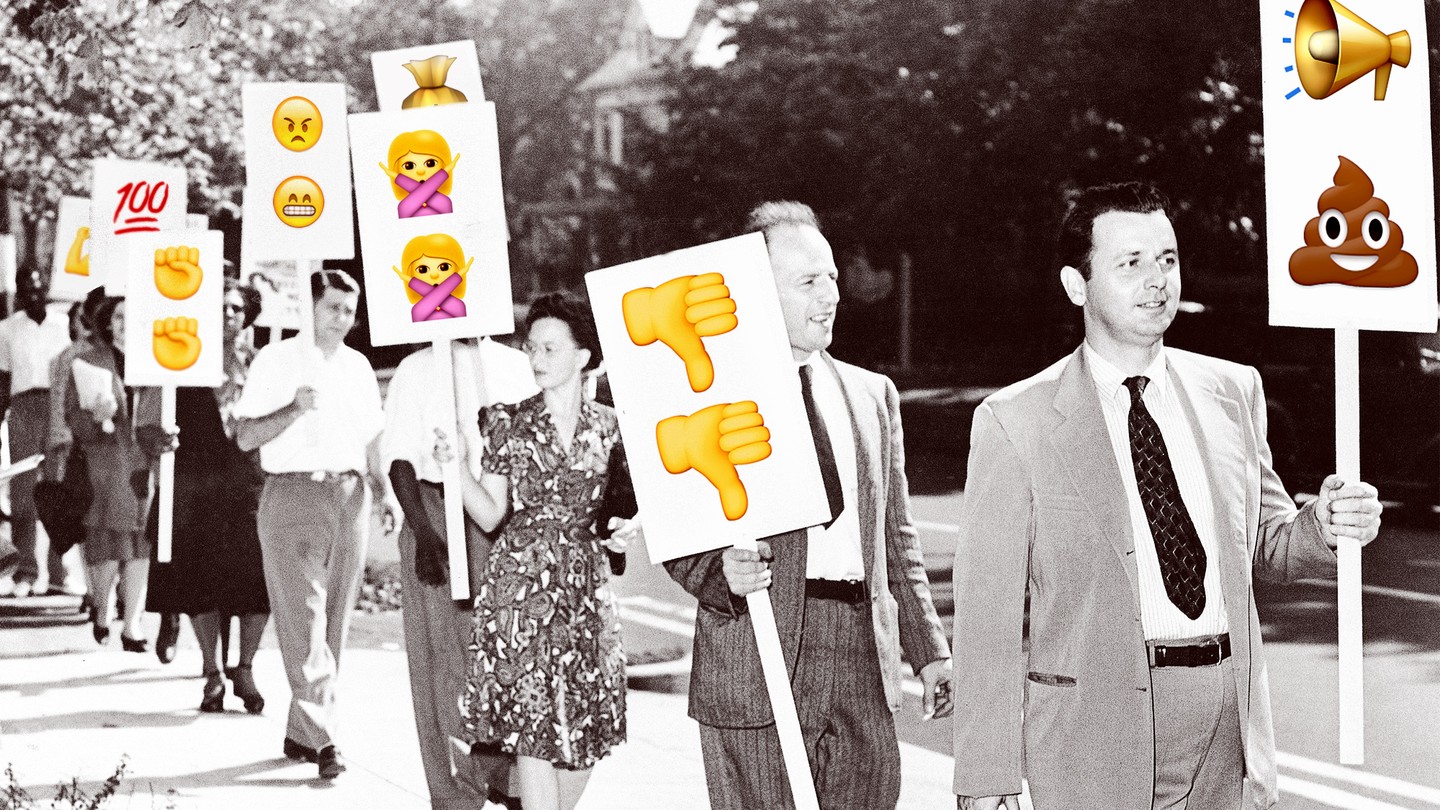 Can Millennials Save Unions?
Membership rates are at historic lows for all American workers, especially those in their 20s and early 30s—and yet, that's a generation with unusually favorable opinions of organized labor and what it stands for.
In 2008, Emma Bell Bern had just graduated from college and was ready to start living on her own. Leaving behind the rural college town of Galesburg, Illinois, she set off for Chicago for her first big-city experience. She got a job as a barista at a Peet's Coffee and Tea on the city's North Side.
Bell Bern liked working at Peet's. Founded in Berkeley in the 1960s and known for its laid-back atmosphere, the company encouraged her to develop in-depth knowledge about their selection of coffees and teas from around the world, taste everything she could, and develop her palate.
"It was a little bit of a culture cult, but it spoke to me," Bell Bern told me. "I like to learn, and I'm attracted to specialty knowledge, so I thought, 'This is something I can excel in, that not everyone knows about.' I was into it."
Bell Bern kept her job for several years, eventually becoming a shift manager and one of the longest-tenured employees at her store. She wasn't without complaints, but she enjoyed her work, liked her coworkers, formed relationships with regulars, and made enough money to get by.
But a few years later, in its efforts to secure an almost $1 billion acquisition, the company started looking for ways to cut costs and began making operational changes, some of which frustrated Bell Bern and her coworkers. At her store, she says, the manager cut the morning-rush staff in half, and a shop that once allowed for detailed conversations with customers about the minutiae of coffee now had lines snaking out the door. Meanwhile, a screen behind the bar tracked the time between a drink order and its completion, blinking from green to red as minutes passed.
Bell Bern says that at her store, the coffee bags used to sell Peet's beans to customers were replaced by cheaper, flimsier models that ripped open, spilling their contents across the floor. She adds that some store equipment fell into disrepair, including an urn that broke during a morning rush, leaving the shop without coffee for hours.
"From the beginning, we were encouraged to take our jobs really seriously, but the conditions increasingly became such that we weren't given the tools or resources to do that, so we were kind of humiliated," Bell Bern said. "Loyal customers were starting to tell me that they didn't like coming to the store anymore, and I didn't either."
Some Peet's employees were having similar experiences in other parts of  the country. According to an exhaustive report in the Oakland-based alt-weekly East Bay Express, the company's new speed standards on the espresso machines left numerous baristas with serious hand and wrist injuries, not to mention lower quality drinks.
As for Bell Bern, the issues went beyond the day-to-day operations of the store. Though the starting wage had increased from $8.50 per hour to $9.50, her annual raise was around 12 cents per hour, so even after years with the company, Bell Bern's trainees were paid more than she was. Hailing from the union stronghold of Madison, Wisconsin, Bell Bern held pro-labor views and had no reservations about calling her working conditions unfair. But while the idea of organizing a union at Peet's was something she joked about occasionally, she didn't see it happening—at least not then.
* * *
Union membership in the United States is at a historic low, what with the decline of the heavily unionized manufacturing industry, but it is lowest by far among Millennials: Only around 4 percent of workers aged 16 to 24 and 9 percent of workers aged 25 to 34 belong to a union. (In 1980, those figures were 15 percent and 28 percent, respectively.) The national membership rate has been falling steadily for decades, but today it would barely be a blip if not for the longtime members of older public-sector unions.
Educated Millennials have proven to be a particularly difficult group to organize, labor leaders have said, as they are heavily concentrated in high-turnover sectors, such as retail or food service. Further, they are scarcely aware of the union cause, or don't consider joining a union possible.
So it was big news for labor when, in June, Gawker Media's employees voted to join the Writers Guild of America, East, a union that represents writers, digital-media producers, standup comedians, and other creative workers in the entertainment industry.
The move was novel in several ways. For one, Gawker Media—which encompasses Jezebel, Deadspin, Gizmodo, and other sites—is the first new-media company to organize. Though newspapers were once union strongholds, many of them are no longer organized, and it remains to be seen whether the industry's next generation will follow in their footsteps. As recently as January of this year, The Washington Post's labor reporter published an article explaining the considerable barriers to unionization faced by young reporters, such as the surplus of labor, the high turnover, and new models of revenue sharing.
Another peculiarity was that Gawker already offered exceptional benefits to its employees, and Nick Denton, its founder and proprietor, was supportive of the campaign. Good compensation and pro-labor management aren't typically the ingredients of a union drive.
But what got the most attention was the move's apparent symbolism. With irreverent, Internet-fluent headlines such as "Scalia is a Twitter Egg" and "Jihad Me at Hello: Tinder Flirting With Osama bin Laden's Love Letters," Gawker is seen as a prototypical Millennial media company.
For that reason, many saw Gawker's move as a sign of more to come. "If the unionization effort succeeds, it will be a big PR boost for the ailing labor movement," wrote Steven Greenhouse, the former labor reporter for The New York Times, on the eve of the vote. "It will show that unions, which have focused in recent years on organizing low-wage workers, can also attract hip, highly educated workers, many of them Ivy League graduates."
Not long after Gawker's announcement, Salon's editorial staff voted unanimously to join a union, and after some back and forth, they were successful. One former Politico reporter, Michael Elk, tried unsuccessfully to organize his ex-colleagues, but didn't get far, which he attributed to a less union-friendly staff and a "culture of fear."
While young, educated workers may not be joining unions in droves, the Gawker staff's inclination is echoed in stirrings in other sectors over the last couple years. This March, unions representing graduate students at NYU won a historic contract to secure health coverage, pay raises, and funds for child and family healthcare; the victory followed years of challenges to NYU grad students' rights since they first won the right to unionize in 2001. And in April of last year, Northwestern University's football team voted to join the College Athletes Players Association, citing the need for long-term healthcare, the players' long hours, and their lack of a voice within the organization. While the National Labor Relations Board recently rejected their petition, the Times reports that, whether or not the momentum can be attributed to Northwestern, "N.C.A.A. governance has been overhauled; universities and conferences have pledged greater scholarship protection and better health care; a federal judge has ruled that players can be paid for the use of their images."
And in what might be one of the more remarkable examples of organizing among Millennials, Haley Quinn, an intern at the American Federation of Teachers, organized her fellow interns, culminating in their vote to join the Office and Professional Employees International Union. The AFT is a hospitable environment for a union drive, of course, but the OPEIU is hoping to use the development as proof that even some of the most transient workers can be organized.
If large numbers of young, educated Millennials followed in these footsteps, the economic impact could be enormous. According to the Bureau of Labor Statistics, union workers on average make more money and have better access to wages and benefits than nonunion workers. And according to The Century Foundation, a left-leaning think tank, a worker can expect to earn an extra $551,000 in wealth over his or her lifetime simply as a result of joining a union. Given that by 2025 Millennials will make up 75 percent of the global workforce, the difference in earned wealth for a huge slice of the population would be in the billions. Could Millennials revive unions?
* * *
At the very least, Millennials' positive opinions of unions should inspire some optimism among the labor movement. Earlier this year, Pew found that, while opinions about unions are evenly split among older generations, the majority of young people view them favorably. The Center for American Progress found in post-election polls a similar level of modest but still solid support among young people.
What Millennials think of unions specifically is one thing, but another question is whether Millennials tend to share, as some of the post-Gawker commentary would suggest, the values that fuel organized labor. Several studies suggest that they do.
One comes from PwC, the global professional services firm. In 2013, the company launched a massive study to understand why their younger workers were leaving within the first few years of employment instead of working diligently for years in order to climb the corporate ladder. After a slew of surveys, interviews, and focus groups, the company concluded that younger employees wanted greater flexibility at work, desired a team-oriented culture with transparent compensation and promotion structures, and felt that keeping up with the high demands of work weren't worth sacrifices to their personal lives. Without discussing unions at all, the firm had found that younger workers share concerns for some of the very things that unions have sought for generations.
Lowell Peterson, the Executive Director of the Writers Guild of America East, where Gawker's employees are unionized, says that though his organizers don't often find young workers who hail from "union families" or are inherently pro-union, he says that they share values that align with organized labor. "The young people we see are politically astute, skeptical of entrenched power systems, and concerned about income inequality," Peterson told me.
But although these ideas are in the air, very few young people associate them with unions. Researchers at Cornell University, for example, found that the attitudes of many Millennials on unions were not as much defined by "Unions, yes!" or "Unions, no!" but "Unions, what?" Worryingly for the labor movement, favorable views on unions and what they stand for do not necessarily translate into actually joining them, even when the option is presented.
At Gawker, for example, some of those who voted no said that they supported unions, but felt uncomfortable with the fast-track they took toward joining one. Michael Hession, an editor at Gizmodo, believes that although union representation could be good for Gawker, it also carries risks that went unaddressed during their deliberation. "It's easy to have everyone at the company say 'I'm for better health benefits, I'm for a better wage scale, I'm for better transparency,' but what are the things that we might be willing to give up to get those?" Hession wondered. "We didn't really know."
* * *
Midway through 2011, three years after Emma Bell Bern began working at Peet's, one of her coworkers returned from a trip to Portland and brought back a 'zine written by a group of Starbucks workers who had organized themselves under the Industrial Workers of the World.
"I remember thinking, 'Oh my god!'" Bell Bern said. "That was the first time I saw any other person putting my problems out there." She convened some of her coworkers in a small studio apartment to discuss their working conditions, and they went on to meet regularly. When they tried to involve the rest of the staff, they struggled to get everyone onboard, because some felt that nothing could be done, while others feared for their jobs. Still, after a year of slow and steady work, they were ready to start pushing for changes.
They met with their store manager first, to discuss their concerns and make sure he was aware of lower-level issues. Then came the bigger action: On September 3rd, Labor Day, 2012, they sent a letter to Peet's corporate headquarters, laying out their formal complaints and specific proposed solutions. "Peet's failure to pay a living wage to the majority of its employees directly undermines its stated vision and mission to 'inspire our people,'" wrote the "Peet's Workers Group." They proposed a starting wage of $11 an hour, with 75-cent increases every six months, and paid sick time. Two days later, a Peet's representative delivered a signed memo to the store stating that the regional director of store operations, Sam Ferreira, would visit the store on September 16 to address their concerns.
(Peet's declined to comment on workers' efforts to organize in at least two stores. A spokesperson said that it offers above-average wages and benefits and that employees tell the company in surveys that they "feel respected and valued and would recommend Peet's as a place to work.")
When the meeting with Ferreira came along, the group was prepared. Reaching out to supportive store regulars, activists, and labor organizers, they had assembled dozens outside of the store to picket in support of the staff's efforts.
Three Peet's representatives led the meeting. Bell Bern and her coworkers closed the store early and formed a circle of chairs in the middle of the store. Opening up the meeting, Ferreira asked each member of the staff to introduce themselves and name their favorite coffee or tea.
According to Bell Bern, it wasn't long before the meeting got tense. Ferreira, the Peets Workers Group wrote on their blog, said that the store seemed "divided," and suggested that the local manager was responsible for the operational problems, such as poor equipment maintenance. The store's staff insisted that the day-to-day issues had been resolved and that they had no issues with the current manager, but were there to discuss what was in their letter: compensation, healthcare, and scheduling. Ferreira, Bell Bern says, replied the way he would for the remainder of the meeting: He would be "happy to meet with any individuals privately about issues that affect the store," she remembers him saying.
According to Bell Bern, the Peet's representatives did not respond directly to the issues in the group's letter. In an attempt to force an answer, one of the employees rose from his seat and walked to the window, where supporters had taped up signs, and read one of the signs out loud for the group: "This is not a protest. This is a respectful show of support. We support Peet's Coffee and Tea as industry leaders, and we support them paying their employees a living wage."
The meeting continued without the two parties finding common ground. Toward the end of the evening, Bell Bern's friend and coworker turned to Ferreira directly, exasperated. "I just want to know this: We sent a letter to management, and you flew here from California," she said. "And you are not going to address any of the concerns we outlined in that letter?" According to Bell Bern, he repeated that he would be happy to speak with any individuals about issues that affect the store. "I'll take that as a no," she said.
* * *
Unions have a record of connecting with youth that is far from perfect, and some of that may have to do with the fundamental idea of relinquishing control over bargaining to a larger entity. Millennials have shown themselves to be a generation that prefers transparency and wide-level input—in a word, democracy—and if they don't see that, they're unlikely to get onboard.
When Bell Bern was organizing at her coffee shop, she says older union members from the International Food and Commercial Workers union and other unions visited her store expecting to take the reins of their drive. One representative distributed worksheets for Bell Bern and her colleagues to fill out so that he could negotiate on their behalf. The approach was off-putting, and, worse, made Bell Bern and her coworkers feel just as low on the totem pole as they felt at work. "We could spot the hierarchy from a mile away and we were not into it," she says.
Unions courting Millennials might do well to pay mind to that, as well as the fact that some young people want more than just better wages and benefits—many have a wider egalitarian vision that they would like to see realized, not just for themselves, but for others as well. Katy Fox-Hodess, a Ph.D. candidate in sociology at the University of California, Berkeley, is the former campus chair of UAW 2865. She has seen her fellow union members in California take their issues beyond the classroom and onto the campus grounds, staging a solidarity strike with a union representing janitors, gardeners, and other front-line workers.
"We see a real national trend of younger workers really pushing the labor movement to the left in a number of ways," says Fox-Hodess. "We have to stand up on issues of racism, xenophobia, women's issues, LGBT issues, foreign policy issues—we have to have a broader politics."
This widened agenda could be an essential survival tool for unions. Ruth Milkman, a City University of New York sociologist specializing in labor issues, says that broad public support tends to force anti-union employers to back down and accept unionization. "Unions can be successful if they can build coalitions with larger groups," says Milkman.
Another trend that might give unions traction is Millennials' proficiency with communications technology. In its decision on Purple Communications, Inc., the National Labor Relations Board ruled that employees can use technology at work—such as their employer-provided email accounts and other means of electronic communications—for the purpose of forming a union. In addition, the NLRB issued new regulations that streamline the process of union elections, giving hostile employers less time and fewer opportunities to derail union drives.
These changes led three researchers at the Century Foundation, Mark Zuckerman, Richard Kahlenberg, and Moshe Marvit to write a report called "Virtual Labor Organizing," in which they propose what would essentially be a TurboTax for joining a union. The platform the authors envision would connect its users to labor attorneys and experienced union organizers, who could help employees navigate the tricky technicalities of joining a union, the handling of which might otherwise hamper organizing efforts. In turn, unions would have a tool to expand their reach, connect to tech-savvy Millennials, and, of course, increase membership, all at very little cost.
The technology, the Century Foundation says, would turn the traditional model of union organizing on its head. Union organizing would be indigenous to workplaces, have a low barrier to entry, and be facilitated, rather than led by, larger unions.
* * *
But even though Millennials may have favorable views toward unions or want to join one, Ruth Milkman argues that national union-membership rates have little to do with any group's desire to join one. What stands in the way of young people joining unions, generally speaking, is employers.
"It's not about whether workers want to unionize. It's really about whether it's feasible to make that happen," says Milkman. "In general, if you ask the majority of workers, 'If you could have a union, would you like that?' they say yes, but the opportunity to do that is rather limited."
Walmart, known for decades for its aggressive anti-union practices, provided a striking example of employer opposition when one of its training videos was leaked this year. Actors in the video rattle off misleading information and falsehoods in an effort to convince new hires that, at bottom, Walmart is good and unions are bad. Ken Jacobs, the chairman of the University of California, Berkeley's Labor Center, told The Atlantic that the video amounted to propaganda.
Walmart's video captures an advantage that anti-labor employers have long had on their side: the ability to dedicate work hours to anti-union campaigns. When workers begin organizing, it's not uncommon for employers to delay and deter the process with tried-and-true anti-union tactics such as captive-audience meetings, intimidation, and threats.
Despite the longstanding protections of federal-labor law, employers illegally fire employees for union activity on a regular basis. A study by the Center for Economic and Policy Research found that about one out of every five union organizers are fired in retaliation for organizing. The study's findings supported the view that aggressive, illegal employer behavior has played a significant role in the decline in private-sector unionization rates. And, as I've reported at The Atlantic, the penalties for violating long-standing labor laws are meager enough that many employers account for them in their budgets.
"Current law has given employers a powerful anti-union strategy," the authors of the CEPR report wrote. "[F]ire one or more prominent pro-union employees...while intimidating the rest of the potential bargaining unit in advance of the NLRB-supervised election."
The history of unions is full of difficult battles against hostile employers—not to mention militias. But while the violence may be gone, employers still oppose unions quite strongly. A study out of Cornell University looked at a random sampling of 1,004 union drives and found that union elections in which employers used numerous anti-union tactics more than doubled in comparison to the three earlier periods studied. Employers threatened to close plants in more than half of the campaigns and threatened to slash wages and benefits in 47 percent. In 63 percent of the cases, employers interrogated workers one-on-one about their support for the union campaign, despite the fact that it is illegal to do so.
In 2009, lawmakers introduced a bill aimed at leveling the playing field. Employers are able to respond to a union petition with a demand for a secret ballot, while campaigning against the union in the meantime, and the "Employee Free Choice Act" would have forced companies to recognize their workers' unions once a majority of employees sign a petition in favor of joining one (this is what's known as a "card check"). The EFCA would also have increased penalties for employers who discriminated against workers who tried to organize. But that legislation failed, and shows little sign of being resuscitated anytime soon.
If anything, legislation is moving in the opposite direction. "Right to Work" laws—which make it illegal for unions to require employees to pay dues—have passed in three states in the past three years, most famously in Wisconsin, despite massive protests. Unions are facing a serious threat in court, too. In Friedrichs v. California Teachers Association, the Supreme Court could rule that union members cannot be forced to pay union dues, leaving public-sector unions, which have the highest membership rates in the country, with few resources and little bargaining power.
Jake Rosenfeld, a professor of sociology at the University of Washington and author of the book "What Unions No Longer Do," says that although there have been significant strides in the last few years, he doesn't see a big labor revival on the way. "Gawker was interesting," Rosenfeld wrote me in an email, "but for me to change my take on the matter further would require a major employer—say a Burger King—coming out and announcing something along the lines of, 'You know what, we'd like to work with unions.'"
* * *
After Emma Bell Bern and her coworkers met with Peet's representatives, the group's momentum waned. While they made some progress by pressing their managers to address store-level issues, the broader questions they raised in their letter, regarding compensation structure and sick leave, went unaddressed. Bell Bern was fired some months later for being late three times in a year—per what her workers' group called a selectively-enforced policy—while others left of their own volition. The combination of high turnover with the runaround from upper-level management, Bell Bern says, wore the group down.
It's a complicated era for Bell Bern to revisit, as she feels pride for the challenge she and her group posed to the status quo, wondering at the same time whether the group could have taken bolder steps. Since then, her vision of progressive political action has broadened, and she feels that traditional union organizing is too narrow to create lasting change. She feels that any useful vision of labor organizing must account for a comprehensive view of oppression, based on gender, class, race, and other factors.
According to Ruth Milkman, the labor movement has always advanced in big bursts, so if Millennials were to revive the union, it would have to be in the form of a massive social uprising, or some other kind of major change. Small union victories like those at the WGA-E are good for labor, but they won't change the big picture on their own. In the meantime, as income inequality rises, union membership dwindles, and challenges to organized labor pick up steam, what remains to be seen is what the future of unions will more closely resemble: Peet's Coffee Shop or Gawker.