Mall Walkers: The Suburban Exercisers Keeping America Wholesome
After neighborhood sidewalks, shopping centers are the most popular places in the U.S. to go for a stroll.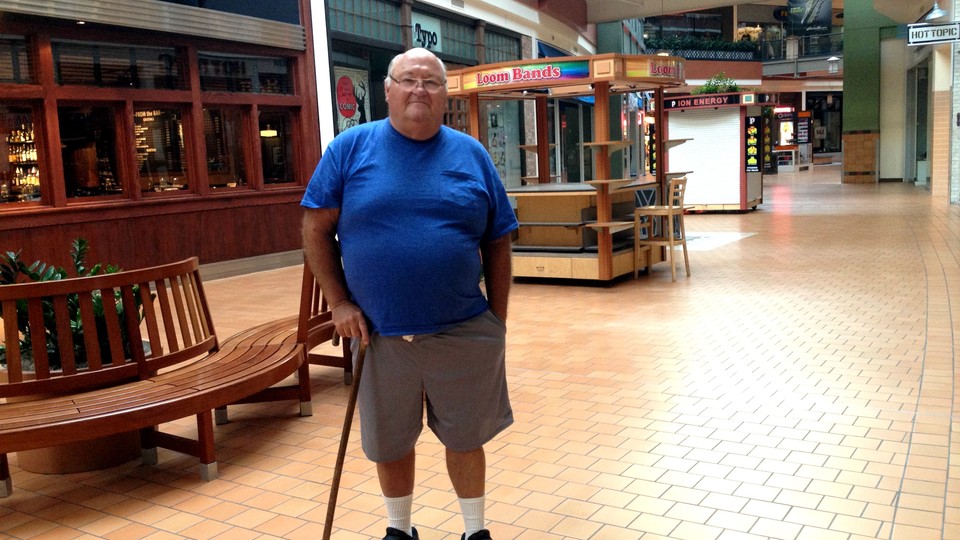 At 7 in the morning inside the Mall of America, capitalism sleeps. There are rows of kiosks with metal grates latched shut. Zamboni-like machines polish the floors. The crowds of shoppers—enough people on any given day, it's been estimated, for the Mall of America to qualify as Minnesota's third largest "city"—won't enter for another couple hours.
The only people here now, save for a few security guards and other employees, are the mall walkers.
While the origins of mall walking, or walking in shopping malls for exercise, are unclear, it is now a practice so prevalent throughout America that a report released earlier this year by the CDC listed shopping malls as the second most popular venue for walking in the country, just behind neighborhoods. The report touts malls as "free, relatively accessible, and pedestrian-friendly environments." These features appeal especially to older people, who value the level surfaces, benches, water fountains, and restrooms that malls provide. Also, the "latest fashionable workout attire is not a requisite for mall walking."
Indeed. As I traversed the ocean of polished concrete with a mall walker named Delores Armitage, she peered into the window of a Hot Topic as we passed by. "Since nothing's open you don't have to worry about what you're going to buy," she said. "Plus, all the stores sell clothes for young people."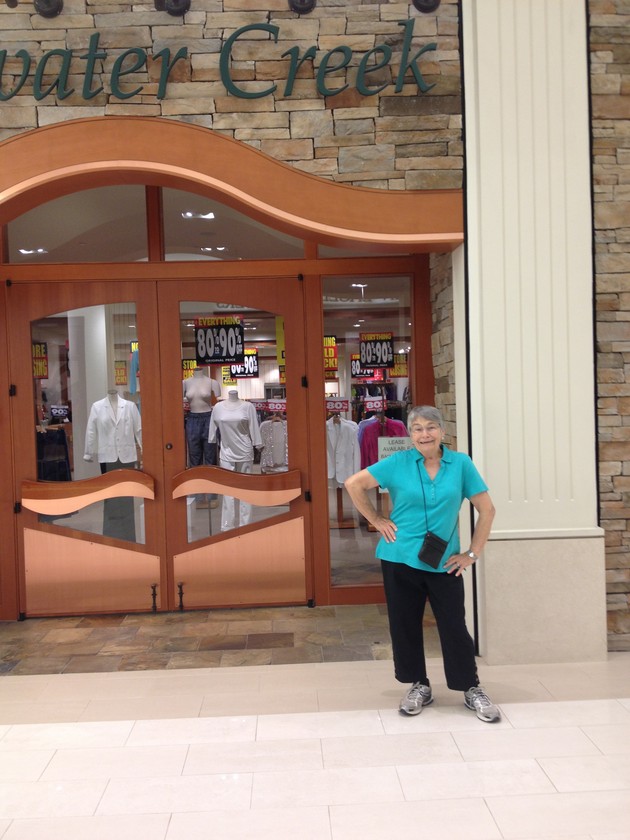 Armitage is not alone in her lack of consumerist enthusiasm. In this way, mall walkers fly in the face of what has been the intrinsic purpose of all shopping malls for the past several decades: to bleed as much money as possible from the wallets of every single visitor. While tourists reportedly spend an average of $162 per visit to the Mall of America, mall walkers rarely buy anything, except maybe a "cup of coffee and a sticky bun at the food court," according to Emil Pocock, a professor emeritus at Eastern Connecticut State University who studies shopping-mall culture.
Despite this, the Mall of America values Armitage and her ilk. "We love our mall walkers," said Tara Niebeling, a public-relations coordinator at the Mall of America. "They are very special to us." She explained that, in addition to opening early for them, the mall gives its walkers swipe-cards that let them track their time spent walking and periodic reports on their walking time and calories burned, as well as hosting monthly breakfast meetings featuring talks by wellness experts—in exchange for $15 in annual fees. (Other "unofficial" mall walkers do come without paying dues and are welcome too, Niebeling told me.)
The Mall of America's walkers, who refer to themselves collectively as Mall Stars, also receive discounts at various retailers—a practice common nationwide. "Different malls will provide incentives, whether they're water bottles or coupon books. Though, when we talk to the walkers that's not what they want," says Basia Belza, a professor at the University of Washington School of Nursing and a co-author of the CDC report. "They just want the camaraderie of each other." Most of the Mall of America's walkers have been strolling since 1992, when the mall opened, and a small, intimate community has formed around it. Winnie Berg, who, at 96, is thought to be the oldest Mall of America walker, hands out homemade birthday cards to each of her 250-odd fellow Mall Stars every year.
When I ask Berg and Armitage how seriously they take mall walking, Berg retrieves a card from her handbag bearing nothing but her name, phone number, and the acronym MOAMWOTY. "Mall of America Mall Walker of the Year," she explains. "My son-in-law made the card for me at Kinko's." The honor is real, it turns out: Every September the Mall Stars all vote on who their leader will be. "I walk about an hour and 20 minutes," Berg says, every day except for Sunday, when she goes to church. "And I do all the ins and outs. I don't cut. Some people don't do the corners. I go all the way around the outside. That way I get about three and a half miles."
If malls aren't seeing revenues beyond those $15 annual fees, why, then, do they embrace walkers?
According to Pocock, they don't have much of a choice. Until 10 or 15 years ago, most malls discouraged walking and didn't open their doors early, so most walkers strolled alongside shoppers during business hours. "There was a feeling that to have people in sweats and sneakers traipsing back and forth during shopping hours might upset the actual customers," he says. They couldn't be banned—it'd be hard to draw a line between shoppers and non-shoppers without discriminating based on appearance—so malls decided to start letting them in before the stores opened.
Welcoming such an overtly non-commercial activity may seem unusual for malls today, but it is not out of line with what was envisioned by Victor Gruen, the architect widely credited with inventing the shopping mall. Malls should afford "opportunities for social life and recreation in a protected pedestrian environment," wrote Gruen in his 1960 book, Shopping Towns USA. "They can provide the needed place and opportunity for participation in modern community life that the ancient Greek Agora, the Medieval Market Place and our own Town Squares provided in the past." Some malls in the '50s and '60s housed auditoriums, meeting rooms, and other spaces to gather. "All age groups are provided for," Gruen dreamed. "Dance schools, music schools, and ice skating rinks attract teen-agers; amusement centers are popular with children."
His vision didn't pan out. The typical American mall became, as CityLab writer Mark Byrnes put it in 2013, "a formulaic collection of fully enclosed space occupied mostly by national retailers and surrounded by seas of surface parking." Gruen, in fact, visited one of his old shopping malls late in life and pronounced himself in "severe emotional shock" at the sprawl around it and the developers' clear profit motive."There's this tension the mall has always had. It's always wanted to be this space where anyone feels like they're welcome, but only so long as they're not impeding the flow of commerce," says Mathias Crawford, a PhD candidate at Stanford who is studying community architecture in postwar America.
But as online shopping has in many ways rendered malls irrelevant—one-third of America's malls are estimated to be dead or dying—developers are working to redefine them. It's not clear what exactly they will become, but it appears non-shopping activities will play an integral role in their attempted revival. "You're seeing condo complexes in malls, along with more restaurants, outdoor spaces and movie theaters," says Belza. "They use the term 'lifestyle centers.'"
Gyms and fitness centers are increasingly being incorporated into shopping malls as anchor tenants because they are now more likely to draw regular visitors than big-box retailers or department stores. The Washington Post profiled Westfield Mall in Bethesda, Maryland, last year and noted that the food court underwent a redesign to make it more of a place where "you might camp out with your laptop or linger with friends."
As developers figure out what a new mall is and can be, they may find that mall walkers and their resistance to commerce are perfectly in line with their new values. After all, Victor Gruen would embrace them if he were alive today: In the '50s, at the peak of his career, he described his utopian vision of the postwar American metropolis to a New Yorker writer. Gruen said he hoped that malls would evoke Old World Europe, where people would show up just to stroll and socialize, even when the stores were closed. "The chief means of travel will be walking," he said. "Nothing like walking for peace of mind."