The Workers Whose Paychecks Are Shrinking
According to new research, between 2009 and 2014, wage loss across all jobs averaged 4 percent. But for those in the bottom quintile, those losses averaged 5.7 percent.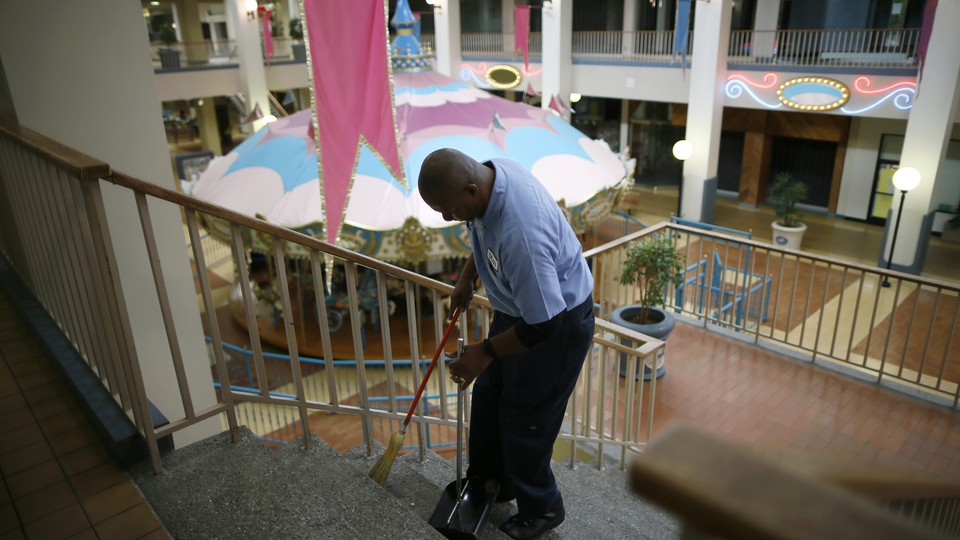 Since the recession officially ended in 2009, Americans have watched the economy slowly improve: More people are back to work, unemployment has decreased 4.9 percentage points from its height, and economic growth is slowly increasing, up 2.4 percent in 2014. But there are those who haven't seemed to benefit much from these gains. A recent report from the National Employment Labor Project (NELP) found that for workers in the lowest-paying jobs things have actually gotten worse.
According to NELP's report, the real unemployment rate—which would also count those who are working part-time who would rather be working full time—remains above 10 percent though the national average is currently listed as almost half that, at 5.1 percent. It's also worth noting that improvement in unemployment has been vastly uneven, and problems of long-term unemployment, discouraged workers, and low labor-force participation are still plaguing the U.S. labor market.
But perhaps one of the most disheartening factors of the recovery has been persistently stagnant wages, which haven't budged significantly for years. That means that though the economy might seem to be on the mend, most people aren't feeling or seeing the real benefits. And that has ripple effects for people's spending habits, preventing them from putting money back into the economy. But the bigger problem for low-wage workers is that when stagnant wages are coupled with the rising cost of of living, paychecks don't stretch as far. The result is decreased purchasing power, a phenomenon, which the paper calls wage-loss. And it's much more problematic among the lowest-income workers.
---
Decline in Real Wages 2009-2014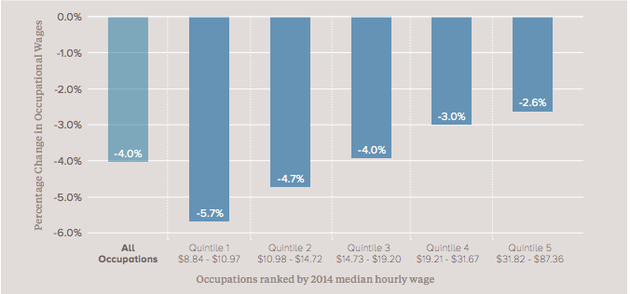 ---
According to their research, between 2009 and 2014, wage loss across all jobs averaged 4 percent. For those in the lowest one-fifth of earners, those losses averaged 5.7 percent. The picture grows more grim when separating by occupation: Those who work as janitors, cooks, housekeepers, and home health aides had their real wages drop the most, as much as 8.9 percent, leading to lost wages of about $437 each year.
Although an annual loss of around $400 might not seem like a lot, for the households at the bottom of the pay-scale that are already struggling to make ends meet, a few hundred dollars can be a big deal. Perhaps the most distressing finding in the report is that these low-wage jobs—the ones where declines in real wages have been the most acute—are also the jobs that have hired the highest share of new workers during the recovery. That means that the many workers who have been counted as successfully rejoining the labor force, will face continued economic hardship.
"The wage foundations for millions of new jobs over the coming years could be especially shaky and inadequate, providing little economic security," write Claire McKenna and Irene Tung, the paper's authors. "Workers in these jobs are typically less resilient to unemployment, illness, and other destabilizing life events, and as their numbers grow, so too will the consequences of this instability."